The Hundred-Foot Journey on Blu-ray + Digital HD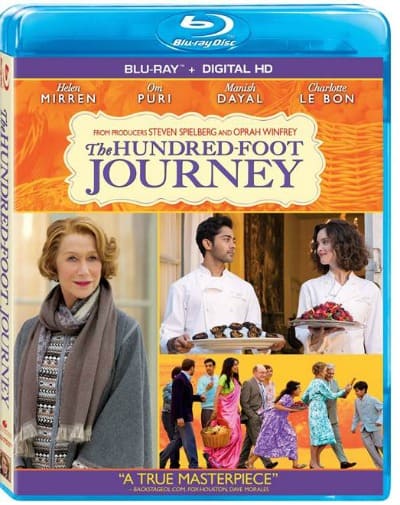 Disclosure: I was not compensated for this post. I received a copy of the movie to facilitate the review. All opinions expressed are my own. 
Title: The Hundred-Foot Journey (1-Disc Blu-ray)
Release Date: December 2, 2014
About the Film
Hassan Kadam (Manish Dayal) is a culinary ingénue with the gastronomic equivalent of perfect pitch. Displaced from their native India, the Kadam family, led by Papa (Om Puri), settles in the quaint village of Saint-Antonin-Noble-Val in the south of France. Filled with charm, it is both picturesque and elegant – the ideal place to settle down and open an Indian restaurant, the Maison Mumbai. That is, until the chilly chef proprietress of Le Saule Pleureur, a Michelin starred, classical French restaurant run by Madame Mallory (Helen Mirren), gets wind of it. Her icy protests against the new Indian restaurant a hundred feet from her own escalate to all out war between the two establishments – until Hassan's passion for French haute cuisine and for Mme. Mallory's enchanting sous chef, Marguerite (Charlotte Le Bon), combine with his mysteriously delicious talent to weave magic between their two cultures and imbue Saint-Antonin with the flavors of life that even Mme. Mallory cannot ignore. At first Mme. Mallory's culinary rival, she eventually recognizes Hassan's gift as a chef and takes him under her wing.
Bonus Features
Digital HD & Blu-ray Combo Pack
The Hundred-Foot Journey With Steven Spielberg & Oprah Winfrey – Producers Steven Spielberg & Oprah Winfrey sit down to discuss "The Hundred-Foot Journey."  What was it about the project that brought them together for their first collaboration in 30 years since "The Color Purple." This piece is complimented with photography from the sets to give it an even more personal feel.
The Recipe, The Ingredients, The Journey – Enter the enchanting world of the film on set with director Lasse Hallström, producer Juliet Blake, author Richard Morais, cast, crew, chefs and composer A.R. Rahman.  "TheHundred-Foot Journey" comes to life from  the  pages  of  the book, to stunning locations in the South of France, with a beautifully crafted story (and mouth-watering food) that will make you hungry for home and the spice of life.
On Set With Oprah Winfrey­ – Production designer David Gropman gives Oprah Winfrey a tour of the Maison Mumbai and the "Hundred-Foot Journey" to the Le Saule Pleureur.
Coconut Chicken – Learn how to make coconut chicken in this demonstration of a beautiful, Indian inspired dish with Chef Anil Sharma.
DVD:
The Recipe, The Ingredients, The Journey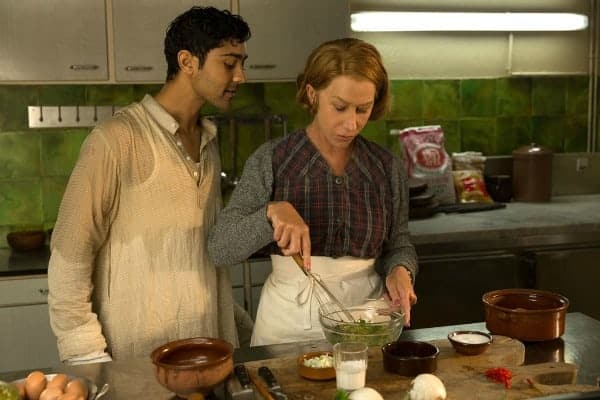 My Review
The Hundred-Foot Journey is a visual feast in a couple different ways. It's a movie based around food and by the end of it I was starving. I wanted to cook a recipe of my own despite the fact that it was almost midnight! In addition to the delicious cuisine, I was also mesmerized by the scenery. It's set in the French countryside in a small village with sweeping views and traditional French architecture. It made me want to visit Southern France so I could experience it personally!
Hassan Kadam and his family fled India after a political uprising where his mother was killed in a fire started by rioters. His family wanted to start over in Europe and open a restaurant there. On their way through the French countryside, the brakes on the vehicle failed. Miraculously, they were able to stop safely without crashing or driving off a cliff. In a twist of fate, they stumble upon a small village nearby and are taken in by a young sous-chef, Marguerite. It is a bit of a culture shock for this Indian family especially the father who isn't used to the French ways of doing things.
The family decides to stay put and opens a restaurant in a rundown building across from the successful Michelin-starred restaurant owned by Madame Mallory. The restaurants are about 100 feet apart from each other across the road – now you know part of the reason for the title of the movie.
A rivalry develops between the Kadam family restaurant, Maison Mumbai, and Madame Mallory's Le Saule Pleureur. Both sides work to sabotage the other and the result is at first funny, but then takes it to a whole new mean level.
As the story develops, there is a blossoming romance between Hassan and Marguerite. Hassan seeks Madame Mallory's approval and cooks for her. This is a woman who can tell a great chef from just one bite. She tries to hide the fact that Hassan is truly special and insults him. I felt crushed for him. Later on, she comes clean with what she really thought of his cooking and invites him to cook at her restaurant. You can imagine how well that went over with Hassan's family!
This movie brought out a whirlwind of emotions – I laughed and cried and was angry and overjoyed all in the course of 122 minutes. The Hundred-Foot Journey is a movie I will watch again – this time I will pay more attention to the recipes!
The Hundred-Foot Journey Recipes
After watching this movie, you'll be inspired to get creative in the kitchen. To get you started, try some of these recipes inspired by the movie.
Connect with The Hundred Foot Journey online and via Facebook and Twitter.