Mantry – The Modern Man's Pantry!

My husband is a fantastic cook and foodie. He loves trying new foods. When we're out food shopping he's always picking up new and interesting things to try. Christmas came early for my husband this year – he received a wonderful food gift that he absolutely loves courtesy of Mantry.
Mantry bills itself as "The Modern Man's Pantry" – a food-of-the-month club that helps you discover American artisan food. You can expect to receive six full-size item in your crate each month. Along with it comes a booklet that outlines what you get and what you can do with it. You can pick up a one-time crate for $75, a 3-month subscription for $225, or a 6-month for $450. If you can swing a subscription or even just a one-time crate, I would recommend it – I was very impressed with the crate I received for review and think it's worth every penny!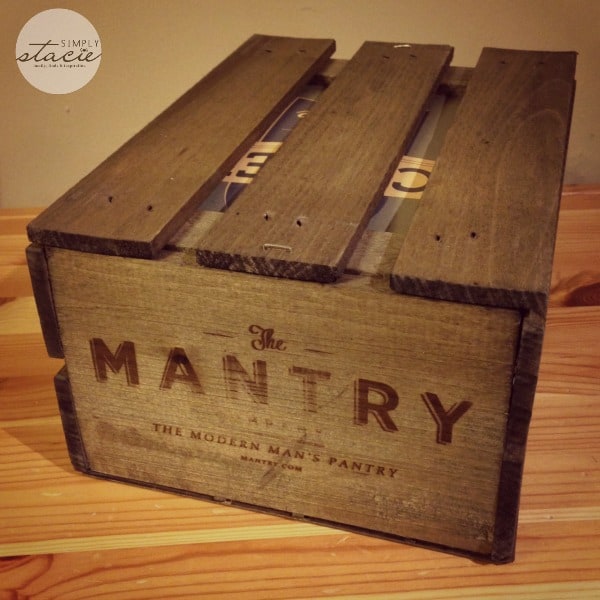 Mantry sent me their Coffee & A Smoke crate for review. Inside the crate were some yummy items that my husband and I have been enjoying since it arrived. Included in this crate:
* LA Quercia Smoky Borsellino – perfect as a snack with some cheese and crackers, this uncured ham is absolutely delicious.
* Lark Fine Foods Espresso Chip Shortbread – do I really need to say more than the name?? Decadent and thick, these are a fabulous treat.
* Granola Jones Mocha Hazelnut – I've had many granola products over the years, and I have to say, this is one of the tastiest I've had. Beyond being a great treat right out of the bag, this granola is equally as tasty on top of some plain vanilla ice cream.
* Olive & Sinclair Buttermilk White Coffee Bar – this bar combines buttermilk, smooth white chocolate, and coffee for a great afternoon treat. This satisfies my sweet tooth and my coffee cravings.
* Dave's Coffee Coffee Syrup – I was most intrigued by this item in the crate. Derived from a small batch of roasted beans, this syrup is great to add to your morning cup of coffee or right over your vanilla ice cream at night (you get a double shot of caffeine if you combine it with the granola on that ice cream!)
* Sweet Georgia Soul BBQ Sauce – this sauce is low in the heat scale, and perfect on chicken in the slow cooker. This sauce is the perfect mix of sweet and tangy. Great on chicken!
Bonus – the crate itself is fantastic and easy to re-purpose. I love the size and color.
If this crate intrigues you, you can get $25 off your subscription right now by visiting mantry.com/start. Think about this for the man in your life who is hard to shop for this time of year, as a great groomsman gift, or just as a special treat.
To learn more about Mantry, visit their website. There you can also get a peek into past boxes. You can also find Mantry on Tumblr, Twitter, Facebook, and Instagram.