Guardians of the Galaxy Blu-ray Review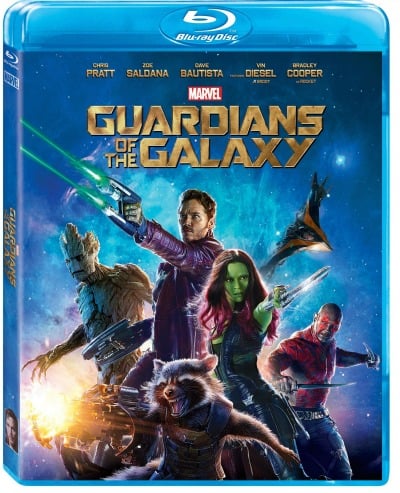 Disclosure: I received a copy of the movie to facilitate this post. All opinions expressed are my own.
Title: Guardians of the Galaxy (3D Blu-ray + Blu-ray + Digital Copy)
Release Date: December 9, 2014 (Blu-ray Combo Pack)
About the Film
From Marvel, the studio that launched the epic franchises of "Iron Man," "Thor," "Captain America" and "Marvel's The Avengers," comes an unlikely new team—the "Guardians of the Galaxy." The Marvel Cinematic Universe expands into the cosmos when brash space adventurer Peter Quill steals a coveted orb and becomes the object of a relentless bounty hunt. To evade his enemies, Quill forges an uneasy truce with Rocket, a gun-toting raccoon; Groot, a tree-like humanoid; the deadly assassin Gamora; and the revenge-driven Drax. But when Quill discovers the true power of the orb, he must rally his ragtag band of misfits for a desperate battle that will decide the fate of the galaxy. Featuring amazing new characters and exclusive bonus features, this must-own blockbuster will have you hooked on a feeling… of pure adrenaline!
Bonus Features
(Digital HD*, Disney Movies Anywhere, 3D Blu-ray Combo Pack, Blu-ray)
Never-Before-Seen Deleted Scenes
Making-of Featurettes
Exclusive Look at "Marvel's The Avengers: Age of Ultron"
Gag Reel
Audio Commentary
(DVD)
Exclusive Look at "Marvel's Avengers: Age of Ultron"
Never-Before-Seen Deleted Scene
My Review
Guardians of the Galaxy is my kind of movie. It had a captivating storyline, spectacular special effects, quirky and endearing characters and an awesome soundtrack. I knew right away when the credits starting rolling and the tunes started playing that it would be one that I'm going to enjoy. It made me laugh and cry!
The movie revolves around the unlikely pairing of misfit criminals. There is Quill, a human kidnapped from Earth as a young child, Gamora, the green-skinned warrior, Rocket, a feisty talking-raccoon, Groot, an lovable tree who is short on words and Drax, a dangerous criminal bent on avenging the death of his family. They band together to become the Guardians of the Galaxy. Their mission is to locate a dangerous, powerful orb and return it to safety. Most importantly, they need to keep it out of the evil Ronin's hands. He is intent on destroying the galaxy with its power.
I enjoyed getting to know each of the characters and by the end of the movie, I felt I "knew" them. I learned about their background and witnessed both their strengths and weaknesses. All this was woven in perfectly in the fast-paced plot and action at every turn. My favourite character is Groot. He made me laugh so hard even though he could only say three words over and over. He is hilarious and you can pick up through his actions that he is a gentle, caring soul who will ferociously protect his friends at any cost.
Another aspect of the movie that I liked was exploring space through the eyes of the characters. Space is spectacular! From the landscape of the planet to the vast "nothingness" of deep space, I couldn't look away.
Towards the end of the movie, more information is revealed about Quill and his heritage. I can't wait to see where that storyline goes so you know for sure there will be more Guardians of the Galaxy movies.
The movie is rated PG-13 and there is a few "swear" words – but nothing worse than you would hear on cable TV these days. My 10 year old daughter watched Guardians of the Galaxy with John and I and she loved it. Right away she asked if we could watch it again. She is a huge Iron Man fan so this film is right up her alley.
Connect with Guardians of the Galaxy on Facebook and Twitter and Marvel Entertainment on Facebook, Tumblr, Instagram, YouTube and Google+.