Christmas Candy Box Silhouette Tutorial
Having little ones in the house allows me to make the cutest things for the Holidays and this weekend I made a Christmas Candy House and filled it with some of my favorite chocolates. This project was so easy to complete and looks adorable, it's definitely the perfect fit for the holidays and would look great on a dining table, coffee table, the mantle or in a bedroom as Christmas Room Décor.  I really hope you enjoy this tutorial and you'll give it a shot to make one of your very own.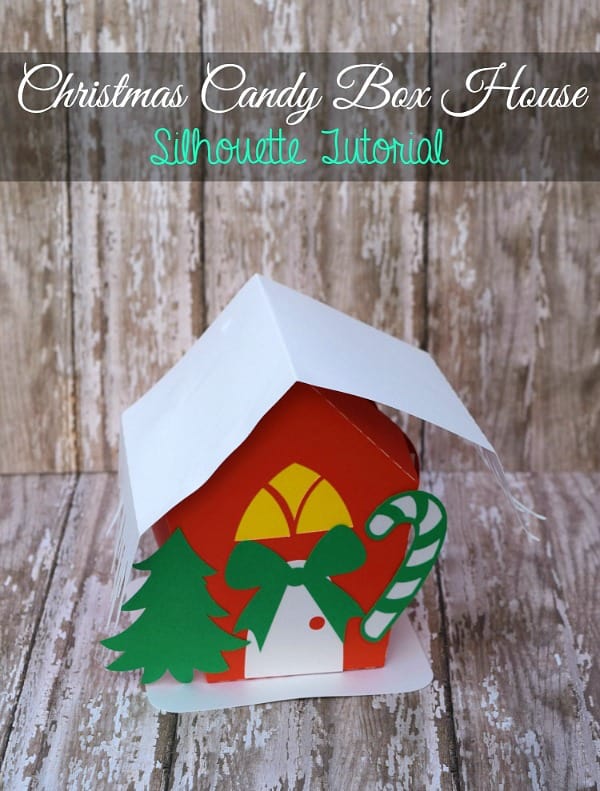 Christmas Candy Box Silhouette Tutorial
Supplies Needed:
Silhouette Cutting Machine
Red Cardstock (I used DCWV stacks)
Green Cardstock
Yellow Cardstock
White Cardstock
Scotch Quick Dry Adhesive Glue
Directions:
This project is so fun and easy to make you're going to have a blast.  If you have little ones around definitely let them help out in the fun.  First we're going to head over to the Silhouette store and grab the Christmas Candy Box File for just $0.99. On a side note I find it so amazing that you can take a plain piece of cardstock paper and turn it into a magical candy house. Now back to the project.  Once you have downloaded the candy box file head over to the Silhouette Software and go to file->library->and find your image.  This will open up a new page for us to work with.
The file will open up with all the pieces scattered across the screen and that's okay.  First we're going to right click and select "released compound path" and then right click again and select "ungroup". Ungrouping the image allows us to move it around the screen and group like colors for cutting. Since this house consists of 4 different colors we'll be doing 4 separate cuts.
I decided to cut all my white pieces first which includes the roof, door, candy cane and flooring.  My second cut was the red house, my third cut was the green which consisted of tree, ribbon and candy cane and my last cut was the yellow window.  The cuts are simple and fast to complete.  Once you're ready to cut head over to cut settings and select cardstock as your material and turn your blade to a setting of 3.
Once the cuts are complete remove them from the cutting mat and set aside for assembly.  The first thing I did was fold the red house on the perforated lines and glued the tabs together and let them dry for a minute or two. After I assembled the house I glued the yellow window on the inside of the house to give the appearance of light coming through the windows.  Next I applied the house to the base and then glued on half of the roof.  You want to leave the other half of the roof free to fill and remove candy while in use.  After that is all complete you can add on the door, bow, tree and candy cane and your house is complete.  Like I mentioned this is a very easy paper project and it's so adorable you'll have lots of appreciation for it.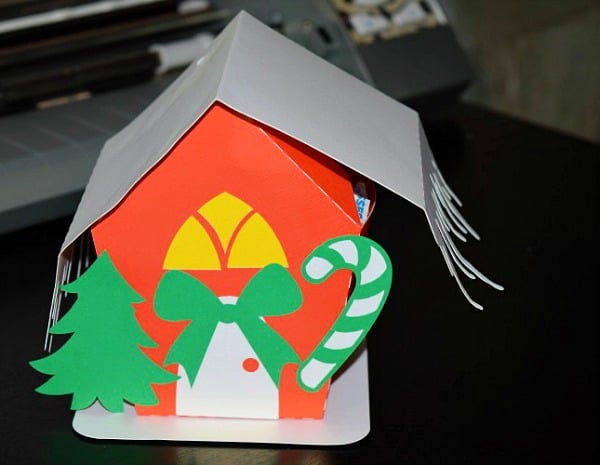 The kids went crazy for this and loved that I filled it with all my favorite chocolate candies.  Even though the house seems small it's currently holding a whole bag of Hershey's Kisses and Hershey's bars.  I really hope you enjoyed this tutorial and that you'll take on the easy challenge of building your own Christmas Candy House.  Best thing about this file is you can choose the colors on your house and make it your very own creation.
 The very talented Brittany blogs over at addicted2savings4u.com where she focuses on DIY crafts, home décor projects, recipes and more!