Join #TheStorkCanada Twitter Chat on 11/17 at 8:30 pm EST
I remember all too well how gut-wrenching it was to watch all my friends around me get pregnant within weeks of trying. Meanwhile, I'd been waiting for over a year and nothing was happening. I was losing hope. Back then, the only option I knew about was IVF and there was no way I could ever afford to pay the hefty costs associated with that method. One in six Canadians struggle with infertility, and many felt the same way I did – alone in their struggles.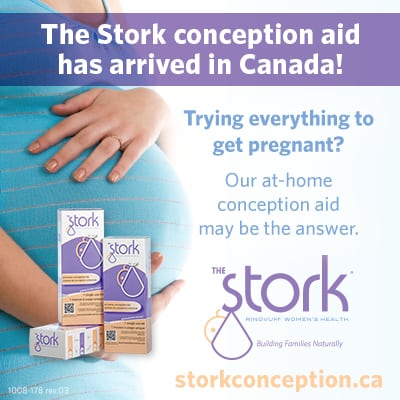 There is hope though and I wish this had been around 10 years ago when I was going through this! The Stork by Rinovum Women's Health is now in Canada and is a MUCH more affordable option for Canadians struggling with infertility. The Stork is an over-the-counter, at-home aid that supports a natural and intimate approach to conception.
It uses the well-established cervical cap insemination technology that health care professionals have used for decades and allows couples to perform it easily in their privacy and comfort of their home.
Finally there is something to bridge the gap between costly clinical treatments and natural intercourse! You can find The Stork at select pharmacies across Canada. For more details, please check out The Stork Canadian website. Connect with The Stork on Twitter, Facebook, YouTube and Pinterest.
#TheStorkCanada Twitter Chat
You are invited to the #TheStorkCanada Twitter Chat on November 17th at 8:30 pm EST to celebrate the launch in Canada! You also have a chance to win 1 of 10, $50 gift cards so don't miss out! If this is your first Twitter  Chat, it is easy to participate on the Twubs Page.
Party Details
Date: Monday, November 17, 2014
Time: 8:30 pm EST
Hashtag: #TheStorkCanada
Host: @storkbyrinovum 
No RSVP required!