Irresistible Slow Cooker Dessert Recipes
It's slow cooker season! Typically I use my slow cooker for soup and meat, but this year I'm going to diversify and use it for new types of meals! I'll start with making desserts in my slow cooker and after browsing through all the irresistible slow cooker dessert recipes online, I can't wait!
Slow Cooker Dessert Recipes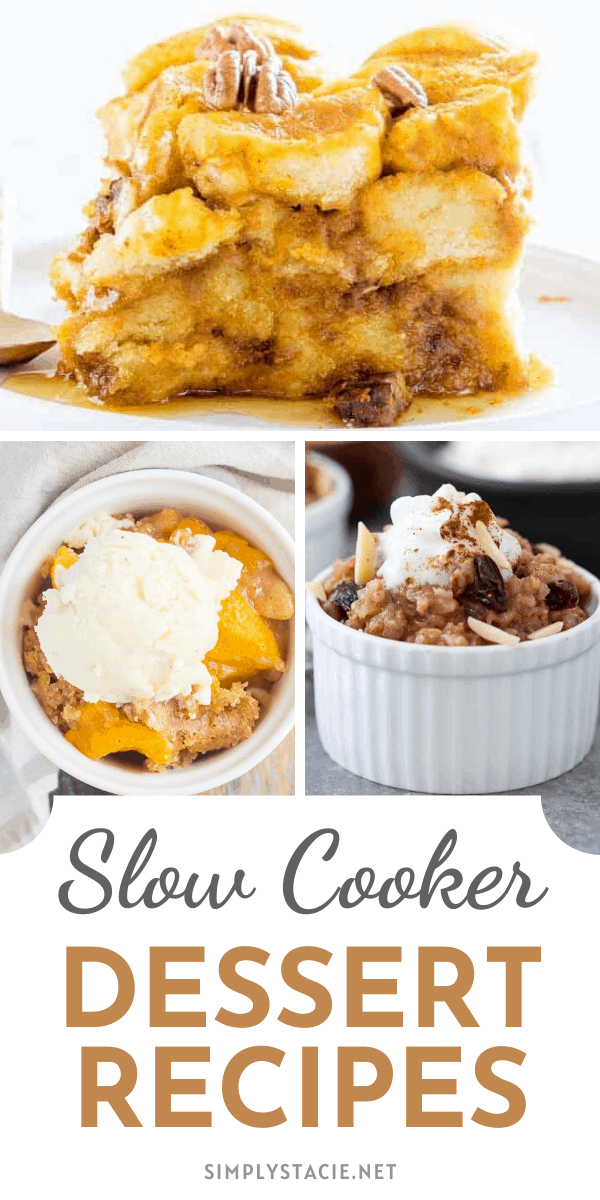 You can use it to make cakes, puddings, cookie bars, crisps and cobblers. My sweet tooth is screaming for me to try some new recipes. The trouble will be deciding on which one to make first!
Slow Cooker Dessert Recipes
Your slow cooker isn't just for savory recipes. Try these slow cooker desserts for something new!
A quick and easy Pumpkin Dump Cake made right in the slow cooker. An easy pumpkin recipe to make for fall. Dump cakes are so simple to make, and when you add in the slow cooker, it makes it a super yummy hands-off recipe.
This Slow Cooker Cinnamon Raisin Bread Pudding is easy to make and is the epitome of comfort food!
This yummy slow cooker dessert is the epitome of comfort food. It's thick, dense, moist and sweet. It's everything a cheesecake should be and then some.
Photo Credit: amandascookin.com
This apple cobbler all starts with a boxed cake mix, and ends with a scoop of ice cream on top. It's a deliciously easy dessert to make any time of the year!
Photo Credit: www.plattertalk.com
Slow Cooker Sticky Caramel Pumpkin Cake. is nothing less than the new eighth wonder of the world. Have this decadent dessert on the table in just two hours.
Photo Credit: www.slowcookerclub.com
How can something that is so simple to make taste so indulgent and delicious?! This recipe for slow cooker rice pudding makes a rich and creamy dessert which is perfect for serving hot or cold.
Photo Credit: whoneedsacape.com
Slow Cooker Apple Cranberry Spice Cake is the easiest dessert to make! Full of fall flavors, you'll love the smell and taste of this comforting recipe.
Photo Credit: www.pumpkinnspice.com
This Crock Pot Peach Cobbler is loaded with juicy peaches, a sprinkling of cozy spices, and layered with a crispy, cakey topping. Just throw everything into the slow cooker, set it, and forget it.
Photo Credit: wellifshecandoit.com
Homemade brownies in your slow cooker? Yes please! These cream cheese swirl brownies are quick and easy to put together and delicious to eat!
Photo Credit: karalydon.com
Hands-off rice pudding ready in just four hours in the slow cooker. Made with brown rice and coconut milk, this recipe boasts extra fiber and is vegan-friendly and gluten-free!
Photo Credit: recipesfromapantry.com
This incredibly easy Slow Cooker Bread Pudding recipe has been upgraded to a Slow Cooker Pumpkin Bread Pudding with lots and lots of pecans. Easy to make and perfect for breakfast, dessert and to use up your leftover pumpkin puree.