Santa Gift Bag Silhouette Tutorial
Hi everyone my name is Brittany and I blog over at addicted2savings4u.com. My blog focuses on DIY Crafts, Home Décor projects, recreates, recipes and lots more. I am so excited to have the opportunity to provide a fun Christmas DIY project for Stacie on the blog today and I know you guys are going to love how this turned out.
With Christmas right around the corner it's always fun to find a new way to gift special handmade gifts to loved ones and this Santa Gift Bag is providing just that. Everyone loves Santa and this double sided bag provides lots of room on the inside to fill with gifts, treats, sweets and lots more. I filled my bag with some shredded colored paper and topped off with some adorable nail polish that I will be giving my niece this Christmas. I really hope you enjoy this tutorial and find it so easy to follow along. Now it's time for the fun to begin.
Santa Gift Bag Silhouette Tutorial
Supplies Needed:
Cardstock (Red, White, Pink and black) I used cardstock stacks from DCWV
Scotch Quick Dry Adhesive Glue
Silhouette Cutting Machine
3D Santa Gift Box File
Directions:
Head over to the Silhouette online program and grab the 3D Santa Gift Box File for just $1.99. Once you purchase the file head over to your Silhouette Studio Software and find the image in your library. If the image isn't appearing go to file->downloading pending->enter password->download. After that the file will automatically appear.
Once the file is opened on your screen right click the image and select "release compound path" then right click again and select "ungroup". Ungrouping the image allows us to freely move the images around the mat to cut in different colored cardstocks.
Let's start with moving all the red pieces onto the mat. Since the box is so big you will have to do two different cuts on red paper. On my mat for the first cut I put on one side of the santa box as well as 2 hats. I used a very pretty Red Glitter cardstock from DCWV and it required a blade setting of 5 and a double cut as well to ensure a proper cut. It was a little more work but definitely worth it to get the sparkle I have at the end.
Cutting is easy. Once all your chosen pieces are on the mat head over to the cut settings and choose cardstock for your material and a blade setting of 3 for normal cardstock and a setting of 5 for glittered cardstock.
Once you cut all your red pieces it's time to cut all your white pieces which include Santa's beard, mustache, hat pom and hat rim. After the white cut we will do a pink cut and black cut to finish all the pieces. Once all the cuts are complete peel them off the mat and lay the cut pieces on a flat surface.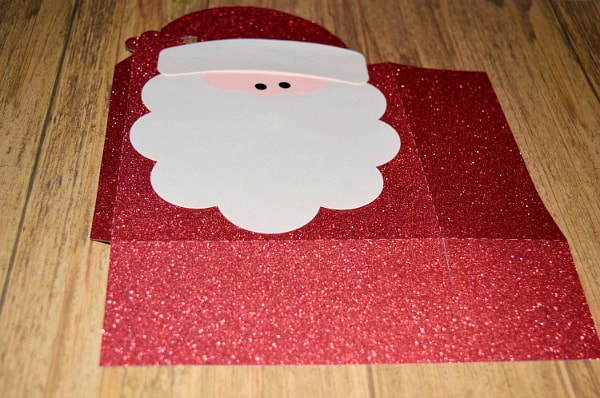 I folded my red bags on the perforated lines and laid them out flat so I could start my Santa face assembly. The layering is easy. First I glued the black piece under the pink piece to form Santa's face and eyes. Once that was complete I turned his beard over and glued the face into the beard opening. After that you will assembly his hat and mustache and that's about it. Glue the box together using the designated tabs with your paper glue and hold for a good minute to ensure a proper hold. These bags are so adorable and are perfect for kids and adults.
Once the bag was assembled I filled it up with shredded green paper and topped off with some Julep nail polishes for an amazing DIY gift that had a lot of thought. I really hope you enjoyed this tutorial and I hope you'll venture out and make your own Santa bag as well.
The very talented Brittany blogs over at addicted2savings4u.com where she focuses on DIY crafts, home décor projects, recipes and more!