Montage Photo Books
I'm the picture taker in my family. As of this very moment, I have 2,298 pictures on my iPhone alone! I have thousands of others on our personal server, on DVDs, on my cloud, etc. While I love having digital copies of my pictures, I love printing them even more. I have so many pictures hanging on my walls and photo books on my book shelves. I love being able to flip through picture books, and so do my boys. I'm always open to trying new services to print photo books, and I've recently been spoiled by Montage, who not only made the creation process a breeze, but also created a wonderful end product that will stay with my family forever.
The tagline on the Montage site is "Effortless photo books, made with love.", and that's exactly what they deliver. They offer three book sizes, and each size can accommodate up to 180 photos (that's up to 70 pages of pictures!), all for a fixed price – $39 for a small 6 inch, $59 for a medium 8.5 inches, and $119 for a large 12 inches. Montage offered me a credit to use on the site to build a book of my choice. I chose a small book, since my boys love to be able to pick up and thumb through our photo books a lot. The creation process is beyond easy – simply upload your photos and let Montage do the rest! Montage will lay out your photos for you, which I think is a really great feature since I always second guess myself. Once the pictures are laid out and you choose your theme (I chose Modern Patterns), you are given a preview of a finished product that you can accept as is, or you can go in a switch around photos and pages, edit photos, and more. I was very happy with the job Montage did, so I checked out with my book as they made it.
Montage prides itself on the fast turnaround on their book creation, and my book arrived in just a few days from the day of my order. It arrived in a beautiful white box. The book itself impressed me beyond words. I really wish you could all reach in and feel the quality of this piece. The book is wrapped in eco-friendly leather from Italy that gives it such a rich and luxurious feel. The pictures are crisp and clear on the pages, and the design on each page really enhances each photo. You can feel the love that went in to creating this piece – down to the detail of using each of my photos in black and white on the inner and back cover (one of my favorite features, and something that I think makes it even all that more personal). Another neat feature is how the pages open flat, which means no creases on your photos.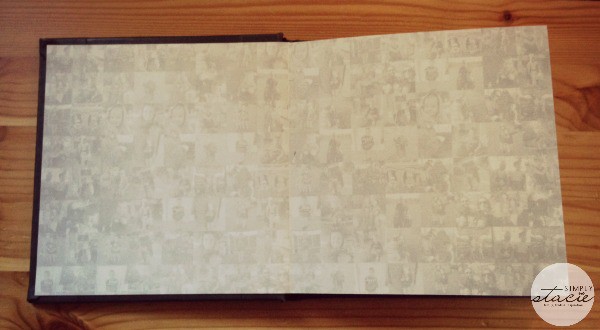 If you're in the market for a photo book, or are looking for a great gift idea for family and friends this holiday season, I would highly suggest visiting the Montage site where you can take a test drive of their service – a neat feature that takes you through the creation process before you commit. You can also find Montage on Facebook and Twitter.