I have been shopping at Hallmark for longer than I can remember. I have find memories of walking through the stores as a kid during the holiday season and just being in awe of all the fun, bright, and festive products. I've relied on Hallmark over the years for being the go-to place for sweet and sentimental gifts for just about everyone in my life. Now my kids and I go in to the stored together and I love to see them look at all the wonderful things in the store with the same twinkle in their eye that I'm sure I had in mine as a kid. It really is a magical store, and a magical company and I'm happy to showcase some lovely gifts they have to offer this season in their Northpole collection.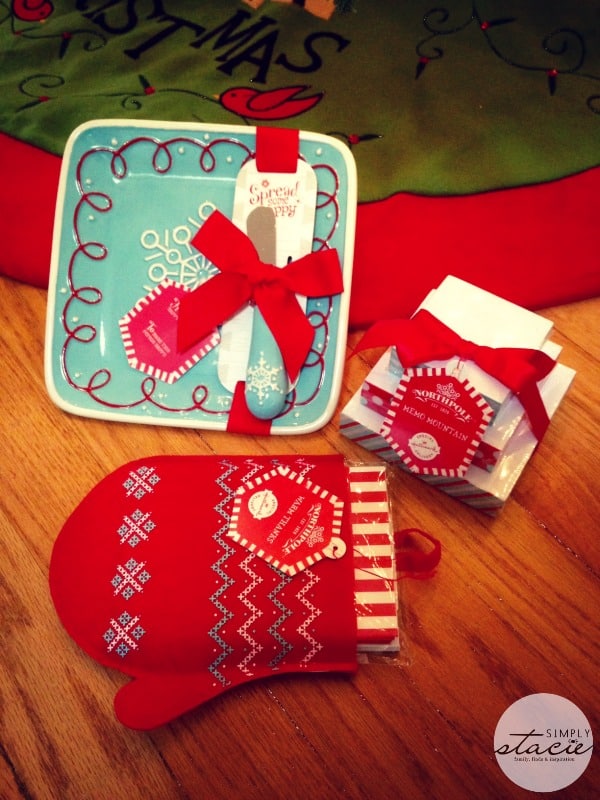 Hallmark sent me three great gift ideas for just about anybody on your list this year:
* Snowflake Hostess Set – this is a great hostess gift to bring along to any holiday party you're invited to this year. This plate and serving knife would be wonderful for serving appetizers. At only $9.95, you can pick up a few to keep on hand for those last minute get-togethers (which my group of friends are famous for!). These would also make great gifts for teachers or day care providers, or even a special co-worker or boss. Tied up with a cute little red bow, you don't even need to wrap this gift.
* Three-Stack Memo Mountain – a staple on any teacher's desk, these note pads would be easy to pair with a gift card for your child's teacher. Each note pad has 225 sheets of paper, which should last for a good chunk of the year! This stack sells for $9.99.
* Red Stitchery Note Cards – ten blank note cards are nestled in a cute little red mitten, ready to gift. These cards would make great thank you cards for the holidays. I think this set would also make a great teacher's gift. This set also retails for $9.99.
Beyond the cute gifts, Hallmark has a special website set up for more Northpole fun called Northpole1820 that gives you and your family a first hand look at Santa's city, where you can tour the town, check out the gift gallery, and even write a letter to the big guy.
To see everything Hallmark has to offer this holiday season, check out their website. Or better yet, check out their retailer locator to find a store near you and experience the magic in person. You can also find Hallmark on Facebook, Twitter, Pinterest, Instagram, and YouTube.