Get Glamorous with Madam Glam UV Gel Polish
I find I always feel more dressed up when I'm sporting some nice nail polish. My pet peeve is when it chips! I'm hard on my nails with working all day at the computer, cleaning my house and taking care of my kids. I usually have to fix them every 3 to 4 days sometimes sooner depending on what I was doing. If I have to leave the house to go to the store with my polish chipping off, I always feel self-conscious and wonder if the cashier or the people in line behind me notice my nails in need of some TLC. I don't mind doing my nails and am getting better at applying nail polish the more I practice. I only started wearing it regularly again in recent years and there was a bit of a learning curve to get back in the game. Painting my right hand is still tough though!
I experienced two more firsts recently – trying out a new brand of nail polish, Madam Glam and painting my nails with UV gels! I hadn't heard of Madam Glam before, but learned that they are based out of the Fashion district in New York and are growing in popularity. Madam Glam is sold exclusively online and I was excited to see that they do ship internationally.
Madam Glam nail polishes are 5-free. What this means is that they don't contain any Toluene, DBP, Formaldehyde, Formaldehyde Resin and Camphor. Try and say that three times fast! Also, their products are cruelty-free and never tested on animals.
I had a peek at the Madam Glam reviews online and was impressed by what I saw. I was really looking forward to trying Madam Glam and to see how easy it would be to apply and how long the colour would last.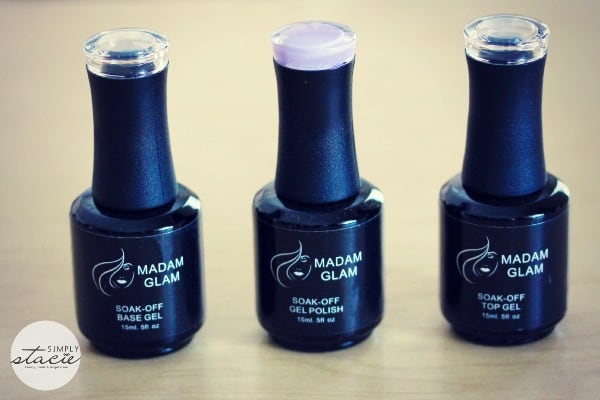 Madam Glam recently launched their line of UV gels and invited me to test them out. They sent me three products: Soak-Off Base Gel, Soak-Off Gel Polish in Lilac and Soak-Off Top Gel. Note: you'll also need either a UV lamp or LED lamp to use the UV gels. I didn't have one so I picked one up on Amazon.ca. They also sell them on Amazon.com for the US folks. A UV lamp is needed to cure the nails. Curing time is 2 minutes by UV lamp or 30 seconds with an LED lamp.
I was a excited and a little nervous to test them out. I had no idea what to expect since I've never tried gel polish before nor had I ever used a UV lamp. Like I said before I'm a newbie!
After preparing my nails by cutting hangnails and pushing back cuticles, I applied the Madam Glam Soak-Off Base Gel. It provides the foundation for the gel application. I applied one coat to each nail and held my hand in the UV lamp for a full two minutes. I played a game of Candy Crush on my phone while I waited for the timer to go off. Multi-tasking!
The next step is the fun one – the colour! I was curious to see how it would look on my nails. As you can see from my pictures, the colour is shown at the top of the bottle and is a pretty lilac. I picked this colour because it was soft and feminine. As I was applying it I noted how easy it went on. I was surprised I didn't get any on my fingers because normally I mess up at least one finger. It was seamless to apply.
After applying the first coat, I could have probably been fine to continue on with the next step. The colour was smooth and covered the nail nicely. I ended up doing two coats since that is what I normally do and I didn't see any instructions saying how many coats to apply. I used the UV lamp to cure between each coat and played some more Candy Crush (I'm stuck on Level 377)!
Lastly, I applied the Soak-Off Top Coat Gel to protect the colour and keep it shiny. When I was done, I noticed my nails felt a bit sticky. I learned this is normal and you need to wipe them off with some isopropyl alcohol. Once I did that they were smooth and shiny and completely dry.
What especially shocked me is that days later my nails still looked great. The colour is vibrant and they were glossy and smooth. The best part is no chips. This gel polish is GOOD! It's worth the extra effort of using a UV lamp. The application can last 3 to 4 weeks.
I wish I would have been able to wear Madam Glam for my sister's wedding back in 2006. We had our nails done at a salon. My polish peeled off in the car ride home! I was so mad. If John and I ever tie the knot, I'm wearing some UV gel polish for our wedding!
I wasn't sure how to take off the gel polish so I asked Madam Glam. They told me to use regular acetone and shared a link to a video review demonstrating how to do it. Fast forward to around the 20 minute mark to watch her remove it.
Now I need to start building up my Madam Glam collection! I'm thinking I'll try a pink next or maybe a soft green. Decisions decisions!
Have you tried gel polish before? 
Coupon Code
Receive 30% off your purchase at Madam Glam with the coupon code YGEL30OFF 
Connect with Madam Glam on Facebook, Twitter, Instagram and Pinterest.