Amopé Pedi Perfect Electronic Foot File
I have a confession to make: I don't wear socks….ever. Even in the winter time, I'll be barefoot in my boots. I'll be the first to admit that it's not the smartest thing to do for a few reasons and I know I'm not setting a good example for my two kids. They both wear their socks. I don't even remember how or why I stopped wearing them. In the winter, sometimes I'll put a pair on and try and wear them for a day. The next day, it will be no socks as per the norm.
There is a downside to not wearing socks. Yes, it can be cold at times, but my poor feet are in need of some major TLC. My feet are TOUGH. They are callused and dry and I'm even nervous sharing this secret of mine with you today. I know I need to take better care of them.
I've tried foot files and pumice stones in the past, but found them too tedious to use so I gave up. I need something easy that takes little effort to use and I've found a solution: the Amopé™ Pedi Perfect Electronic Foot File!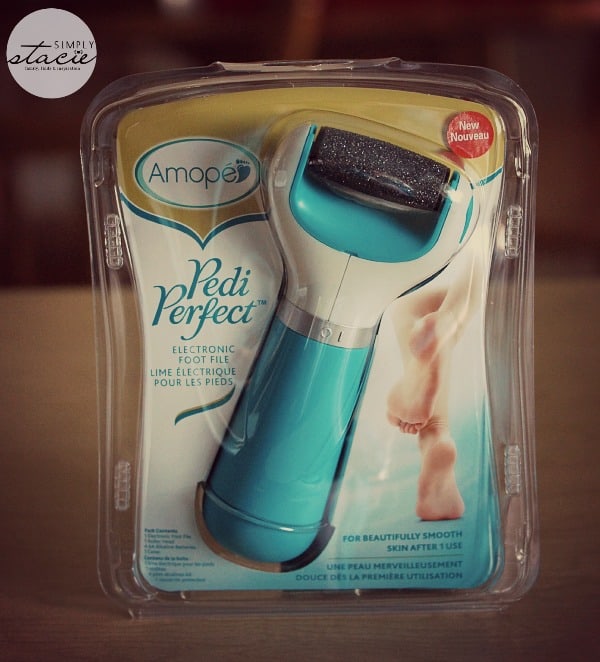 This electronic foot file and callus remover will remove dead skin and make your feet smoother and softer in just one use. It has a Micralumina roller head which is like an electronic pumice stone that quickly and painlessly buffs and exfoliates. It's cordless and takes four AA batteries and is ready to use out of the package – no charging required!
My sister goes to a spa where they shave the calluses off her feet which sounds scary and a bit gross! I like that the Amopé™ Pedi Perfect Electronic Foot File has no sharp blades so I can't cut myself.
I noticed a remarkable difference the first time I used it. Your feet must be dry to use it so don't soak them ahead of time. Also, make sure you do it in the bathroom because they'll be fine particles of dead skin coming off. It will make a mess so it's better it's near the tub so you can easily clean it up.
To operate, just turn it on and move it over the dry, callused areas on your feet with medium to light pressure. If you push too hard, it has a safety feature to stop on its own. I couldn't believe how much it took off. Like I said, my feet were pretty bad and they look 100 times better now.
When I'm done using it, I rinse my feet off with warm water to get rid of any dust and then moisturize. My feet are looking better and feeling softer with every treatment I do. They are starting to look like normal feet again!
I was worried at first that it might hurt. It doesn't at all. It's not even uncomfortable except when I started to giggle when I move over a few ticklish spots. My feet are extremely ticklish.
I found them on Amazon.ca (currently a best seller & qualifies for free shipping), Well.ca, Shoppers Drug Mart and Amazon.com. You can also pick one up at Loblaws grocery stores, Jean Coutu in QC and Uniprix in QC. I'm telling my sister who is obssessed with pedicures that she needs one of these products! Maybe I'll surprise her with one for Christmas instead….