Win Big in THE GAME OF LIFE – CAA Edition
I smile when I think back to my teenage years. I used to imagine what my life would be like when I grew up. I pictured myself living somewhere in Europe and working as either a French or German translator. I would be happily married and have a couple of children. I chuckle because my life could not be so different! I believe everything happens for a reason and things are as they are meant to be.
16 year old me on a school trip to Washington D.C., 1994
First of all, I'm still living in Canada and definitely not working in foreign languages! Instead, I studied accounting and worked in public practice for 6 years before leaving my job for health reasons. Fast forward to 2014 and I'm working full-time blogging! Crazy how things turn out isn't? Back in high school, the Internet was fresh and new, and not many people that I knew used it yet. I didn't even know what blogging was back then.
I was married young, at age 21, and had my first daughter at age 20. Being a mom changed my plans and made me re-evaluate what I wanted to do with my life.  I went to college first and then university when Olivia was little. I was motivated to continue my education and get a good job to contribute to our family income.  My second daughter came along in 2004 and completed our family.
Baby Bridget, Olivia, me and photobombed by Zoe, the boxer, 2005
Traveling was still in the cards for me, but not in Europe. Instead, we moved every few years to different military bases in Canada as a military family. We've lived in Ontario, Alberta, New Brunswick and Nova Scotia. I didn't mind moving and surprisingly started to welcome the process. It was neat being able to see and experience different locales in our beautiful country.
In 2009, life changed again when I separated from my husband. The experience changed me and made me both stronger and more independent. Then I met John and we've been together ever since. I feel good about where my life is at right now. I've had my ups and downs, but overall, things are good and I'm thankful for the experiences and people in my life. I'm blessed with two healthy daughters and a partner who is supportive and kind.
My life isn't even close to what I thought it would be back then, but I'm not complaining. It's different, but that isn't a bad thing. In fact, I'd say it's even better than I thought it would be! I'm ready to keep playing the game of life and seeing what life has in store for me for the future.
THE GAME OF LIFE – CAA Edition
Guess what? THE GAME OF LIFE – CAA Edition is back for its 4th year! Play every day for the best chance to win over 2,600 instant prizes plus the grand prize – a fabulous dream vacation!
We owned THE GAME OF LIFE board game as kids and I remember spending hours with my sisters and cousins playing it. In fact, I even recall playing it alone….somehow I made that possible! The CAA version of THE GAME OF LIFE is different, but similar. It's the game we all know and love with Paydays and the colourful wheel to spin. Instead of paper money and imaginary prizes, you can win real instant prizes and play to win a vacation. Sounds like my kinda game!
THE GAME OF LIFE – CAA Edition is open to people in South Central Ontario. You can play every day to earn entries towards the grand prize and have a chance to win the instant prizes. The more you play, the better chances you have to win!
You can also earn bonus entries for sharing your game activity with your friends on social media and by inviting your friends to play. Spread the love!
Win a Dream Vacation
Want to learn about the amazing prizes?
The grand prize has three options to choose from including:
Florida Family Fun: 8-day trip for people to Orlando theme parks
Northern European Cruise: 7-night Norwegian escape for 2 people with Holland America line
Signature Argentina Tour: 13 day tour for 2 people of the best of Argentina (Buenos Aires, El Calafate & Mendoza)
Which one would you pick if you won? My first choice would be the Northern European Cruise! It would cross two items off my bucket list- visiting Europe and going on a cruise.
Over $35,000 in Instant Prizes
In addition to the grand prize, there's also over $35,000 in instant prizes to be won!
They include:
Petro-Canada™ Gift Card
Petro-Canada™ Preferred Price Card ($0.10 off per litre)
Petro-Canada™ Car Wash Card
Payless ShoeSource Gift Card
East Side Mario's Gift Card
Cineplex Entertainment – Adult Admit One Ticket
Husky Energy Gift Card
Options Gift Card
Dulux Paints Gift Certificate
Kernels Popcorn Gift Card
LensCrafters Gift Certificate
Teleflora Promo Codes
Starwood Pre-Paid MasterCard
Best Western Travel Card
Walmart Gift Card
Sephora Gift Card
The Body Shop Gift Card
Tiger Direct Gift Card
Wow! That's quite the list. You need to play to enter to win these fab prizes!
THE GAME OF LIFE – CAA Edition is open to both CAA Members and non-members who live in South Central Ontario. If you're not a CAA Member yet, consider becoming one. CAA Members have access to Roadside Assistance and many other perks including life, home and auto insurance, travel packages and insurance and exclusive access to savings and rewards at more than 164,000 retail locations and services worldwide.
Find out what THE GAME OF LIFE has in store for you. Head on over and play THE GAME OF LIFE – CAA Edition now. Remember to play every day until November 23rd and SHARE with your friends and family. Good luck all!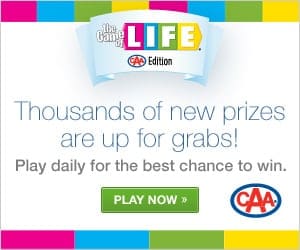 #CAAGOL Twitter Party
You are invited to the #CAAGOL Twitter Party on October 23rd at noon EST! Make sure you follow @CAASCO and the hashtag #CAAGOL and join in the fun. No RSVP required.