Sterling Silver Freshwater Pearl CZ 2 Inch Earrings
I look forward to those rare occasions out on the town for date nights with my husband. Recently, we had a babysitter available to stay with the kids and he took me out for a nice, romantic dinner and we even danced for a few songs! It was a wonderful night and I felt so pretty dressed up and wearing my Freshwater Pearl and CZ Sterling Silver Earrings (SRP $32) from Jane Jane Jewelry! My husband even complimented me on my "look" and he normally does not even pay attention to my jewelry so I took that as quite the compliment.
Jane Jane Jewelry has a wonderful selection of beautiful necklaces, earrings, bracelets and more to choose from which are designed by the very talented, Jane. In fact, it is no secret that my favorite bracelets are the leather wrap bracelets that she designs but these earrings are a close second.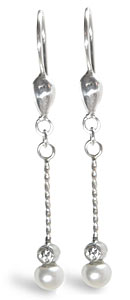 These delicate, gorgeous earrings features real pearls and white cubic zirconia which give it the perfect amount of sparkle for a dazzling look. I always prefer to wear dangle earrings but it can be a challenge to find the perfect length that still looks modern and yet not overpowering. At 2 inches long these earrings are a very flattering length and the drop style is quite feminine. The earrings are lightweight and therefore extremely comfortable to wear for an extended period of time. When I first opened the box and saw this pair of earrings it immediately made me think of it as the perfect accessory for brides or bridal parties. It would also make a lovely gift for a very special person.
You are invited to visit Jane Jane Jewelry to purchase these beautiful earrings and browse the entire jewelry collection to find your personal favorites. I am always so pleased with the pieces of Jane Jane Jewelry in my jewelry box and find myself selecting these accessories time and time again over other brands. What makes it so special in my opinion is the attention to detail and quality of each piece.