Shark Books from DK Canada
*I received a copy of this book for review, but was not compensated financially in any way. The opinions expressed are my own and are based solely on my experiences while reading this book.*
My youngest daughter used to be in a phase where it was everything dinosaurs. We'd read books about dinosaurs and watch dinosaur movies. Now she's on to a new topic….sharks! She is shark obsessed! I think we've watched just about every age-appropriate movie on Netflix on the subject. Now she has two new books to read: Eyewitness Shark in new paperback format and Everything You Need to Know About Sharks! These books are perfect for her to read to satisfy her thirst for knowledge on the subject.
We've read a couple of books from the Eyewitness series already and I've always been impressed with the way they've covered the material in an easy to read and understand format. In this book, children learn about the various kinds of sharks and other close relatives like the sting ray. Not only will kids learn the basics about sharks like what they eat and how they reproduce, but they'll also meet the different kinds of sharks. Many of them I've never heard of before like the Angel shark. I'm not surprised the first chapter Bridget wanted to read was about shark attacks. I think that is the first thing that comes to mind when we think of sharks. It was nice to give her a new perspective on these majestic creatures and one not so menacing!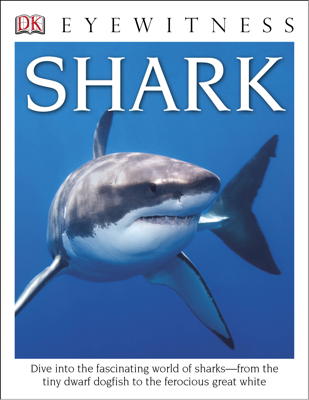 Bridget also liked all the pictures of the various breeds of sharks. She's really only been exposed to the Great White shark that is popular in movies. The trivia junkie in me liked the Fascinating Facts at the end of the book. Did you know that the hammerhead shark eats stingrays, swallowing them whole in spite of their poisonous spines? See you learn something every day!
Everything You Need to Know about Sharks is another excellent resource for children to understand sharks and other underwater creatures of the deep like whales, jellyfish and eels. It features 2oo photographs and illustrations making it easy and fun for kids to read and understand.
Kids will also learn if sharks are fish or mammals. I knew this but I also liked to read the checklist for a mammal. It's a good reminder of what I learned in school many, many years ago.
There were many creatures that we had never heard of before. Some were pretty scary looking! I wouldn't want to meet any of them during an ocean swim.
You can find these two books and more at DK Canada's Back to School Boutique. Save 30% off your purchase for a limited time only!