Join the #RedboxCanada Twitter Party on 10/29
We are a family that loves to watch movies. You can find us all curled up on our sectional watching movies together as a family. Often times, we'll all be in separate rooms each watching our own movie. John is an avid movie collector with over 2000 VHS tapes. He even built a special room in the basement to house them all. I know there is no way he would ever part with them even though there time has past, in my humble opinion. I prefer to watch new releases these days and we don't have too many of those laying around in the house!
A few weeks ago I was doing my weekly shopping at Walmart and noticed a Redbox kiosk and I was intrigued. Redbox is Canada's largest DVD "rentailer" with more than 1,350 automated kiosks across Canada. They carry new and recent releases in a variety of genres in both DVD and Blu-ray formats. I mentioned to John that we needed to hit up the Redbox kiosk the next time we are out shopping together. We rarely ever go to the movies anymore mostly because it is so costly and I don't like the theatre set up in the city I live in. If someone tall sits in front of you, your view is sometimes almost totally blocked!
Free One-Night Movie Thursdays
Instead, I'd rather watch a movie in the comfort of my home. Redbox has Free On-Night Movie Thursdays for the month of October and I plan on taking full advantage of this promotion!
To recevie a free one-night DVD rental on Thursdays in October (October 23rd and 30th), visit your local Redbox kiosk and enter the promo code THURSDAY at checkout and swipe a valid credit card to cover any additional nights you hold onto the DVD. If you return your DVD by 9 pm local time the next day, there won't be a charge. Enter your email at checkout if you'd like a receipt.
Kickstart your weekend on Thursday and take advantage of this special promotion from Redbox. Find a Redbox kiosk near you and you can also reserve a movie online at www.redbox.ca.
#RedboxCanada Twitter Party
You are invited to the #RedboxCanada Twitter Party on October 29th!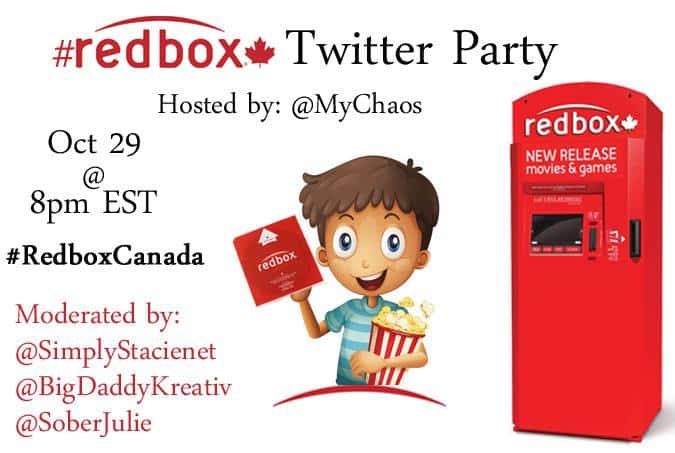 Party Details
RSVP
Please follow the host, sponsor and moderator and add your Twitter name and link to the linky below!