Cookies by Design
With fall in full swing, the holidays are coming up fast, and I love it! Starting with Halloween, all the way through Christmas, I love the parties, the get-togethers, the shopping, and of course all the food! Even though I like to watch what I eat all year round, I do allow myself some indulgences during the holidays. One of my weaknesses is cookies – even as a kid, I always loved going to the bakery for their specialty cookies during the holidays, especially the ornately decorated themed cookies. I've passed that weakness on to my children, so we were all thrilled for the chance to review some cookie goodness from Cookies by Design.
Cookies by Design sent us a wonderful Halloween bouquet of cookies that are as pretty as they are delicious. When the package arrived, my boys were so excited to see the ghosts and pumpkins. I was impressed by the designs too, as well as with the size of each cookie. My boys and I enjoyed a special after-school treat of cookies and a Halloween movie and we all enjoyed the taste and texture of these cookies – soft and sweet, just as we like them! These cookies are cute and fun and tasty and would make a really fun treat for family and friends. You can customize the size of the bouquet from Small (5 cookies), Medium (7 cookies), to Large (12 cookies). This would be a neat bouquet to send to a college student living in the dorms, to grandma and grandpa from the grandkids, or to your own children as a Halloween surprise. Prices range based on size from $43.99 to $89.99. The bouquet I received is a Medium and sells for $55.99.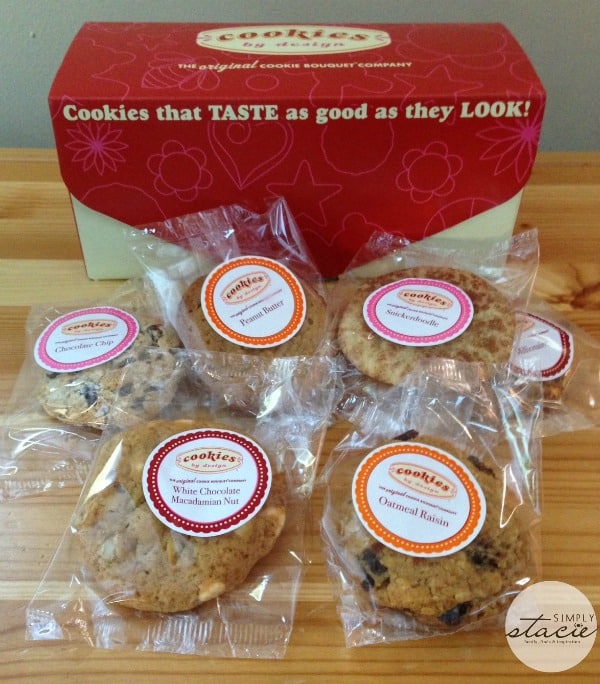 Cookies by Design also sent along a sampler box of their cookies that included six varieties of soft, fantastically tasty cookies. My favorite is their classic chocolate chip – perfect for dunking! These boxes are another gift-giving option Cookies by Design offers, in addition to cookie trays, cookie tins, cookie baskets, and more. They offer cookie sandwiches, mini cookies, and cookies designed for any occasion. You can shop by occasion or price, and they even have a Gluten Free section for those with food sensitivities. They make it easy to pick the perfect gift for a corporate event, a birthday party, a holiday celebration or simply "just because".
Cookies by Design was started way back in 1983 by Gwen Willhite who had the idea to combine two popular gifts, flowers and cookies, into one deliciously delightful concept, the cookie bouquet. Each Cookies by Design location across the US offers unique cookie bouquets, gourmet cookies, and other specialty gifts, all hand-crafted with care. They can truly accommodate any and every request you may have. You can see all the deliciousness Cookies by Design has to offer on their website. You can also find them on Facebook, Twitter, Pinterest and YouTube.
Now through December 31st, 2014, Simply Stacie readers can enjoy 15% off any order of $40 or more by using the code BLOG14REV at checkout.