When you were younger, do you remember thinking about how many kids you would have when you grew up? I always said I'd have three children. As it turns out, I have two beautiful girls and no more babies are in the future for me. I had no issues conceiving my oldest daughter, but it took me two years to become pregnant with Bridget. I remember being so worried about why it wasn't happening and wondering what was wrong with me. When I did finally become pregnant, I couldn't believe it. It was a miracle because I thought Olivia would be an only child.
It felt like I tried everything! I talked to friends and they gave me their "advice" on what I should be doing to help the process along. Some of it was a little out there! After trying for over a year, I finally booked an appointment with my family doctor to get some medical advice. He told my husband and I that they only test after a couple has been trying a year and they always start with the man's test first. It was less invasive than testing me.
One thing I did not realize is how many people are struggling with fertility! When I was going through it, I felt like the only person in the world. I know that is not the case, but I was seeing my friends sneeze and get pregnant while nothing happened for me. I felt really alone.
A new study from researchers at Yale School of Medicine and the maker of First Response had some pretty interesting findings. First off, it showed that 40% of women across all age groups expressed concern about their ability to conceive. That statistic right there is very revealing. It shows that conception is on many women's minds. Back then I thought about it a lot!
© Depositphotos.com/[diego_cervo]
The study had a couple other major findings:
Over 25% of women surveyed were unaware of the adverse implications of sexually transmitted infections, obesity or smoking on infertility.
75% of women said that they get their information about reproductive health from a healthcare professional while 40% said they look for information about sexual reproductive health online.
The study also took a deeper looking into misperceptions about conception. Did you believe any of these? I'll admit it, I did on a couple.
6 out of 10 women surveyed thought that intercourse should be timed after ovulation (instead of before) to maximize chances of conception.
41% of women believed that their ovaries continue to make new eggs.
51% of women believe that having sex more than  once per day increases chances of getting pregnant.
30% of women were unaware that exposure to an STI may affect fertility.
What about you? Did you believe any of these misperceptions?
If you are trying to conceive, try First Response Digital Ovulation Test. It tracks your unique hormone levels to help you maximize your chances of becoming pregnant. Think there's a chance you might be pregnant? Try Test & Confirm First Response Pregnancy Test. It can detect the pregnancy hormone 5 days before your expected period. It's the only test that can do this!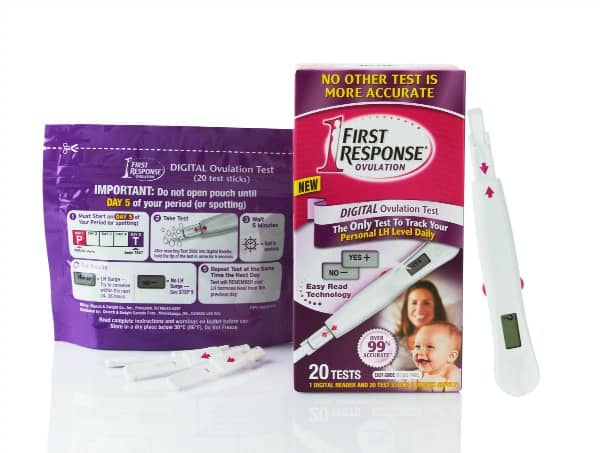 Both tests have accuracy rating of over 99% so you can feel confident in the results. I still remember the shock and joy I felt when I finally had a positive pregnancy test. I confirmed with the doctor weeks later and he said if the home pregnancy test said you were pregnant, then you are pregnant. Sounds good to me.