Mamma Chia Review
My husband and I have been using chia seeds in our smoothies and certain recipes for a while now. We like the health benefits they offer, and they're pretty easy to incorporate into any recipe. I like that using these seeds has become popular lately and I was thrilled to be able to review some goodies from a pioneer in the chia business – Mamma Chia.
We received six flavors of Mamma Chia's Chia Squeeze packs that are perfect for lunchboxes, to throw in your gym bag for a boost, or to stash in your desk at work for an afternoon snack. The flavors of these packs are fantastic – Apple Cinnamon, Blackberry Bliss, Green Magic, Mango Coconut, Strawberry Banana, and Wild Raspberry. I like the rich flavors, and the texture of these snacks are really great. If you haven't had one before, I'll tell you the same thing I told my sons – it tastes like your eating soft strawberry seeds (something my five and three year old could both understand!). My youngest son loves eating from squeeze pouches, so these were a hit for him. My husband and I both loved these as well. We keep them in the fridge and enjoy them chilled. These pouches retail for $1.79 each and pack in a lot of nutrition, including 1200mg of Omega-3s, 4g of fiber, and 2g of complete protein. And if you're watching your waistline, these are a great low calorie snack at only 70-80 calories each.
We also received a variety of organic Vitality Beverages in Cherry Lime, Strawberry Lemonade, Blackberry Hibiscus and Pineapple Coconut. My favorite is the Cherry Lime – so very refreshing. These drinks feature 2500mg of Omega-3s, 6g of fiber, 4g of complete protein, 95mg of calcium, and are only 120 calories per bottle. These are wonderful for that 3pm slump that seems to hit every day! These bottles retail for $2.99 and, along with the Chia Squeeze packs, can be found at retailers such as Target, Costco, Whole Foods, and grocery stores throughout the US.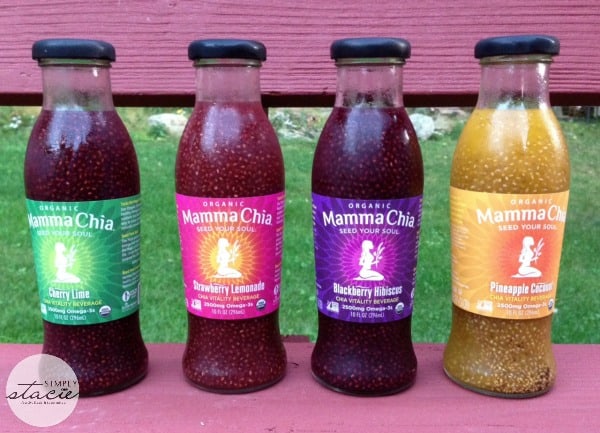 Founded on a small rural farm in San Diego, the Mamma Chia mission is to share the magic of chia and lead in its renaissance (they were the first to introduce a chia-based beverage to the market!). They are a company dedicated to offering the highest quality organic chia-based food and beverages that provide vitality, energy and strength. It's founder and CEO Janie Hoffman has even created a newly released chia cookbook to help you bring the power of chia to your meals!
To learn more about the Mamma Chia brand, visit their website. You can also find Mamma Chia on Facebook, Twitter, Pinterest, Instagram, Google+ and YouTube.