Introducing Keurig 2.0

Less than two weeks ago I had a surprise delivery. I literally squealed in delight when I saw the courier drop it off on my step. I knew it was coming, but wasn't sure exactly when it would arrive. Then out of the blue, I open the door to let our contractor in and I see a big white box wrapped in a bow sitting there waiting for me. I'm sure the contractor must have thought I was off my rocker, but I didn't care. After months of anticipation, I was finally going to be able to try the brand new Keurig 2.0!
Keurig Canada had been mailing me teasers throughout the summer. They offered a small taste of what I could expect when the Keurig 2.0 launched. The Keurig Carafe arrived with the K-Carafe Cups and I knew this brewer would be unlike any one I've ever owned. I've been loyal to the Keurig brand for the past couple years and it's how I brew all my coffee at home. I've been happy with the single cup brewing, but I knew it would be really cool to be able to brew a whole carafe of coffee. I mean there are some days when I drink A LOT of coffee. I guess I could always share a carafe with guests too. Just kidding- of course, I would! I'm not mean.
Today I want to share with you all the details about the Keurig 2.0 and how I'm enjoying using it. It has many more bells and whistles than my previous brewer and some features I didn't expect to see.
The Keurig 2.0 system is available in the K500, K400 and K300 series. The one I received was the Keurig 2.0 K500. Each system brews both a single cup using a K-Cup pack and a carafe using the new K-Carafe packs. You'll receive a plastic Keurig 2.0 carafe and K-Cup and K-Carafe variety packs in the box of each brewer.
Here's a brief rundown on each of the series available and how they differ:
Keurig 2.0 K500 series (SRP $189.99)
10 brew sizes ranging from 4 oz to 30 oz
80 oz illuminated water reservoir
Extra large colour touchscreen display with customizable wallpaper and programmable controls (strength control, auto on/off, auto brew K-Carafe pack, programmable clock, favourites settings option, customizable night light)
Hot water on demand feature
Keurig 2.0 K400 series (SRP $159.99)
Nine brew sizes ranging from 4 oz to 30 z
70 oz illuminated water reservoir
Colour touch display with customizable wall paper and programmable controls (auto on/off, auto brew K-Carafe pack, strength control, customizable clock and favourites setting)
Keurig 2.0 K300 series (SRP $139.99)
Nine brew sizes ranging from 4 oz to 30 oz
60 oz illuminated  water reservoir
Grayscale touchscreen with strength control
My Keurig 2.0 also came with a brewer accent. I think it's a fitting image to look at when you first wake up in the morning and reach for the coffee!
The Keurig 2.0 is the very first Keurig brewer to brew both a single cup and a four-cup carafe. Keurig is always thinking outside the box or in this case, outside the mug. I love that this new innovation offers both convenience and selection! Sometimes one mug just isn't enough. It's nice to have the option to make a carafe whether it's for yourself to sip and enjoy or to serve to a group of people sitting at the kitchen table for breakfast. In the latter scenario, it will save loads of time because you won't have to brew each person's beverage separately.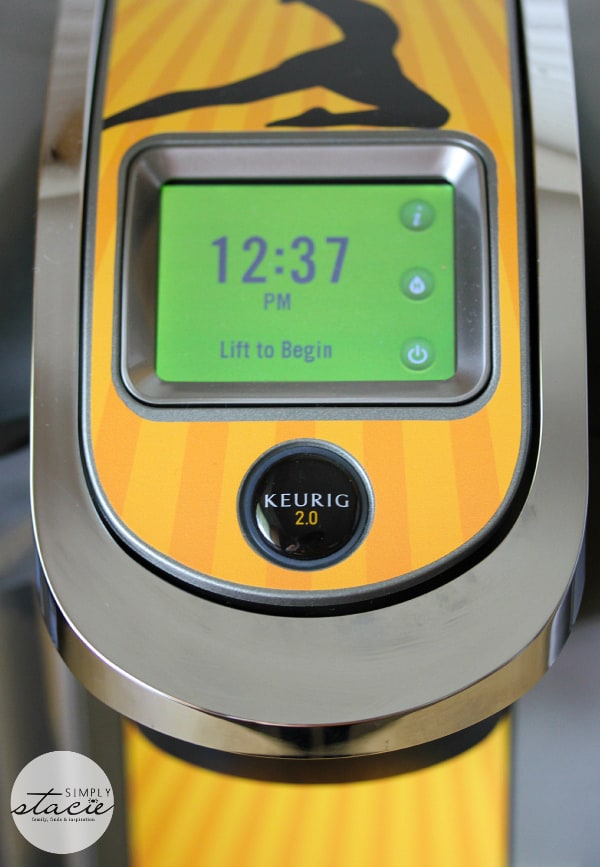 I also appreciate the wide variety of beverages to choose from. I was telling my friend about my new brewer the other day and she remarked that Keurig is known for having the best selection out there. I'd have to agree. With the Keurig 2.0, you have your pick of 125+ varieties from 20+ brands including coffee, tea, hot chocolate and other café style beverages. Some of the popular brands that I enjoy are Van Houtte, Starbucks, Timothy's World Coffee and Green Mountain Coffee. I also like the Chai Latté! Look for the Keurig logo on the packs.
Lately, I've been ordering my K-cups directly from Keurig.ca. I get their emails so I watch when they have a sale. I just ordered a bunch of K-cup packs during their Labour day sale. The Perfectly Pumpkin flavour is my favourite and so fitting for fall!
The system is also very easy to use. It comes with an instructions booklet, but the brewer pretty much walks you through the steps of brewing your perfect cup. It's neat being able to select the size (I usually go with 10 oz for cups of coffee) and strength. It has a touch display so you simply select your options and press the big Keurig 2.0 button to start brewing.
Another neat feature is the hot water on-demand function. It will dispense up to 6 oz of hot water into a mug. Perfect for tea drinkers! My mom used it a couple times when she made tea.
For the settings you use most often, you can save them to your Favourites. Then just press the Favourites icon to brew. It saves a little bit of time.
The water reservoir is nice and big! The fact that it holds so much water saves me time in the mornings because I don't have to refill it every time I need to make a cup of coffee. It lasts me for about 2 days the way we drink coffee here. The water reservoir also lights up and you can pick the colour you want (white, green blue or red). It looks neat in the dark with it glowing on the countertop.
The K-Carafe packs are larger than the K-cups and they also will fit perfectly into the Keurig 2.0. You need to remove the drip catcher and then slide the carafe into its spot. Don't remove the lid. The coffee will brew directly into it with the way it's designed.
A K-Carafe Pack will brew up to  4 cups of coffee at a time.
I think the most important thing here though is the taste. I mean that's one of the reasons why I drink coffee. It needs to be hot, but not too hot. Strong, but not too strong. And most of all, fresh! The Keurig 2.0 delivers a darn good cup of coffee every time!
Visit Keurig to learn more about the Keurig 2.0 and to shop for one for your home. They offer free shipping on orders over $45.
What is your favourite feature of the Keurig 2.0?
Connect with Keurig 2.0 on Facebook, Twitter and Instagram. Join the conversation on social media with the hashtags #KeurigInnovation, #BrewACup #Keurig2point0 and #BrewACarafe.