Green Virgin Products Review

Living a natural lifestyle is very important for our family and discovering new companies that offers natural products is always exciting. Green Virgin Products has an online store that makes it so easy to shop for the highest quality naturally derived products from the comfort of home. They feature the highest quality, non-toxic items such as Moringa, Soap Nuts, Cleaners, Teas, Deodorants and more.
I have wanted to try soap nuts for years and recently discovered that there is a Soap Nuts Liquid (SRP $18.95) that is available from Green Virgin Products. What are soap nuts? Made from the fruit berries of the Sapindus Mukorossi soap nuts, it is a product that is an effective washing machine soap. It is available as both the Deseeded Soap Nuts and in an innovative liquid form. I was very excited to try out the liquid form and was not disappointed. I added a tiny amount of product (an 8 ounce bottle does 120 HE wash loads) to my children's clothes in the washing machine and was pleasantly surprised that their clothes came out smelling fresh and wear even softer once dried. Next, I tested it out on a load of my delicate items and it exceeded my expectations! I also learned that I could use this diluted as a window cleaner and "WOW" the results were amazing. We have three children and two dogs so I constantly have to clean our sliding glass door and the results were great….it removed all of the marks and smears and even my husband noticed it right away. This is such a versatile product and I am thrilled that I had a chance to use it as it will become a new staple in our household. The Soap Nut & Moringa Peppermint Bar Soap ($6.95) is a refreshing, moisturizing body and hand soap that I use personally and so do my children. It cleans nicely with light, fresh peppermint scent and yet it does not dry out skin at all…in fact, our normally dry skin is noticeably improved since using this soap daily.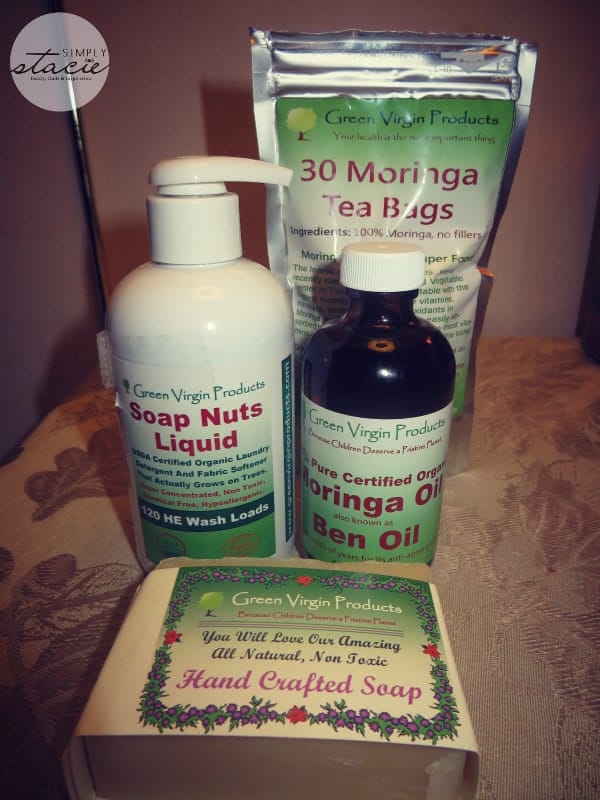 I recently learned about the leaves of the Moringa tree which is available in powder, tea, oil or liquid form. Moringa has been called a "super food" as it is packed with many different nutrients including vitamins, minerals, proteins, antioxidant and amino-acids. Green Virgin Products takes their packaging of Moringa products very seriously so that I can be assured that the products I received are the freshest and most potent available. I recently tried the Moringa Oil and the Moringa Tea and liked both. The Moringa Oil (SRP $26.95) is 100% pure and certified organic. It has been prized around the world for thousands of years for its anti-aging properties and I was excited to try it because my skin has been showing the signs of sun damage since I hit my 40's. It has so many different uses and so far I have used it as a nighttime skin oil, a hair treatment oil and as an oil applied to my son and daughter's keloid scars. I was surprised at how quickly this product absorbed into the skin…it seemingly vanished and left behind skin that was softer to the touch. As a hair treatment this oil is amazing….we swim every day in either our pool or in the salt water which has left our blond, fine hair very fragile. I applied this to my hair and my daughter's hair and combed it through leaving it in for several hours. After washing it, the comb slid right though both of our hair and after drying and styling it was like having a new head of hair! At night before they go to bed, I apply the product to the burn scar on my son's arm and my daughter's facial scar. If I forget, they will remind me because it loosens up the tight skin making it feel more comfortable for them….definitely a product I will continue to use for this purpose.
The Moringa Tea ($14.49 for 30 bags) is made with 100% Moringa and no fillers (I checked out other brands which were NOT pure) and it tastes very pleasant. I made sure to follow the directions and not use hot water (over 140 degrees can destroy the nutrients) when making this tea enjoying it warm in the morning or iced in the afternoon. I love that I am drinking a product that can provide essential nutrient the body can actually absorb!
Based on the quality of the products that I have tried from Green Virgin Products, I would definitely purchase from this company in the future and look forward to trying their other products too. You are invited to visit Green Virgin Products to browse the entire selection and learn more about soap nuts and Moringa.