VTech Kidizoom Smartwatch Review
Disclosure: I was not financially compensated for this post. I received a sample of the product for review purposes. The opinions are my own, based on my personal experience with the product.
Bridget is so proud of her new watch and shows it to everyone who comes over. It's no ordinary watch though and does so much more than just tell time. The VTech Kidizoom Smartwatch keeps her entertained for hours of fun!
I was impressed with how much the VTech Kidizoom Smartwatch actually does. It's like a little tablet on a watch. You can access everything on the durable touchscreen. I'll give you a brief rundown of all its features and show you why it has become one of my daughter's favourite toys.
1. Camera with photo effects. Bridget is too young for a cell phone and doesn't have a digital camera. I sometimes let her use the camera on my iPhone, but she takes a million silly pictures that eat up my iPhone memory. Now she can take her own photos with her new SmartWatch. To access the camera press the shutter button to enter camera mode. When she is ready to take a photo she presses the shutter button again or the shutter icon on the screen. After she's taken her picture, she can edit adding cool photo effects, filters and frames. Can you guess her favourite subject? It's the cats, Princess and Misty! She must be copying me with all my pictures of the cats.
2. Video Recorder. It also captures video! Just switch to video mode from camera mode and start shooting. It records up to 1 minute per video file.  She can also add special effects after she's done recording. Upload the videos (and photos) by connecting the Smartwatch to a computer with the USB cord that comes in the package.
3. Voice Recorder. The VTech Kidizoom Smartwatch also is a voice recorder for up to 60 seconds per file. She can also add special effects to change the sound of her voice. This feature reminded me of recording my voice on tape when I was a child. I used to sing songs and pretend I was a radio announcer. Good times.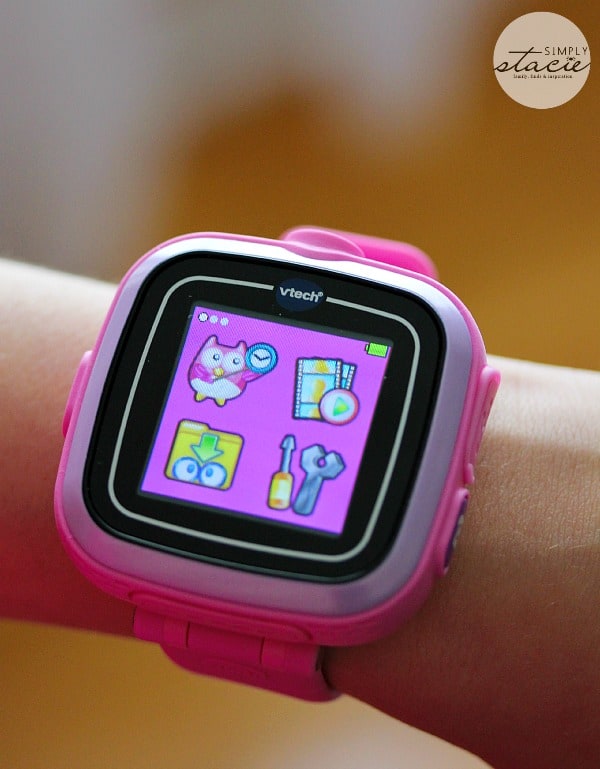 4. Games. It has learning games built into the device including a memory game, puzzle and a fun music game. When you connect to the VTech Learning Lodge using the USB cord connected to a computer, you can download more.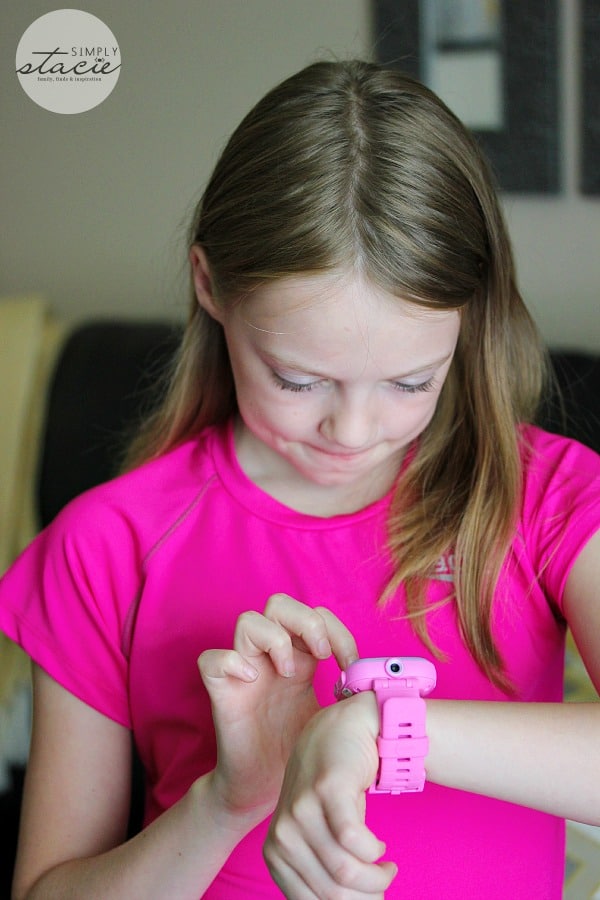 5. Timer, alarm clock & stopwatch. The alarm will come in handy once school starts. Bridget is not a morning person and can set it before she goes to bed to wake up on time for school. She can choose from a selection of alarm sounds and animations or use her own voice as an alarm. I can't wait to see how this works next week! The timer counts down the time she selects. It's fun for beat the clock games that she plays with her cousin. The stopwatch is perfect for racing to see who has the fastest time.
7. Clock. Of course, it will have a clock on it. After all it is a watch! Kids can choose between analog and digital watch displays and 50+ clock face designs. It would be helpful for kids learning to tell time.
The VTech Kidizoom Smartwatch has a rechargeable battery that you simply attach to your computer via a USB cable to recharge. It takes about 3 hours to fully charge the battery.  On average, we are finding it needs to be charged every couple days.
It comes in blue, green and pink and is also available in white exclusively at Walmart. You can pick one up for a SRP of $59.99 at Walmart, Toys R US, Target, Best Buy, Future Shop, Sears and Amazon.ca and it's recommended for ages 4+. Bridget will be 10 in October and thinks it's pretty neat! Visit VTech to learn more about the Kidizoom Smartwatch and their other products.
What is your favourite feature of the VTech Kidizoom Smartwatch?
Connect with VTech Canada on Facebook, Twitter, YouTube and Google+.