TheraPearl Review
Disclosure: I was not financially compensated for this post. I received a sample of the product for review purposes. The opinions are my own, based on my personal experience with the product. This post contains affiliate links.
I suffer from migraines and cervicogenic headaches at least three days every month. The migraines are triggered by hormones while the cervicogenic headaches are aggravated by stress. Both are horrible and I find myself struggling to cope with the constant pain. It's not how I would ever want to spend my day, but unfortunately is a reality. With cervicogenic headaches, they start at the back of my neck and the pain goes all the way to my forehead and pulsates out my eyebrows. Like migraines, they make me nauseated and I cannot get anything done. All I can think about is how do I get rid of this pain?
When I was in Nova Scotia, I was seeing a massage therapist for awhile. She was working with my tight neck muscles and suggested I take a hot towel once a day and place it on the back of my neck. I did it for awhile and it did help. I could feel the muscles releasing after about 3 to 4 minutes. I stopped doing it though because I would get myself and the bed soaking wet. Wearing wet clothes while you are trying to relax is not comfortable.
For migraines, I was using ice packs on my forehead to numb the pain. I'd lie in a dark room and hold the ice to my forehead. Again it's not comfortable. The ice pack is hard and I'd have to hold it in place even a smidge of relief.
Thankfully, I've discovered a much better option. For the last month, I've ditched the hot towel and hard ice packs and switched solely to TheraPearl products to combat my headaches. They are 100 times better! Now that I've been using them, I never want to go back to my old ways.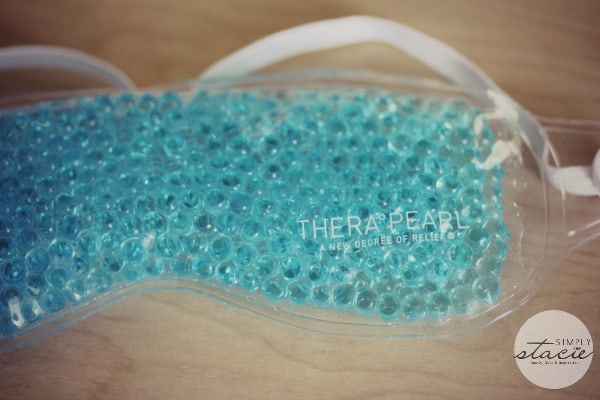 TheraPearl has unique hot and cold packs that are based on the age-old idea of putting a bag of frozen peas on an injury. Instead of wasting a good bag of peas, they've developed TheraPearl technology which allows their products to hold either a hot or cold temperature for 20 minutes. This is the amount of time that doctors normally recommended you use a cold pack or heat pack on an injury. The TheraPearl technology gives their products the flexibility to conform to the contours of your body. They are also very comfortable to wear with no jagged edges or hard surfaces. They are little blue pearls of relief.
Another cool thing is that you can use their products for either hot or cold relief. They will do both! Read their post on Hot/Cold 101 to find out when you should use heat and when to use ice on an injury.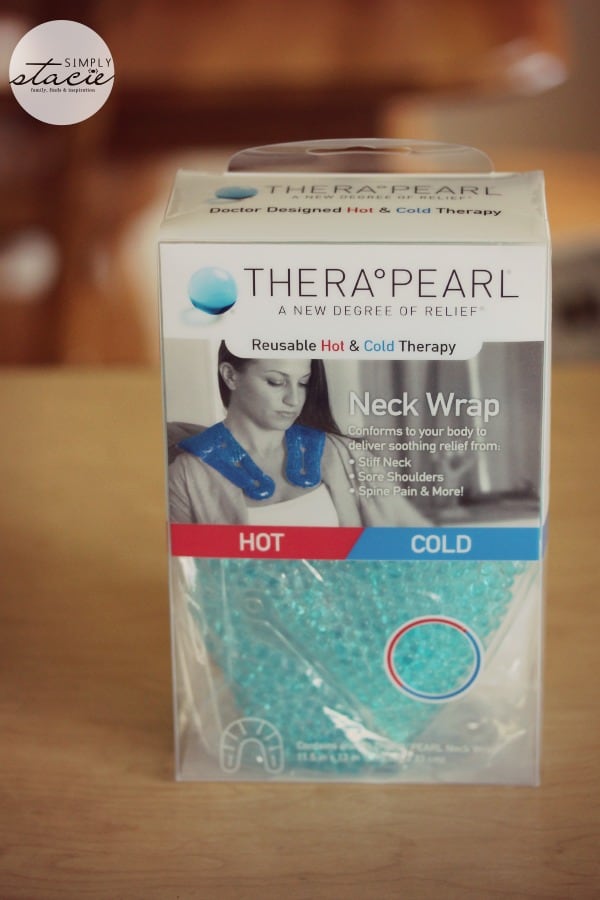 I've been using TheraPearl Neck Wrap when those awful cervicogenic headaches strike. I find heat therapy really helps release the tension in my sore neck and shoulder muscles. To get the Neck Wrap to the right temperature, heat in the microwave for 40 to 60 seconds (depends on your microwave). I find I need to heat mine to 60 seconds with the type of microwave we have. It doesn't come out burning hot and can be placed on the neck right away. I normally put it on my neck while I try and get some work done on the computer. At night if I'm having trouble sleeping, I heat up the neck wrap and put it on. It relaxes me and lets me drift off to sleep. I don't wake up wet and uncomfortable and can remove it after 20 minutes.
I feel so much better after wearing one. It takes the edge off the pain and lets me function at least a little bit! It's the first item I reach for when the neck pain hits.
The TheraPearl Neck Wrap is available for purchase for $19.99 and is also found on Amazon.com.
For migraines, the TheraPearl Eye-ssential Mask is a MUST. I use cold therapy to relieve my headaches and wear it over my sore eyes and eyebrows. It numbs the area and gives me a break from the pain. I also find it even helps with my nausea.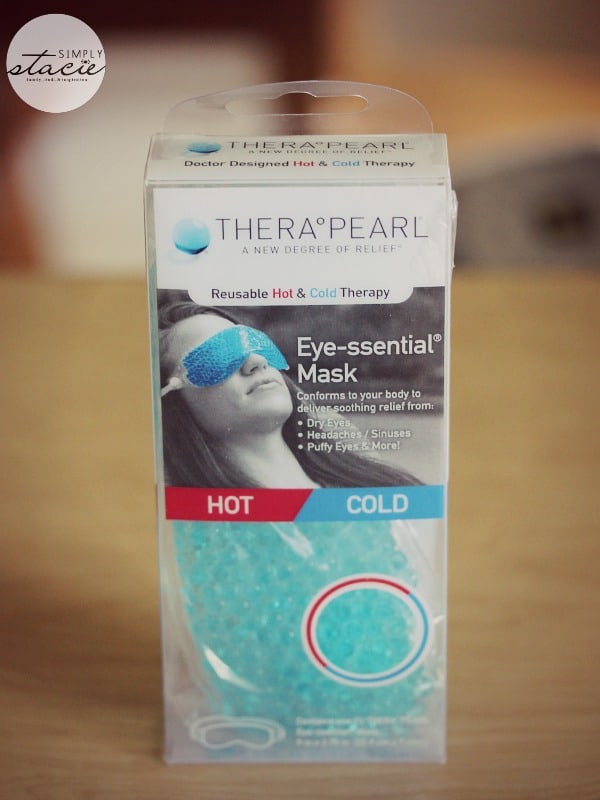 It's very comfortable to wear and feels so good on a sore head.
You can also use it cold for relieving dry, puffy eyes and to help with sinus headaches. Use it hot to reduce nasal congestion. I'll be using it hot during cold season for the dreaded cold and flu bugs that are bound to strike.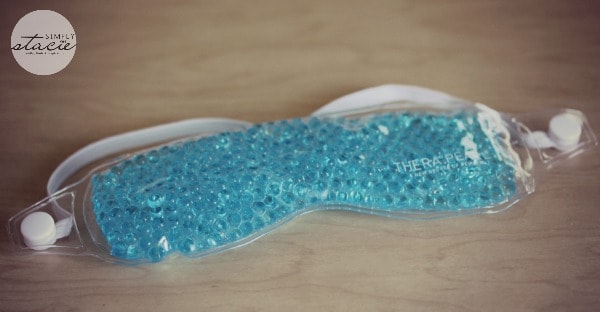 The TheraPearl Eye-ssential Mask is $12.99 on the TheraPearl site. You can also buy it on Amazon.com.
TheraPearl products are non-toxic, reusable and they work! I know there's no magic pill to rid myself of headaches for good. At least now, though, I feel I have some tools in my arsenal to tackle those crawl-back-into-bed type of headaches.
What do you find helps your headaches?