Muppets Most Wanted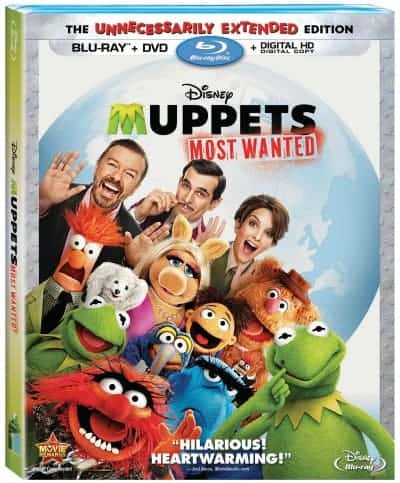 Disclosure: I was not financially compensated for this post. I received a sample of the product for review purposes. The opinions are my own, based on my personal experience with the product.
Title: Muppets Most Wanted (Blu-ray)
Release Date: August 12, 2014
Synopsis:
Two Frogs! One Pig! Intrigue! Music! Mayhem! Muppets! There's plenty of fun for the whole family as Kermit the Frog, Miss Piggy, Animal and the entire Muppets gang head out on a world tour. But mayhem follows the Muppets, as they find themselves unwittingly entangled in an international crime caper. Now Kermit is behind bars at the mercy of prison warden Nadya (Tina Fey), and the World's Number One Criminal, Constantine—a dead ringer for Kermit—has taken his place.
As Constantine and his dastardly sidekick Dominic (Ricky Gervais) plot the robbery of the century, they are pursued by Sam Eagle and Interpol agent Jean Pierre Napoleon (Ty Burrell). Will Constantine get away with his nefarious scheme? Will Kermit escape in time to save the day? Packed with dozens of guest cameos, new songs and the most extended, most exclusive scenes not in theaters, Disney's Muppets Most Wanted is the most hilarious, most wanted Muppet movie ever!
Bonus Features:
The Statler and Waldorf Cut
The Longer Longest Blooper Reel in Muppets History
Rizzo's Biggest Fan
"I'll Get You What You Want" Music Video Performed by Bret McKenzie
My Review:
I used to watch The Muppets on TV as a child, but haven't seen any of their recent films. Muppets Most Wanted begins where the last Muppets movie left off. You could watch this as a standalone movie though because I hadn't seen the other movie and was fine to follow along.
Seeing the Muppets again brought back fond childhood memories of seeing my favourite characters again on the screen. Miss Piggy was always my favourite and she gets lots of screen time in Muppets Most Wanted. My favourite scene was watching Miss Piggy and Celine Dion's duet! I didn't realize Celine was in the film so it was a real treat to hear an original song from her and Miss Piggy.
The Blu-ray + DVD copy has three versions of the film: Original Theatrical, Extended and Statler & Waldorf Cut. I only had time to watch the Original Theatrical version, but plan to watch the other two versions soon.
My favourite human character was Tina Fey who played a Russian prison guard. She was so funny! I loved her song about the Gulag (Russian jail) with the inmates.

Expect lots of songs, dance and laughs. I forgot just how funny the Muppets are! Both Bridget and I were laughing throughout the movie and tapping our feet to the music. It's a great movie for the whole family to enjoy…moms and dads too!
Check out Kermit's personal message to me!