Most times when you are planning a road trip, the cats aren't normally ones to go along for the ride. I can count on one hand the amount of cats that I've met that actually enjoy the car. My cats loathe going in the car. Misty and Princess are indoor cats and the only time they leave is when they have to go to the vet. About two years ago, Misty and Princess were in their carrier on their way to the vet in my car. When we arrived at the vet and went to take them, we discovered that Misty had urinated all over the carrier and her sister, Princess. The poor girl was stressed out! I knew then and there that I would only take Misty in a car only if I absolutely had to.
Well, that time came last month. We were moving from Nova Scotia to Ontario and the cats were coming. I swear I was more stressed about moving the cats than I was about the actual move itself. I researched and talked to friends and family about how to make the move as easy as possible for Princess and Misty.
I debated whether or not to have Misty and Princess in the vehicle with us or have them fly with Air Canada to Ottawa and then my mom could pick them up at the airport. After discussing with the vet, she thought that going in the car with us would be easier on the two of them. Not only that but it made me nervous to have them alone on a plane without me close by. That settled my internal debate. The cats were joining us and we'd just have to tough it out.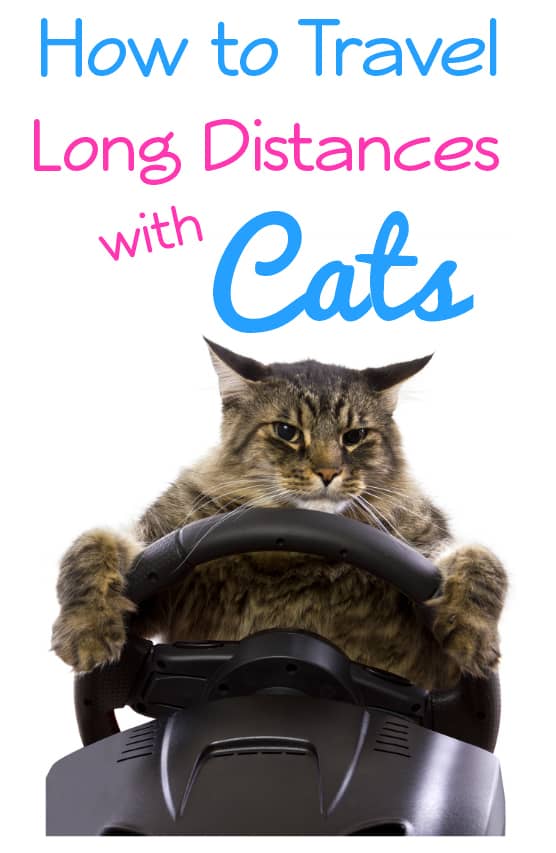 © Innovatedcaptures | Dreamstime.com
Today I have a few tips to share on how to travel long distances with cats. Some are from my own research and talking to our vet and others are from our personal experience making the 1,700 km drive from Middleton, NS to Pembroke, ON with our two adult cats.
1. Visit a veterinarian BEFORE you travel. You'll want to make sure that your cat's vaccinations are up to date and get them a check-up to make sure they are healthy enough to travel. Plus, your vet is an excellent source for advice on how to make the trip easier for your cat! Our vet recommended a natural medication to help them relax on the drive. She listed a variety of options to help them calm down and make the experience as easy as possible for them. It was worth the money to know they were healthy and get medication to calm their anxiety for the drive.
2. Make sure you have a big enough carrier for the cat to stand in. You don't want them to feel cramped and you'll also need room to put a blanket, food, water and their litter. My suggestion here is don't wait till the last minute to find a carrier. I was stressing and driving all over the place to find a store that carried the right size carrier. I eventually found one, but I had to go an hour out of my way to get it!
3. Put familiar items from home in the carrier with your cat. I put in a blanket that my cats love to sleep on. It's their blanket only (and full of cat hair) and I wanted them to get the scent of home while on the road.
4. Buy a case of bottled water before you head out. Not only can you and your family drink it on the road, but the cats will be thirsty too. Remember to bring a dish to pour the water in! John and I forgot to pack one for Princess and Misty and had to improvise. John cut a water bottle in half to make it into a bowl for the girls to drink from. I noticed them drinking more water than eating.
5. Make frequent rest stops. We stopped every 2 to 3 hours so the cats could use the litter, drink more water and eat a little. Plus, it gave them a break from the bumpy roads. I don't recommend taking them out of their carriers though. It would be too easy for the cat to run away. Please don't ever leave your cat (or child or any other animal for that matter) alone in a vehicle!
6. Call ahead to hotels along the way to make sure your cats are welcome. We drove straight through to avoid having to bring the cats to a hotel. However if you do need to stop for the night somewhere, you'll want to know which hotels will allow your cats to come into the room with you.
7. Let your cat dictate how often he/she eats. I asked Petcurean's Pet Nutritionist, Michele Dixon, about how often should my cats be eating while traveling. She said that it's a personal preference and there's no set way of feeding either at home or on the road. The cat will dictate how often they want to eat. She suggested checking out Catster for some cat travel tips.
If you want to make sure your cat is eating healthy, try one of Petcurean's cat food products. The GO! FIT + FREE is a protein-rich, lower carb cat food that contains premium-quality meat proteins. In fact, the first six ingredients listed are all meat! Out of all the GO! recipes, FIT + FREE has the most meat. They also contain zero grains or gluten and are recipes formulated for cats with food sensitivities. They help to keep your cat strong, healthy and of course, fit! For a dry food, try GO! FIT + FREE Grain Free Chicken, Turkey + Duck Recipe. For canned food, try either FIT + FREE Grain Free Chicken, Turkey + Duck Pâté or FIT + FREE Grain Free Chicken, Turkey + Trout Stew. Visit Petcurean to learn more about their pet food and other important information about health & nutrition.
Now that we are settled in to our home, we aren't planning any road trips with the cats! Princess and Misty seem to like it here and are happy. I'm just grateful that the trip went better than expected and we all arrived in one piece!
Have you ever traveled with a cat? If you have any tips, please share!
Connect with Petcurean on Facebook, Twitter, Pinterest and YouTube.
Disclosure: I was compensated for this post. All opinions expressed are my own.
You Will Also Love
If you liked this post, you will also love these ones!