Disclosure: I was not financially compensated for this post. I received a sample of the product for review purposes. The opinions are my own, based on my personal experience with the product.
In 2013, I was first introduced to SeneGence International when I did a MakeSense Silk Pore & Wrinkle Minimizer review and it has since become a staple in my makeup routine. Therefore, I was very excited to try two new products i.e. the MakeSense Color Correcting Tinted Moisturizer and the SeneDerm Detoxifying & Moisturizing Mask.
What drew me to this particular company is that SeneGence International offers revolutionary products specifically created for aging skin like mine. I am 41 years old and have a lot of skin damage from a lifetime in the Florida sun so I need to have the right combination of anti-aging products to help keep my skin looking its best.
I don't wear a lot of makeup but when I do, I prefer to use a tinted moisturizer because I find that it makes my skin look more youthful, natural and even toned than foundation. My skin is fair with red areas and some uneven coloring from sun spots. The MakeSense Color Correcting Tinted Moisturizer (SRP $45) with SPF 15 was developed to help counter redness with a natural mint color that blends into the skin for a sheer look. I applied a small amount of product on my face with a foundation brush and immediately liked that it is very lightweight making it the perfect coverage for me for summer. I had been initially worried about the "mint" color but it really did blend nicely on my skin so the sheer coverage was even and I couldn't see my red areas at all. It just looked like my former healthy, natural skin tone which is exactly what I look for when I wear makeup! It is formulated with a proprietary SenePlex Complex that may help with cellular renewal and it even has Arnica Montana Flower Extract which is a natural plant extract which can help soothe the skin. By combining this with Camellia Sinensis Tea Leaf Extract, Vitamin A, C, E and B and Jojoba Seed Extract along with other high quality ingredients this is one effective multi-purpose tinted moisturizer that leaves my skin looking fresh while camouflaging those areas that I want to hide. I prefer to use this by itself for my primary coverage but it can also be a first step prior to applying foundation. It is suitable for all skin tones from dry (like mine) to acne prone or blemished skin too.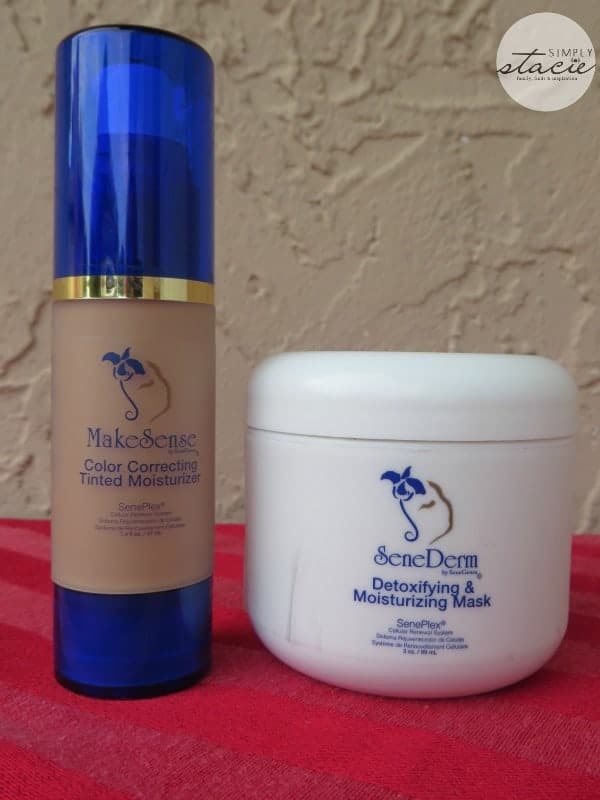 One of my favorite ways to keep my aging skin looking good is to regularly use a facial mask. I really like the SeneDerm Detoxifying & Moisturizing Mask with SenePlex (SRP $45) which was designed to remove toxins and replenish with a burst of moisture. I have used masks in the past from other brands that were good as a detoxifier OR for hydration but this product is unique in that it does both very effectively. I apply the pleasantly fresh scented creamy mask to my face and neck and allow the Kaolin Clay and Volcanic Ash work to clear toxins from my pores while Green Tea and Arnica Flower soothe the skin and additional ingredients infuse it with much need hydration. I enjoy relaxing with a cup of tea for twenty minutes twice a week while the mask works. After rinsing with warm water and a gentle cleanser, I splash on cool water and then apply my favorite moisturizer. I noticed after just the first use of this mask that my pores felt tighter and cleaner, my skin was less red and irritated and it was softer with a lovely glow. My skin never feels overly dry after use and it is not heavy so it is great to use whenever my skin needs a boost.
You are invited to visit SeneGence International to purchase these two products or browse the entire collection of skin care, body care, anti-aging treatments and mineral makeups to find the right products for your skincare needs.