Protect Yourself from Identity Theft While Traveling
Disclosure: I was compensated for this post. All opinions expressed are 100% my own.
When you are planning a summer vacation, what are the main things you do to prepare? For me, I make lists of items I need to pack, map out destinations we plan to visit and find someone to watch the cats while we are gone. One thing you may not be thinking about is identity theft. I know I never was until I was a victim of identity theft twice! LifeLock has your back and will relentlessly protect your identity so you can live your life and enjoy your summer vacation to the fullest.
Last month I blogged about how LifeLock does so much more than just credit monitoring and discussed in detail the services they offer. Today I want to offer a few tips about how to protect yourself from identity theft while traveling. Many of them I was doing already so I'll give myself a good pat on the back for thinking ahead!

© Richard Thomas | Dreamstime.com
1. Call your bank and credit card companies. Letting them know ahead of time allows them to monitor your accounts. I always called my credit card company so they would know to expect charges from the location I would be in.
2. Clean out your wallet and purse. I do this for two reasons. The first reason is that I want to make sure I'm only bringing what I'll need. There's no point in carrying my birth certificate when I have my passport. You'll also want to leave at home cards with your Social Security number (or Social Insurance number) on it. The second reason is that I don't want to be lugging around junk I won't need.  It's less for me to carry around with me while I'm sightseeing.
3. Watch what you say on social networking sites. If you announce to the world that you are gone with your entire family, you open yourself up to the risk of someone you know (or don't know if your updates are open to the public) taking advantage of that fact. I always see my friends sharing photos of their family camping or on a trip and it makes me a little nervous. Share the photos of the trip when you are back home.
LifeLock has an excellent post on ways to avoid identity theft while you are traveling.  One thing I've never done, but will be from now on is using the hotel safe! These tips are a must-read if you are going on any kind of trip this summer whether it's long or short!
LifeLock Promo Code
Check out the LifeLock site and see what a membership has to offer. I've also got a money-saving promo code to share! Receive 10% on your purchase with the promo code: LifeLockSafety.
LifeLock's New Book
LifeLock has a new book called, Stolen Identity: What Anyone with a Name, Birthdate and Social Security Number Needs to Know Now.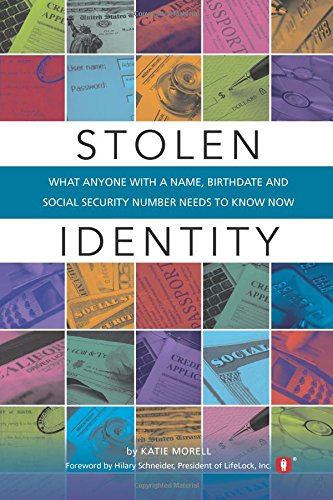 About the Book
Identity theft is one of the most widespread and fast-evolving crimes, but many people don't realize that it goes far beyond having a credit card number stolen. It can jeopardize your healthcare, block you from receiving the tax refund you're due, interfere with a job or loan, and even run up debt for your children or elderly parents. Learn more about the alarming ways identity in which thieves operate today and what you can do to reduce your chances of having your identity stolen.