Maplelea Dolls for Canadian Girls
Disclosure: I was not financially compensated for this post. I received a sample of the product for review purposes. The opinions are my own, based on my personal experience with the product.
Americans have their American Girl dolls and Canadians also have their own distinctively Canadian doll too. I've posted about Maplelea dolls in the past and shared my daughter how much my daughter, Bridget, enjoys playing with her Maplelea Girl doll, Jenna. A few weeks ago I purchased another Maplelea Girls doll for Bridget, Taryn. Now she has one that stays at my house and one that stays with her dad at his place.
Maplelea Girls are a collection of premium dolls that celebrate Canada' spirit and identity.Each dolls comes from a different part of Canada. Jenna is from Nova Scotia where we used to live. Bridget's newest doll, Taryn, hails from Banff, Alberta. Bridget was born in Alberta in 2004 so has a connection to the province. I knew she'd love whatever doll I gave her and she was so happy to open up Taryn. They are inseparable!
Maplelea Girls and their counterparts, Maplelea Friendds, are 18″ vinyl dolls that are soft and huggable, and have poseable arms and legs. They have a variety of hair, skin and eye colours. Each has their own unique Canadian background.  The dolls can be purchased on the Maplelea Girls website for $99.99 and are recommended for age 6 to 12+. I'm 36 and I even like sitting down with Bridget to brush the doll's hair and style her outfits.
Each Maplelea Girl comes with a unique outfit showcasing the doll's interest and personality, a journal and keepsake box.
After you have your Maplelea Girl, then comes all the fun extras: dressing her up in a variety of outfits and accessories!
Maplelea Girls sent Bridget one of the new outfit sets for 2014: Pirouettes and Pliés!  Taryn was transformed from a wildnerness girl to a beautiful ballerina with this 10-piece outfit set. It includes a hand beaded and sequined bodysuit, 2-layer wrap skirt, knitted wrap sweater, dance tights, knit leg warmers, embroidered bag, ballet slippers and bun maker. It also comes with journal pages with interesting facts about Canada's national ballet for Bridget to add to her journal for Taryn.
Bridget spent hours on the floor in the living dressing up Taryn in her new outfit and dancing her around the living room doing some "graceful" ballet moves. I don't know much about the ballet so it was neat to read the journal together and learn a few things!
The Pirouettes and Pliés ensemble is $47 and can be purchased on Maplelea Girls.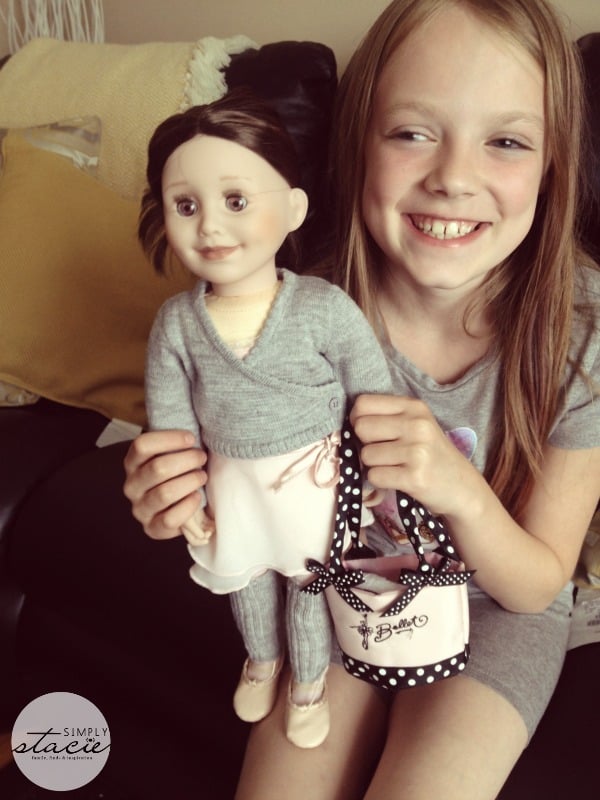 Maplelea Girls has a few more sets that are new in 2014. They include:
Serve, Set, Spike
Slam Dunk
Set to Celebrate Party Set
Canada Day Outfit
Bridget is an easy one to buy gifts for on birthdays and holidays. I know that she will love anything I buy her from Maplelea Girls. Her birthday is coming up in October and I know she would love another doll. She said that Taryn needs a friend at our house!