Katy Perry #PrismaticWorldTour with COVERGIRL #InstaGLAM
Disclosure: I am a P&Gmom/mamanP&G. As part of my affiliation with this group I receive products and special access to P&G events and opportunities. The opinions on this blog are my own.
Last week I received an email that made my heart skip a beat.
See COVERGIRL Katy Perry Live in Concert with Meet & Greet!
I was invited to the The Katy Perry Prismatic World Tour with COVERGIRL and going to meet Katy Perry!! OMG.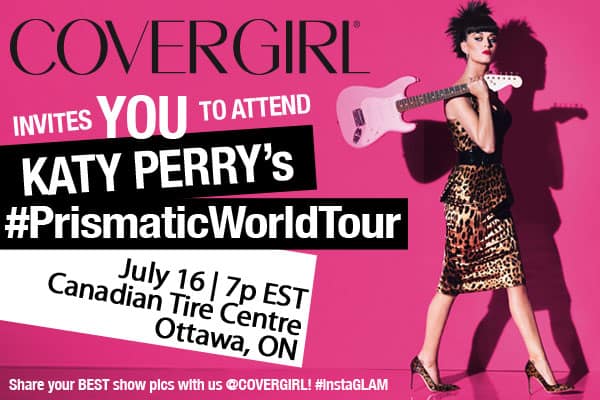 I knew Katy Perry was coming to Ottawa because we had purchased tickets months ago for my daughter, Olivia, who is a huge Katy Perry fan. Olivia ADORES Katy and had tickets for her and a friend to go see her. They were in the Reflections Section right up front at the stage.
I'm also a big fan of Katy's ever since her first hit, I Kissed a Girl. We always blast her music in the car and sing along. I don't go to concerts very often, but knew I couldn't miss out on this one.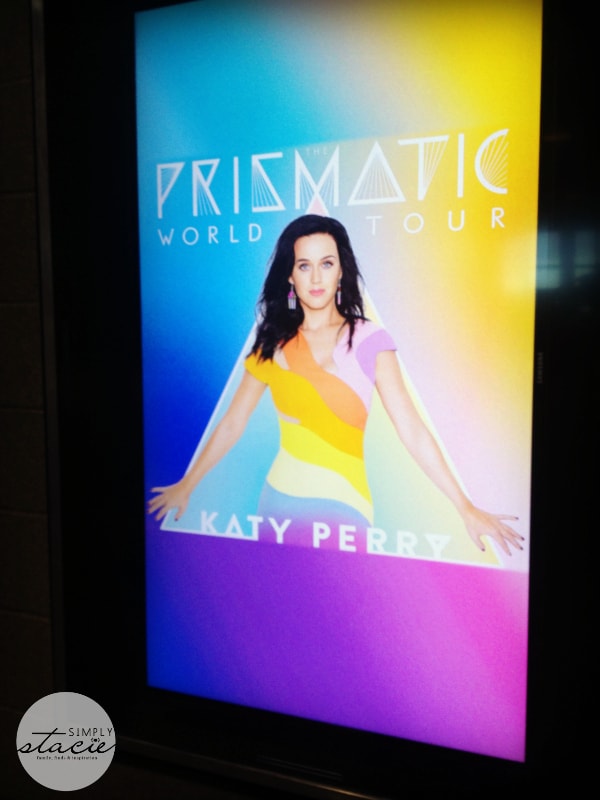 Since Olivia and her friend already had their tickets for the Reflections Section, I wanted to invite a friend. I was chatting with my friend, Tina, from high school and discovered she lived within walking distance to my new house in Pembroke. I knew right away that I wanted her to come with me. We had so much fun together as teens and I was really looking forward to connecting with her again.
Tina picked me up on Wednesday and we headed out for Ottawa. Pembroke is about an hour and a half drive to the Canadian Tire Centre. I was a bit worried we wouldn't make it on time because of all the construction on highway 17, but the stars must have been aligned because we had time to spare! Even parking wasn't that bad.
After getting inside, we went up the the COVERGIRL #Instaglam booth to meet up with Katy's tour manager to find out about the Meet & Greet. While there, we grabbed a pair of 3D glasses and watched people get their #Instaglam pictures taken.
Tina also wanted to buy some Katy Perry merchandise for her 10 year old niece who freaked when she heard her aunt was going to the concert. We waited in line inside for awhile and then afterwards discovered a booth just out the front doors selling the same t-shirts and posters with barely any line at all. It was all good though because we had lots of time till Katy took the stage at 9 pm.
We had good seats too! We were in section 117 and had a good view of the entire stage. Olivia spotted me from the Reflections Section and sent me a text. She told me where to look and started waving at me. They were right at the stage!
I can't even begin to describe the feeling I had when Katy took the stage and started singing her hit song, Roar. I had adrenaline running through me and a perma-smile on my face. Seeing Katy in concert was really something!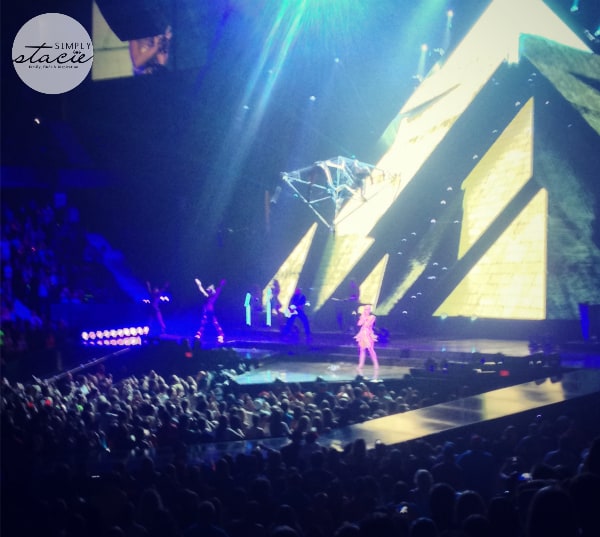 I took a million pictures because I couldn't get over how elaborate everything was. Katy looked simply awesome and was decked out in a variety of coloured wigs, neon outfits, lights and even a cat suit! Anyone that knows me understands how much I love my cats. It was neat to see that Katy is a cat lover too. She has an alter-ego, Kitty Purry.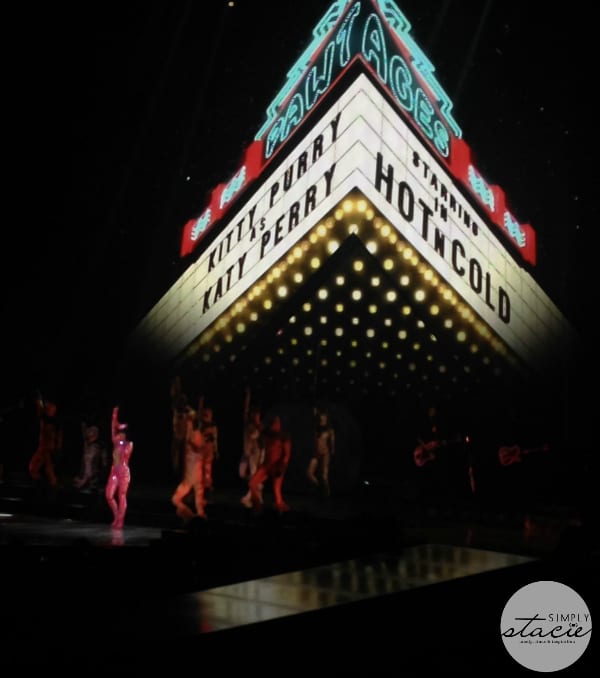 Katy sang many of her hit songs including Roar, California Gurls, Teenage Dream, Firework, E.T., Last Friday Night, I Kissed a Girl, Wide Awake, Unconditionally and many more. The show was upbeat, fun with lots of special stunts. Katy was swinging through the air a few times through the show!
She also was very interactive with the fans. She brought a 12 year old boy on stage and gave him a pizza and also a girl who was celebrating her birthday the day of the concert.
Here's my video of her performance of Wide Awake.
Katy was also taking letters from the fans and took my daughter, Olivia's letter! Olivia was so happy. She has a video of it on her Facebook profile.
She also captured this photo of Katy singing and looking right at her.
I took in all the choreography, costumes, special effects and Katy's engaging (and funny) personality and immense talent and wanted to etch this memory in my mind forever. As someone who doesn't get out that often because of chronic pain, this was an opportunity that meant so much to me. I had so much fun laughing with Tina and taking in the show. I wasn't sad when it ended because I knew that I would be going to meet Katy herself (!!!).
We were escorted to the Meet & Greet area backstage and waited for Katy to finish up the show. I was so nervous!
Then out of the blue, there was Katy Perry! She was decked out in her costume and looked so beautiful and glamourous.
I was third in line to go up and meet her and get my picture taken. I introduced myself to her and she asked me, "Do I know you from somewhere?" I was taken aback because I was thinking how would Katy know little ol' me???? I didn't know what to say and the words, "I don't think so?" stumbled out of my mouth. I told her my daughter was also a huge fan of hers. Then we stood for the picture and I said it was nice meeting you.
My friend, Tina, also had the opportunity to meet Katy and get her picture taken. Her husband told her that she can "never wash the shirt that touched Katy". He's a serious Katy fan too!
Thank you COVERGIRL for inviting both Tina and I to the concert and for the opportunity to meet Katy. Both of us had so much fun together. It was great connecting again and I'm so glad to be back home in Ontario with my friends and family. Being close to Ottawa is also pretty cool too 🙂