Honey Glazed Pork Tenderloin
My aunt Lori gave me her recipe for Honey Glazed Pork Tenderloin for a family cookbook project I'm working. I'll admit that I don't often make pork. We had pork chops for supper a lot when I was a child and they were never my favourite meal to eat. I was a fussy kid and though I've grown out of that phase, I still don't make pork that often at home. Things may change though now that I've made this recipe! It was simply divine!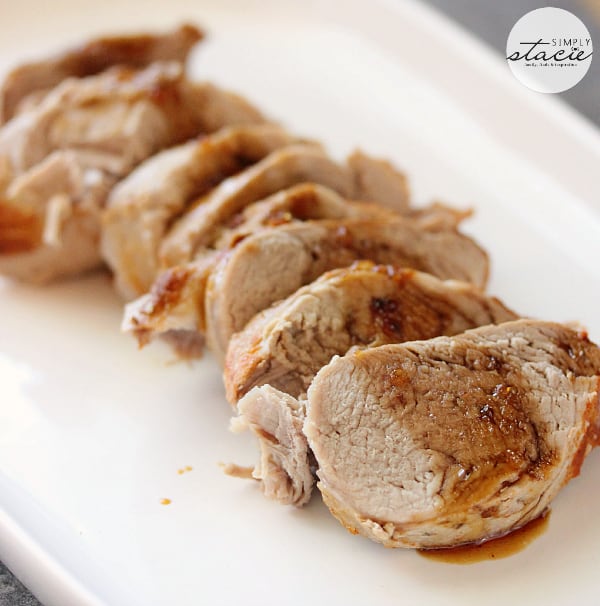 It was sweet and spicy at the same time. The cayenne pepper sprinkled on the tenderloin gave it some heat and the honey glaze was the sweetness. I can see why my aunt raves about this recipes. It's a keeper and one that you can bet I'll be making again. I have some pork tenderloin in the freezer for when the cravings for this recipe strike.
How do you like your pork tenderloin?

Honey Glazed Pork Tenderloin
Juicy & tender with a sweet honey garlic glaze with a hint of heat!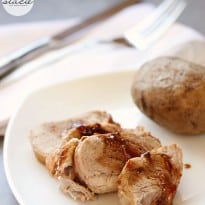 Ingredients:
½ cup apple juice
2 tbsp honey
1 tbsp soy sauce
2 cloves garlic, minced
1 ½ lb pork tenderloin
1 to 2 tsp cayenne pepper
1 tbsp olive oil
Directions:
Preheat oven to 400°F.
Combine apple juice, honey, soy sauce and garlic in a small bowl and set aside.
Sprinkle pork tenderloin with cayenne pepper to taste (use more if you like it really spicy).
In a skillet, heat olive oil over medium heat. Add the pork and brown, about 8 minutes. Remove from heat.
In an oven proof pan, place pork and pour sauce mixture over top. Bake for 30 to 40 minutes or until pork is cooked.
Remove pork and carefully transfer to a cutting board.
Return juice to skillet and cook on medium-high heat until mixture turns into a thick glazed. Remove from heat.
Slice pork diagonally and drizzle with glaze. Serve with vegetables and potatoes.