Disney's Planes: Fire & Rescue is in Theaters Today! #FireandRescueEvent
*Disney provided me with an all expenses paid trip to Los Angeles to attend advance screenings of Maleficent and Planes: Fire and Rescue and to attend press junkets for both films. I did receive some promotional products courtesy of Disney Consumer Products. No other compensation was received. All thoughts are 100% my own.*
Going to the theater with a six-year-old can sometimes be problematic. Either the movies available to see at the time we'd like to go or too adult for her or too young for us. It's often hard to find a film that fits middle ground. Today, I'm excited to say that Disney's Planes: Fire & Rescue opens in theaters.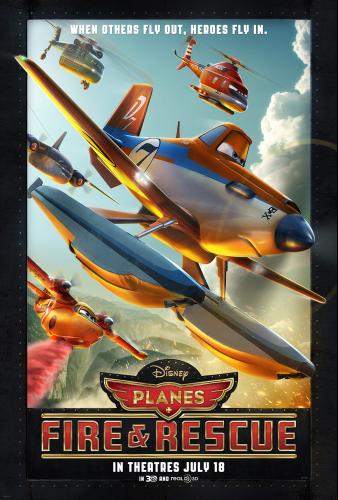 I had the opportunity to see it a few months ago in LA and I thought it was the perfect film for a family to enjoy together because it will appeal to my daughter's age group as well as adults. We've managed to see a few films together in theaters lately, and I was pleasantly surprised to notice my husband laughing at some of the more adult humor peppered into the previews. Meanwhile, my six-year-old was excited to see characters she recognized from 2013's Planes. She talked about that movie for a long time, and occasionally I'll see her playing with a variety of the Dusty Crophopper toys I brought home from LA last year. (A whole new line of products has come out for this film, including collectible figurines with moving parts, clothing, puzzles, and diecast models. You can check out what's available on Target, Disney Store, and Amazon as well as by checking your local retailers.)
Planes: Fire & Rescue puts Dusty Crophopper (voiced by Dane Cook) in one of the most difficult situations a person might face in his or her life: the challenge of having to reinvent oneself after being told he is no longer capable of doing the thing he loves most in life. For Dusty, that's flying and racing. But after his engine gives out, he's told it cannot be repaired and that he will never be able to race again.
Dusty must find some new direction for his life, and so he becomes involved with a group of aerial firefighters. Dusty will still get to fly and he will still experience adrenaline rushes, but what he will be doing also has the power to save lives. Team leader Blade Ranger (Ed Harris) and his mismatched crew all have their own stories about how and why they reinvented themselves, and sharing their personal experiences with Dusty allows him to begin the healing process.
Watching Planes: Fire & Rescue brought me back to my childhood to so many of the drives I went on with my parents from Illinois to Nevada. I have a few memories of visiting Yellowstone National Park, which was one of the parks that the Disney team modeled the fictional Piston Peak after.
Adults and children alike will be glued to the screen during the breathtaking shots of the park, which really pop with color and vibrancy. For the moviegoers who love action sequences, Planes: Fire & Rescue features them in abundance, right from the opening scene of the movie.
Though the storyline is a bit more dramatic than Planes, there is plenty of comic relief provided in the character of Dipper (voiced by Julie Bowen), who creates an imaginary relationship with Dusty. She was by far one of my favorite things about this film.
Planes: Fire & Rescue also presents quite a few hidden surprises and even a nod to a famous beloved TV show. Although I wasn't the right demographic for that particular TV show and have actually never seen it, its brief inclusion in the film will be sure to delight grandparents who might end up taking their grandchildren to see the film.
All in all, Planes: Fire & Rescue is sure to be a hit with everyone in your family—children will love the quirky new characters, moms and dads who love action films will clutch the edges of their seats during intense moments, and anyone with a sense of humor will find themselves falling for Dipper's offbeat personality.
Keep up to date on all things Planes: Fire & Rescue on Facebook and Twitter. This action-packed adventure is in theaters everywhere July 18th!