Join the #cleanwater Photo Challenge & Help People in Need
I am a P&G mom. As part of my affiliation with this group, I have been offered compensation to participate in the #cleanwater photo challenge. The views, opinions and photographs expressed on this blog and in my social networks are my own.
I'll admit that I take clean water for granted. When I turn on the kitchen tap to pour a glass of water or run the water for a bath, I don't even think about the water that comes out. I just know that it's clean and safe for my family and I to consume. We are lucky to live in a country like Canada that has an ample clean water supply, but not everyone in the world is so lucky. There's approximately one billion people in the developing world that do not have access to a clean water supply. Diseases from contaminated water are killing more children every day than HIV/AIDS and malaria combined.
P&G and Walmart Clean Water Drinking Program
During the month of April, P&G and Walmart joined forces to raise funds for the P&G Children's Safe Drinking Water program. This initiative helped provide clean drinking to people in need using a water purifying technology developed by P&G. With this technology one P&G purification packet turns 10 litres of dirty, contaminated water into clean water that is safe for consumption. They've made incredible progress and have provided more than 7 billion litres of clean drinking water to humanitarian organizations all over the world. It's estimated they've saved approximately 39,000 lives in more than 75 countries! Pretty incredible right?
And they are doing it again! For every participating P&G product you purchase at Walmart in store or online  from May 1, 2014 to March 31, 2015, P&G will donate 1 day of clean drinking water to the Children's Safe Drinking Water Fund. In April they donated 8.6 million days of clean drinking water and they've set their new goal at 25 million days of clean drinking water! I think they can do it and you can help!
Next time you're shopping at Walmart, consider buying one of the participating P&G products to support the cause. They are products you may already use anyways and it's nice to know you are helping out people in need with your everyday purchases.
To get a headstart on reaching the goal, P&G & Walmart will include EVERY P&G product you buy at Walmart from July 16 through 31 in the program. I'm going shopping there this weekend.
#cleanwater Photo Challenge
I'm also participating in a fun photo challenge for the next couple weeks and I hope you'll join me. The #cleanwater Photo Challenge was designed to raise awareness for this important cause and to educate people on how they can help provide clean water to those in need. From July 18 to 31, share photos of the role clean water plays in your life and/or the life of your family and friends using the prompts below. Make sure to add the hashtag #cleanwater and the word of the day. I'll be sharing my photos on my Instagram and Twitter.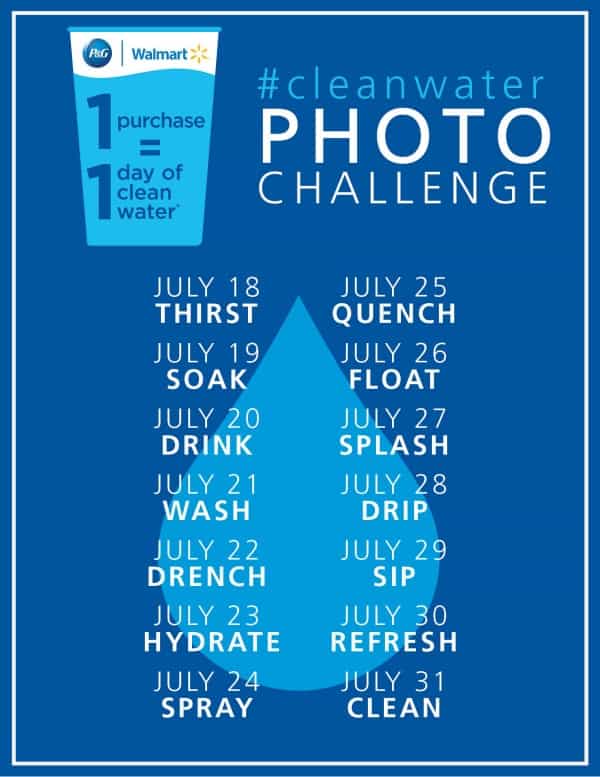 I also have the honour of hosting the #cleanwater Pinterest board. It will feature a compilation of the best images from the challenge. At the end of the challenge, one lucky person will be randomly selected to receive a $250 Walmart  gift card and a bundle of P&G products!
Will you join me in taking the #cleanwater Photo Challenge? I can't wait to see all your #cleanwater pics!