Book Review | Small Space Garden Ideas
*I received a copy of this book for review, but was not compensated financially in any way. The opinions expressed are my own and are based solely on my experiences while reading this book.*
Title: Small Space Garden Ideas
Author: Philippa Pearson
About the Book
Perfect for people who have little space to garden, whether a doorstep, balcony, or part of a wall. Small Space Garden Ideas is full of creative ideas for making use of every growing space available.
From windowsills and hanging baskets to rooftop containers and vertical gardens, Small Space Garden Ideas shows you how to create a dream garden, through step-by-step projects from start to finish.
My Review:
My new home in Ontario has gardens in the front and backyard. However, both are extremely overgrown and I feel overwhelmed even looking at it. Where do I even start? Though I love a pretty flower garden, I've never actually had my own. It's not for the lack of desire to have one, I just really don't know where to even begin with it!
I was browsing through DK Canada's Gardening Boutique and came across the book, Small Space Garden Ideas. I thought it would provide inspiration for the garden at my new place. After checking out the book, my head is full of little projects I want to do this summer with our outdoor space.
The book is divided into sections including Micro Garden, Let It All Hang, Grow Up, Contain Yourself, Go Wild and Plant Practical. In each section, you'll discover gardening projects geared for small spaces.
Each project tells you the tools & equipment and plants you'll need, description and the steps to make with a picture. It also has a large picture of what the finished project should look like. I'm a visual person so I appreciate the pictures of each step.
Some examples of projects include:
Moroccan-style Lantern Garden
Saddlebag Balcony Planters
Upcycled Stepladder Tiered Planter
Summer Drinks Tiered Planter
Cup-and-Saucer Bird Stations
For the kids, they can help make the Kids' Miniature Barnyard Garden and learn to care for their garden as you tend to your own garden. I know Bridget would really enjoy having her own garden.
Now that my unpacking is done, I'm ready to tackle the yard with a few of these gardening projects. Wish me luck!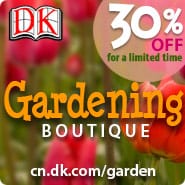 Check out the other books featured in DK Canada's Gardening Boutique on for 30% off for a limited time only.
Connect with DK Canada on Facebook & Twitter. Also find it on Amazon.ca.