KLOO Language Games Review
Disclosure: I was not financially compensated for this post. I received a sample of the product for review purposes. The opinions are my own, based on my personal experience with the product.
I grew up in a home where my beloved French Canadian grandparents did not speak English. I have the fondest childhood memories of learning French because they made the process of teaching me a second language fun. My own three children have expressed an interest in learning a second language and recently took a French class in school. Therefore, we were very excited to play KLOO Language Games which are the #1 best-selling language games in the United Kingdom and are now available for purchase in North America.
KLOO are award-winning board games and Language Card Games featuring French, Spanish, Italian and English languages. I found it interesting that children can "learn a language 200% faster" when playing these games because in my own personal experience I definitely find this to be true. When my grandparents taught me French in a fun way through games, stories, songs etc. it was a completely different experience than those rote class which I found to be dull, boring and frustrating.
What I like about KLOO is that it is a game that we can enjoy playing together. We have been playing the ToyTalk 2011 best board game award winner, KLOO's Learn to Speak French Language Board Game Race To Paris (SRP $39.99) and it is a blast. This board game is nicely designed and the goal is for players to race through Lyons, Nice, Calais and other popular cities on the way to Paris…..the 1st one to Paris is declared the winner! Players will practice and learn hundreds of words and phrases while having the ability to create thousands of different sentences in order to earn points.
This game is recommended for ages 7 and up and includes four decks of color-coded cards and beginner to pre-intermediate learning stages. I like that it has interesting themes including "People", "Eating & Drinking", "Place", "Clothing" and "Everyday Objects" which made it pertinent to my children (and me). I play this game along with my children who are ages 6, 7 and 9 helping them as needed. What I didn't expect is that my children would actually get the hang of this so quickly and actually picked up words that I didn't think would be possible at their young ages……"Ce qui est grand!" This is a wonderful learning game that is a fun way to help children and adults learn a new language without the dreaded boredom and frustration that is often associated with the memorization and learning process.
Since we live in Florida, I feel that it is also important that my children learn key words, phrases and sentences in Spanish too. The KLOO's Learn to Speak Spanish Language Card Games Pack 1 (Decks 1 & 2) (SRP $17.99) is a great way to introduce the kids to Spanish. This award-winning game has 128 cards, easy to follow Quick Start Rules and the ability to play up to 16 games. Like the board game, the goal of this fun card game is to score points by making sentences. This is the perfect game to take along when traveling and the kids think that it is a lot of fun to play.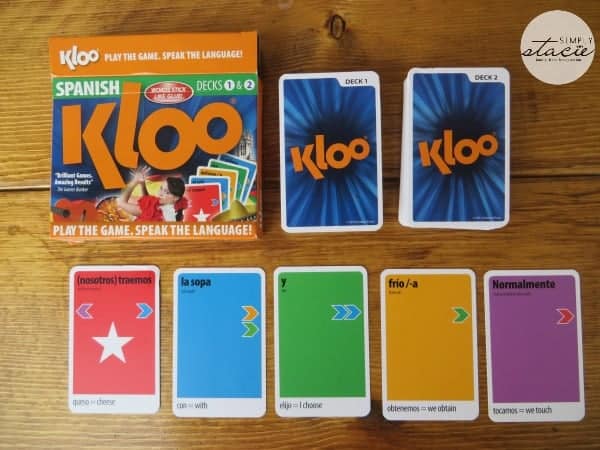 The KLOO website has lots of informative videos to show you how to play their games and you can learn more about all of the board games and language cards games which are available for purchase. In fact, my kids are enjoying KLOO so much that I am thinking about setting up a homeschool coop so that we can continue the learning fun with their friends at school in the fall.