Duncan Hines Velvet Cake Mixes
Disclosure: I was not financially compensated for this post. I received a sample of the product for review purposes. The opinions are my own, based on my personal experience with the product.
I love baking and have made many attempts to bake from scratch over the years. There is nothing more frustrating to me than spending hours making a homemade cake and then having it turn out dry and unappetizing. My husband has been very honest that he prefers for me to make boxed cake mixes and so I have turned to Duncan Hines®. There are many delicious options to choose from and Duncan Hines® baked treats are always a big hit with my entire family.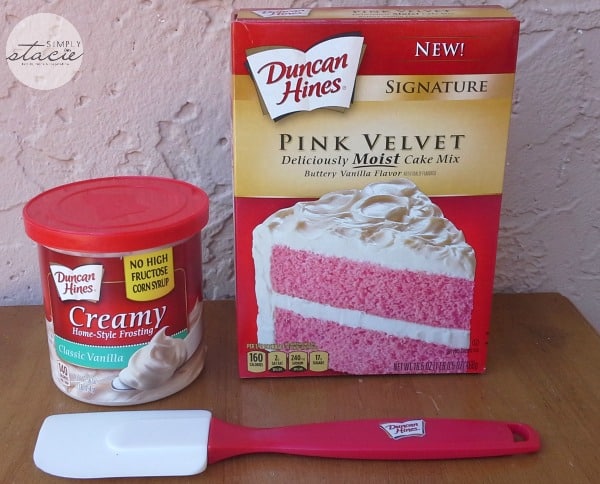 Duncan Hines® has a new line of Velvet Cake Mixes available in vibrant blue and pink colors. I made the Duncan Hines® Signature Pink Velvet Cake Mix and topped it with Duncan Hines® Creamy White Frosting. This moist delicious cake was so simple to whip up and it turned out to be a lovely shade of pink much to the surprise and delight of my children who thought that it was beautiful. The creamy frosting was very easy to apply to the cake once it had cooled after baking and the white accentuated the pink perfectly. How did it taste? Absolutely delicious and everyone was very complimentary (especially my husband) and they all asked for a second slice to enjoy. Duncan Hines Signature Pink Velvet Cake Mixes in either blue or pink would be the perfect choice for baby showers, themed parties, first birthdays, summer barbecues and just for fun.
My husband loves brownies and asked me to bake some recently. I surprised him with Duncan Hines® Decadent Salted Caramel Brownie made from a mix and it is his new favorite. It is the perfect blend of sweet and salty and has a rich, chewy texture that is mouth-wateringly delicious. It took just a few minutes to mix up the ingredients and then put it in the oven to bake…..perfect for busy moms like me.
When you are baking this summer remember to check out the wonderful selection from Duncan Hines® as there are so many great product to choose from including cake mixes, frosting, brownies and more. You can even visit Duncan Hines to check out all of the creative recipes that you can make starting with a mix.
Updated: If you are looking for Duncan Hines Blue Velvet Cake Mix, I found it on Amazon!
Connect with Duncan Hines on Facebook, Pinterest and Twitter.