A Visit to Ripley's Believe It or Not! Museum
Disclosure: I was not financially compensated for this post. I received a sample of the product for review purposes. The opinions are my own, based on my personal experience with the product.
When I was a young girl, I have fond memories of watching the popular television show, Ripley's Believe It or Not with my parents! Therefore, I was very excited to visit the Ripley's Believe It or Not! museum in Orlando, Florida with my three children. All of the kids were eager to check it out and at the end of a fun filled day we unanimously agreed that it far exceeded our expectations in terms of entertainment value.
The Ripley's Believe It or Not! Odditorium museum in Orlando, FL is a family-friendly 10,000 square foot wonder. It received gasps of delight from my children as we pulled into the parking lot and observed that the museum by design appears to be sinking into a Florida sinkhole. The staff was very friendly and customer service oriented when we arrived and we especially enjoyed interacting with Paula who was happy to tell us all about the museum which includes fabulous and unique exhibits, interesting art and artifacts collected from all around the world. We started exploring the sixteen galleries and were fascinated by all of the "unbelievable" oddities collected from around the world. The displays are so unique and absolutely incredible featuring a replica of the world's tallest man who ever lived, Robert Wadlow, The Incombustible Man, Ripley's Legendary Fertility Statues (I confess that I stayed far away from these, wink), an authentic cannibal skull, a rare T-Rex fossilized foot and lower leg and a Wall-E robot replica that is made entirely of car parts! A few of our personal favorite exhibits includes a real human shrunken head (we checked this out several times during our visit), Mike the Headless Chicken and the 7-Legged Sheep.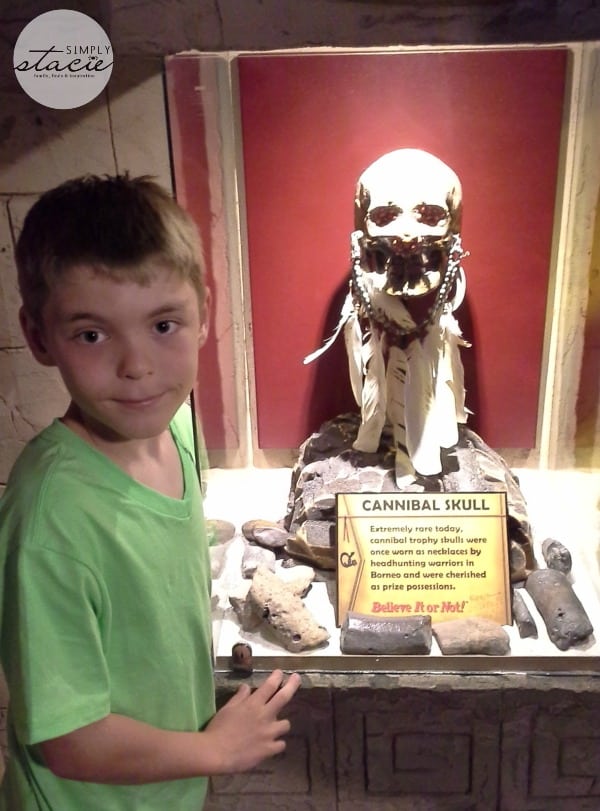 My kids especially enjoyed that many of the exhibits are interactive and hands-on as they enjoyed playing music on the Art Car, took the challenges offered from optical illusions, puzzles, games and brain teasers and even enjoyed the new shooting gallery as they "fired" at different targets. They especially challenge you to visit the Iron Maiden on your visit……if you dare!
There were so many interesting works of original art to appreciate such as the Beyonce portrait that was made entirely of candy (No, kids, you may not eat it!). We thought that the Jimi Hendrix mural made of 8,500 playing cards and standing a whopping 25 feet tall was awesome and the miniature works of art were equally impressive too.
We had so much fun learning about the history of the many wax figures and playfully took some photos to capture the memories. The all-time favorite part of the experience (which my kids are STILL talking about) was the Spinning Vortex Tunnel illuminated by thousands of brilliant lights. I like that it is a self-guided tour so we could spend several leisurely hours exploring the Odditorium by ourselves and return to our favorite exhibits.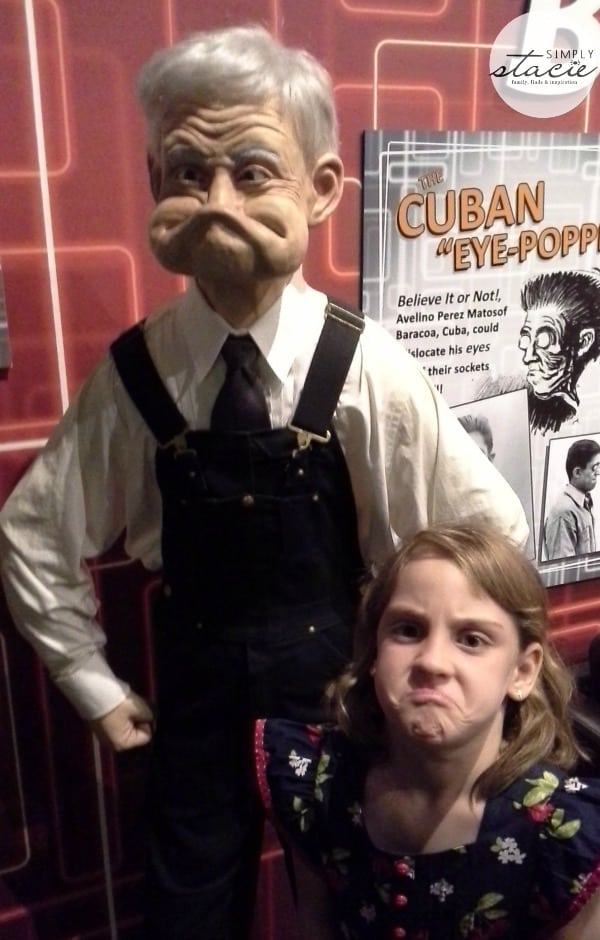 We really enjoyed our time exploring the collection of the great Robert Ripley. It is inspiring to see my children so enthusiastic to learn more about interesting cultures, animals, art and more from around the globe. In fact, my nine year old son hasn't stopped reading the Unbelievably Zany-Ripley's Believe It or Not! book that he purchased in the gift shop.
This summer, I highly recommend visiting a Ripley's attraction location nearest you because I am confident that you will love it just as much as my family did on our recent visit. There are over 90 Ripley's attractions in ten countries around the world with highlights being Ripley's museums, Ripley's Aquariums (we want to check out this one in Gatlinburg, TN), 3D Moving Theatres, Haunted Adventures, Mirror Mazes, Guinness World Records Museums and more.
You are invited to learn more about the Ripley's Believe It or Not! Odditorium Museum in Orlando, Florida as well as all of the Ripley's Attractions by visiting online. Which one would you and your family love to visit the most this summer?
Connect with Ripley's Believe It or Not! on Facebook and Twitter.