Super Duper Publications Review
Disclosure: I was not financially compensated for this post. I received a sample of the product for review purposes. The opinions are my own, based on my personal experience with the product.
Whenever I am searching for a new supplemental educational game or resource for our homeschool, the first place that I look is at Super Duper Publications. The educational content and learning value of all of their products is exceptional in my experience and Super Duper Publications has been an invaluable resource for my children ages 6, 7 and 9. Featuring a wide selection of products to enhance auditory, visual and sensory learning, Super Duper Publications has learning games, computer software, books and activities that are so much fun the kids will be learning while playing.
In a few weeks, we will have completed our school year. For summer break, I will continue to keep the learning process ongoing through a series of fun activities, games, computer programs and more. There are tons of ideas at Super Duper Publications and a few of our favorites include Granny's Candies, the Understanding Sentences Fun Deck and the Auditory Memory for WH Questions Fun Deck.
Granny's Candies (SRP $54.94) has been voted "our favorite game ever" by my children. This fun, educational game is a wonderful way to learn about word meanings. To play, children place "candy" tokens on the candy jar game board. There is a whopping 672 word-meaning cards included with this game for extensive game play without repetition. To play, the children roll the die and select that number of candies from the jar when they answer the question correctly. There are multiple questions groups including "What belongs in this group?", "What do these have in common?", "Which one doesn't belong?", "What is this used for?", "How are they alike?", "Give an action word" and more. For example, the question "How are they alike i.e. a turtle and a snail?" is a question that even my youngest son can answer while my older son can discuss "What belongs in the transportation group?" I appreciate that like many of the other Super Duper Publications products that we use, this game is adaptive so that I can adjust to the skill levels of my children. This allows for all three of my children to play all of these games together without getting frustrated and they are appropriately challenged. My children love "playing" this game and are attracted to the interactive game play, interesting questions and vibrantly colored game board and pieces along with the fun theme. If you are looking for the perfect game to promote developing vocabulary skills then I highly recommend Granny's Candies from Super Duper Publications!
We will be traveling over 2,000 miles this summer so there are two products from Super Duper Publications that will be perfect for preventing boredom while on the road. The Understanding Sentences Fun Deck-Set 1 & 2 (SRP $24.95) is a wonderful activity to help my younger children practice listening while enhancing their reading comprehension skills. Set one is for beginners and includes 20 cards. Hannah and Jacob will look at the picture and then express the connection between that picture and the sentences printed on the card. Hannah is learning to read so she really likes to read the sentences independently in order to find the sentence that matches the illustration. In the more challenging set two (cards 21-60) the kids will read a sentence and find the matching illustration. What makes this Fun Deck so exceptional and fun for the kids is that it includes a Super Duper Secret Decoder which indicates whether they have chosen the right answer. It gives the child independence to do this activity alone or in a group. The durable cards and storage case with latch closure makes it perfect to take when on the go.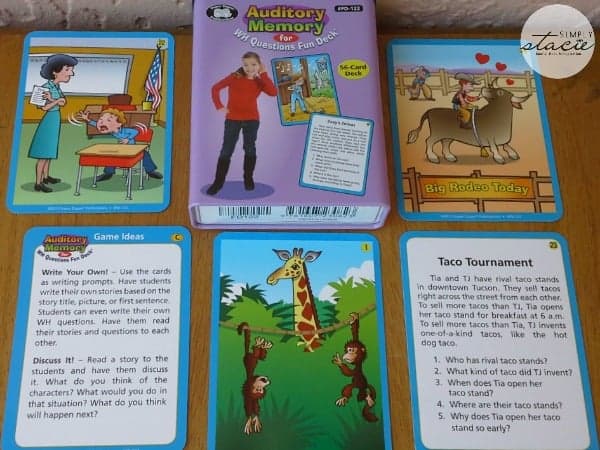 Another great idea for traveling is the Auditory Memory for WH Questions Fun Deck (SRP $12.95). This 56 card deck nestles into the small, secure case and is recommended for grades 1 and up. My children enjoy listening or reading by themselves the entertaining, short stories such as the "Not-So-Polar-Bear" and then they will answer a series of related questions. It is a great way to promote their creativity, use of their imaginations, recall, concentration, narration and reading comprehension. While this is similar to some of the activities we do in their text books, this is different because the stories are appealing and interesting so it really holds their attention. I often have them asking me to "do just one more, please!" when we are using this Fun Deck.
If you are looking for fun and educational resources for your child this summer, then you are going to want to check out all of the wonderful products available at Super Duper Publications! You are invited to visit the website to purchase any of the products in this post or select from all of the additional products that would be perfect for your kids. There are tons of great ideas in a variety of attractive price points for virtually every budget….which would be your child's favorite game or activity from Super Duper Publications?