Treat Your Body Better with Stonemill Bakehouse Bread
Disclosure: I was compensated for this post. All opinions expressed are 100% my own.
One of the perks of moving to Ontario next month is that I'll be able to try Stonemill Bakehouse bread! I heard about their bread recently and found out that they are the first company in English Canada to introduce vitamin D in their line of wellbeing packaged, sliced breads. Then I asked my mom who lives in Ontario if she has ever tried it. She said she has and buys it on a regular basis. She's health conscious and strives to make good choices when it comes to the food she eats.
Vitamin D is also called the "sunshine vitamin" and it's really no surprise to me that Canadians are susceptible to vitamin D deficiencies especially in the winter months. In fact, studies have shown that Canadians aren't getting the recommended daily amount of vitamin D. What I didn't realize, though, is that vitamin D is found in only a small amount of foods. For instance, it's naturally found in egg yolks and fish and it's been added to milk and other fortified beverages.If you don't eat or drink these foods, you may not be getting enough vitamin D. I'm pretty sure mine is low because I don't spend a lot of time outdoors nor do I eat fish on a regular basis. I have cream in my coffee, but I rarely ever drink a glass of milk.
Bread is regularly consumed in our household with toast for breakfast and sandwiches for lunch. We go through a few loaves a week. Stonemill Bakehouse bread has 25% of daily value of vitamin D per serving (2 slices). Health Canada considers that to be an "excellent source of vitamin D". Now there is another option to ensure your family is getting enough of this important vitamin in their diet. The amount of vitamin D in a serving of Stonemill Bakehouse bread is the same as what you would find in one cup of milk and more than what you would find in egg yolks, fortified orange juice and soy beverages.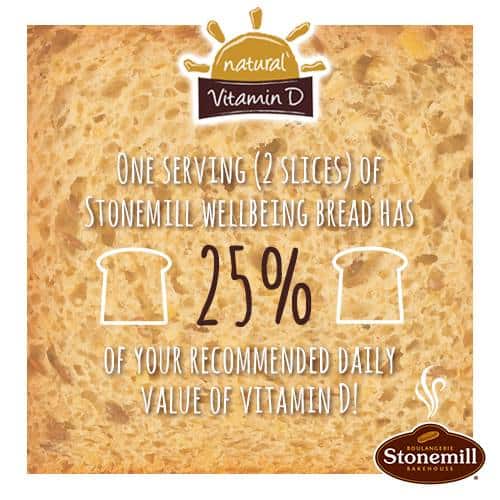 I also wanted to mention that the vitamin D in Stonemill Bakehouse bread is there naturally. The bread is not fortified and it contains no chemicals or synthetic additives. The vitamin D comes from the yeast leavened in the bread. When the yeast is exposed to light during production, the sterols that are present in the yeast transform into vitamin D. This reaction is very similar to the one that occurs in our own body when we are are exposed to sunlight.
When you're at the grocery store and want to pick up Stonemill Bakehouse bread with vitamin D, look for these varieties:
Chia – 6 Supergrains
Sprouted 3 Grains – 3 Grains & Oatmeal
11 Whole Grains – Grains & Honey
12 Whole Grains – Sprouted Rye
Omega 3 – Sprouted Flax and Sunflower & Walnut
Fibre & Fruit – Cranberry Pumpkin Seed
Flax & Chia – Supergrains
Sourdough – Multigrain
Sourdough – Classic French
Sourdough – Hearty Bavarian Rye
Sourdough – Belgian Whole Wheat
Don't they all sound yummy? I can't wait to get into my new home and grab a few loaves to try out.
Stonemill Bakehouse bread is primarily available in Ontario. They have limited distribution in Quebec and Atlantic Canada. If you have trouble finding the bread in your area, please reach out to Stonemill via their Facebook page and they'll let you know if there's a store in your area that carries their product.
I also encourage you to check out Stonemill's "3 P's" philosophy and learn more about their corporate values. I admire what they stand for!