Sophia Grace & Rosie's Royal Adventure Blu-ray + DVD Review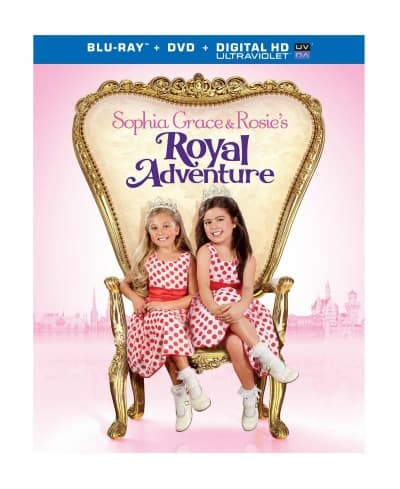 Disclosure: I was not financially compensated for this post. I received a sample of the product for review purposes. The opinions are my own, based on my personal experience with the product.
Title:Sophia Grace & Rosie a Royal Adventure [Blu-ray]
Release Date: May 20, 2014
About the Film
Get ready for another British invasion! The super-cute, talented twosome of Sophia Grace & Rosie became an Internet sensation with their remarkable viral videos. Then the duo sang and danced their way to stardom on the The Ellen DeGeneres Show, where they regularly continue to report from the red carpet. Now see the lovable little performers in their very own original live-action movie! The girls are sent to Switzzelvania as Ellen's correspondents to cover the coronation of the new queen. When they encounter three very different princesses competing for the throne, Sophia Grace & Rosie hatch a royal plot to help the best candidate win. So grab your microphone, put on your best pink tutu and tiara, and go on a splendidly fun-filled, exciting adventure fit for a princess.
Special Features
Pink!Pink!Pink! The Story of Pink: On set and off, Sophia Grace & Rosie indulge in their love of the color pink with fun facts.
The Royal Music Jam: Laying Down the Beats with Sophia Grace & Rosie: Sing along with Sophia Grace & Rosie on the Royal Adventure songs: "It's So Good", "Celebration", "Queen For A Day", "Put Your Hands Up" and "A Princess Inside".
Favorite Moments From The Ellen DeGeneres Show: Join Sophia Grace & Rosie as we look at some of their favorite moments on The Ellen DeGeneres Show.
Bloopers: Uncover a funny compilation of the girls and cast flubbing lines and getting the giggles on set.
My Review 
If you watch The Ellen DeGeneres Show, then you are already familiar with her frequent guests, Sophia Grace and Rosie. We don't have cable so Sophia Grace & Rosie's Royal Adventure was my first introduction to this talented pair of cousins. I was blown away at the voice on Sophia Grace! That little girl can really sing.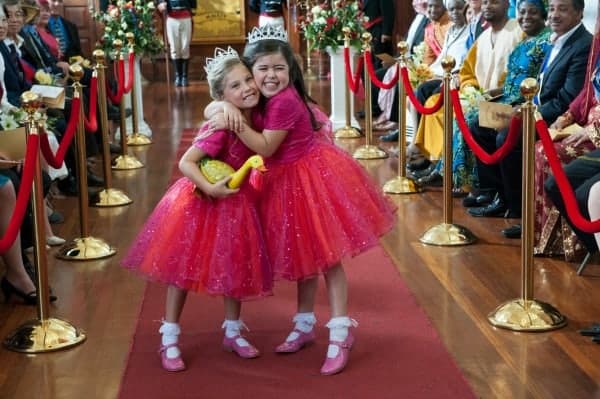 The movie begins with the girls heading with their chaperone from the Ellen show to cover a royal event in Switzelvania (a cross between Switzerland and Transylvania?). The king of Switzelvania is about to crown one of his three adult daughters as the new queen.
Sophia Grace and Rosie manage to get into the castle pretending to be relatives of the royal family. They meet the three sisters, uptight and cruel Imogen, ditzy Cordelia and sweet Abigail. Of course, they love Abigail and want to help her become queen. They have their own set of challenges to help her prepare though as Abigail is socially awkward and spends most of the movie in a super hero costume.
One of the sub plots of the movie is the chaperone of the girls from the Ellen show and her own set of challenges. She is beat from dealing with the high energy girls and passes out in the cab immediately after landing in Switzelvania. She loses the girls as well as all her identification. I would be freaking out if I was her, but I couldn't help but laugh at some of the exaggerated situations she found herself in.
I especially enjoyed the musical scenes and was mesmerized by how talented Sophia Grace and Rosie are. They are quirky, cute and fun to watch. This movie is rated G and is fine for the whole family to watch. I think it would be enjoyed by the younger crowd like kids my nine-year-old daughter Bridget's age and younger. I was surprised that I enjoyed it too and would love to see more Sophia Grace & Rosie movies made in the future.  After the movie, I went on YouTube and looked up their viral videos. I can see why they are have become superstars!