OXY Emergency Acne Vanishing Treatment Wipes Review
Disclosure: I was not financially compensated for this post. I received a sample of the product for review purposes. The opinions are my own, based on my personal experience with the product.
Acne isn't something that teenagers only get. I'm living proof that it can happen at any age. Yes, my skin has improved as I've aged, but I've never fully been able to get rid of acne. What I do right now is to try and keep it under control. I notice that when I'm stressed out, my acne flares up again. It also is affected by hormones and I'll have some breakouts around my time of the month.
Breakouts seem to happen at the worst possible time too! For instance, I'll wake up with a huge red pimple right before I'm going away on a trip that no amount of concealer will hide. I feel very self-conscious when that happens and like everyone is staring at it. When I heard that OXY with a new product to heal blemishes fast, I knew that I had to try it and see what it could do for my skin.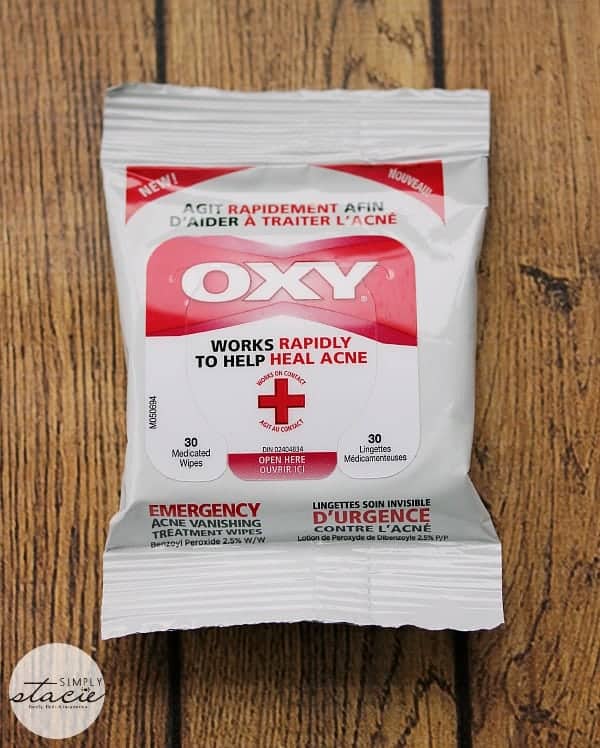 OXY Emergency Acne Vanishing Treatment Wipes is the only medicated wipe on the market that has Benzoyl Peroxide in it. Benzoyl Peroxide fights acne and is clinically proven to kill acne bacteria on contact and help heal blemishes fast.
Each package contains 30 medicated wipes and is re-sealable so you can keep it in your purse for a quick wipe during the day. My skin gets extremely oily especially when its hot outside. It feels refreshing to wipe off the grease and have my skin feeling smooth again. Note: if you wear makeup, it will take it off your foundation.
OXY Emergency Acne Vanishing Treatment wipes uses an advanced encapsulated technology that controls oil and continuously fight breakouts throughout the day. I've been using the wipes after my shower when my face is clean. I sometimes use two wipes in one day whenever I have a large, painful pimple and I just want it to disappear. The wipes work to relieve the redness and reduce the size of the pimple. I had one large pimple on my chin this past week and was feeling very self-conscious about it. I used the wipes on it and was pleased to see a couple days later it was shrunk down to just a red mark.
I was curious to see if they would dry my face as some acne products do, but was pleased to see that it didn't. They use an alcohol free formula with added oil free moisturizers so my skin felt smooth and soft afterwards.
Each package has 30 wipes which will last you one month if you use one every day. I need to pick up some more because I've been using them on average about twice a day especially during active breakouts. The retail price is $7.99 and you can find them in the acne section at major drug, mass and grocery retailers.
If you or someone you know suffers from acne breakouts, give them a try! I was pleased with my results and will be picking up some more on my next shopping trip.