Elle Fanning on Becoming Aurora in Disney's Maleficent #MaleficentEvent
Disney provided me with an all expenses paid trip to Los Angeles to attend advance screenings of Maleficent and Planes: Fire and Rescue and to attend press junkets for both films. No other compensation was received. All thoughts are 100% my own.*
Sixteen-year-old Elle Fanning was all smiles when she walked into the room at the Four Seasons to talk about her role as Princess Aurora in Disney's live-action film Maleficent, in theaters May 30th. Her friendly, energetic personality instantly put our room of twenty-five bloggers at ease; spending time with her was like catching up on life with good friends.
For Elle, playing Princess Aurora was a dream come true. "When anyone asks what I wanted to be when I grew up…I would say a Disney princess, because that's the ultimate goal in life, I think, for any young girl." I would definitely agree with Elle on this; as a young girl, I was fascinated by the animated film Sleeping Beauty, and for a long time Princess Aurora was my favorite Disney princess.
Another reason that Elle related so much to Princess Aurora was because of their similar appearances. "She was always my favorite one because…she was the one that I looked like the most. So I would go to the Disney Store and I would buy her clothes and her shoes."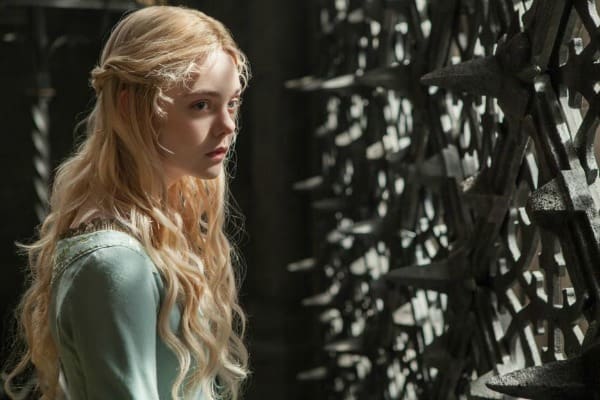 As a fan of the original animated film Sleeping Beauty, Elle admitted that she did feel a certain amount of pressure in playing the live action version of her. "I watched the animated movie so many times and it's like you want to do it justice because I feel like Sleeping Beauty…that they've already done it so perfectly; I have to live up to that. So I did watch the animated film right before I started filming because…she has a certain physicality because she's drawn a certain way and she holds her hands…with these little gestures."
In Maleficent, the character of Princess Aurora is much more fleshed out than in the animated Sleeping Beauty. "She has some strength and she actually shows real emotion. She gets sad and feels betrayal because a lot of secrets are hidden from her. It was nice that in ours that we could make her more human than just the cartoon."
Elle did a wonderful job of making us care about her as a character when we saw Maleficent the previous night. "I thought that to bring a sense to her that she's…desperate to learn and she's trying to figure things out, that'd be nice. And to show that she hasn't been taught to be scared yet…she doesn't know to be scared of things that look different. So when she does see Maleficent, she's not scared of her, which is very strange for Maleficent because…this little girl's not…that's what makes them have this bond that they do."
Elle's favorite scene to shoot was the iconic spinning wheel scene. "When I think about the original, that's the scene I think of." They filmed her pricking her finger on the last day of her shoot. "Kind of everything was building its way up to that monumental moment…I wanted to do it right…because that scene impacted me a lot when I was little."
As a child watching Sleeping Beauty, Elle was actually more scared of the spinning wheel scene than she was of Maleficent herself. "It scared me more than Maleficent did because of the way the lights were, and it looked like Aurora was morphing into Maleficent with that green and purple light." At Elle's insistence, they added in the green and purple lights.
Winning the role of Princess Aurora was actually a whirlwind process for Elle. "It's funny because it all happened really fast…faster than those things normally do. I heard there was going to be a Maleficent movie…it's from the villain's point of view, there has to be an Aurora in there. They asked me to come in for a meeting. So I met with Rob and Linda…we just talked and I think they just wanted to get a sense of me…they didn't describe much of the story…they kind of already decided that they were gonna give me the part. So they told me in there that I got it. So then handing over the script was like the coronation of everything."
For many of the scenes, Elle had to draw on her own imagination to get in the mood for her part. "You're on a set so there is a stage and things are built on it, but everything basically surrounding you, all the little fairies, those are just tennis balls or little lights. And there's green and blue screens that you're basically standing in, so you really have to imagine everything. It can also get a little technical too, but then you don't want your performance to be prohibited by the technicality of it."
The one element of Sleeping Beauty that was not present in Maleficent was Princess Aurora singing. "For this one, it just didn't happen. Lana del Rey, she sings that song in our trailer, and it's so perfect…our movie's more gothic so it's nice to have her haunting voice, a different take on it than the original one."