Discover Your Neighbourhood with the New YP App #NewYP
I've been very busy lately preparing for an upcoming move to Ontario. I'm the organized type and like to plan and prepare for everything. I've been making my to-do lists of what needs to be done prior to moving and what we need to do when we get to the new place. It's a daunting task to say the least! I've discovered a new way to easily and quickly find information I need to get us ready to move.  It's not Google and I think this new app is actually BETTER than Google for finding information about your local neighbourhood. The new YP app is a MUST-have for all Canadians!
Watch this video to learn more about the new YP app and see how it can work for you.
What is the New YP App?
The YP App was recently launched by Yellow Pages to helps you to discover your neighbourhood and have a better shopping experience. You can't find the best deals out there if you don't know about them right? This handy app will help you find local businesses that offer you the deals, products and services you seek in your neighbourhood (or any locale you want in Canada!).  
My Favourite Features 
Like I said the YP App has been extremely valuable for me as I prepare to make a huge cross-country move. I'm able to find information on business both in my current location in Nova Scotia as well as in my new city in Ontario. It's enabled me to plan better, smarter and definitely eased some of my uncertainty about this stressful event that is coming up soon!
1. Find businesses based on your current location. I can find businesses close to me within seconds using the app's GPS search. The app knows where I am on the map and will only show me relevant businesses close by. For example, I'm looking for a hotel for us to stay in while the movers are here packing our house. I select hotels and within a second, the app provides me with a list of all the hotels in my area.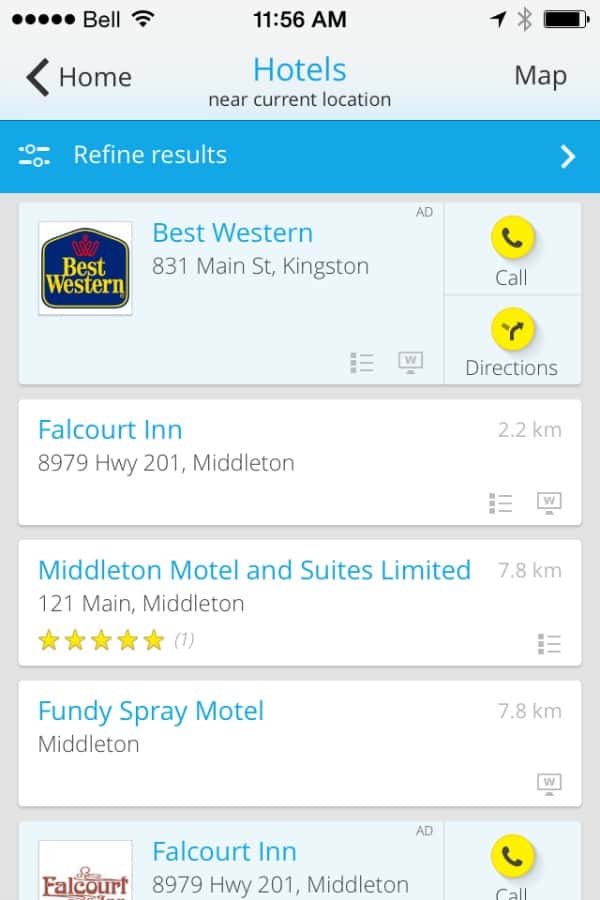 2. Read users reviews and leave your own reviews: I can see what others have to say about the various businesses and decide whether or not I want to give them my business. I found this especially valuable when I was searching for hotels. I'm picky and want to stay somewhere clean, affordable and has good wi-fi. Reading real life reviews was one of the key tools I used in deciding where to stay.  After we stay at the hotel, I can leave my own review on the app to help others make smarter decisions too. I think of it as paying it forward.
3. Find important details about each business.  When you are checking out a business, you'll be able to see their hours of operation, payments they accept, products/services offered, directions, and more. No more having to find the store site online and then trying to find the hours of operation. It's all neatly laid out on your smartphone or tablet with the new YP app.
4. Find information for any location in Canada. You can also type in the city name and search the businesses in that city. For instance, I wanted to know if there was a Royal Bank in the city we are moving to and if so, where was it located. I changed my location to the new city and searched "Royal Bank" and boom there it was! It had all the important information I wanted like hours of operation, location, etc.
5. It's perfect for traveling. There's a section on the app called En Route. It has a category for Gas Stations, Garages and Towing. Thanks to the handy GPS, the app will give you the information you are looking for based on where you are. Say your car breaks down on the highway and you need to call a tow truck. Open the app and click Towing and you'll see a list of all the towing companies in your vicinity. This situation has actually happened to us. It's no fun trying to Google tow trucks when you have no clue where you are!  It's similar with Gas Stations when deciding to fill up now or try to make it the next one.
6. Find the Cheapest Gas.  You'll always know the cheapest spot in your area with this app. It tells you the name of the station, where it is on the map and most importantly, the price! With gas prices being what they are it makes sense to try and save a little if you can! 
7. Discover the best deals around. There's no need to scour the flyers to find the best deals in your area. Just open this app and you'll see a list of deals specific to your area personalized just for you.
8. Reverse Phone Look-up. I sometimes don't like to answer the phone if I don't recognize the number. I can use the Reverse Phone Look-up on the app to see who is calling me. I type in the number and up pops the name address and phone number of the caller.
Are you ready to try the app for yourself? Download it for FREE on iTunes or Android. I think you'll find that it saves you time, money and is a valuable resource that you'll refer to often. You'll always know the best spots to go in your neighbourhood and maybe even make some new discoveries too. 
Connect with Yellow Pages on Facebook and Twitter.