10 Tips for an Easy + Stress-Free Move
Disclosure: I was compensated for this post. All opinions expressed are 100% my own.
In the last 16 years, I've moved 10 times between four different provinces in Canada. Whoa. I guess it seems like I don't like being in one spot too long right? I'm so used to moving now it's become almost second nature to me. Many of our moves were related to my husband's military postings. Four of the moves were us buying a new home and moving on our own. I feel like somewhat of an expert on DIY moves as well as military moves because I've done so many. And guess what? I'm about to do another. Yep, I'm moving. We are moving from Nova Scotia back to my hometown in the heart of the Ottawa Valley in Ontario. Pembroke, Ontario will be our new home very soon and I can't wait!
It shouldn't come as a surprise that moving is a huge job and a stressful one at that. There are so many things to think about and prepare for that the entire process can become overwhelming. Been there, done that, got the t-shirt!
However, despite the fact that it is a big change for everyone involved, there are things you can do to make the moving process easier on everyone. Today I wanted to share 10 tips (and a few resources) that helped me make the moving process easier and less stressful.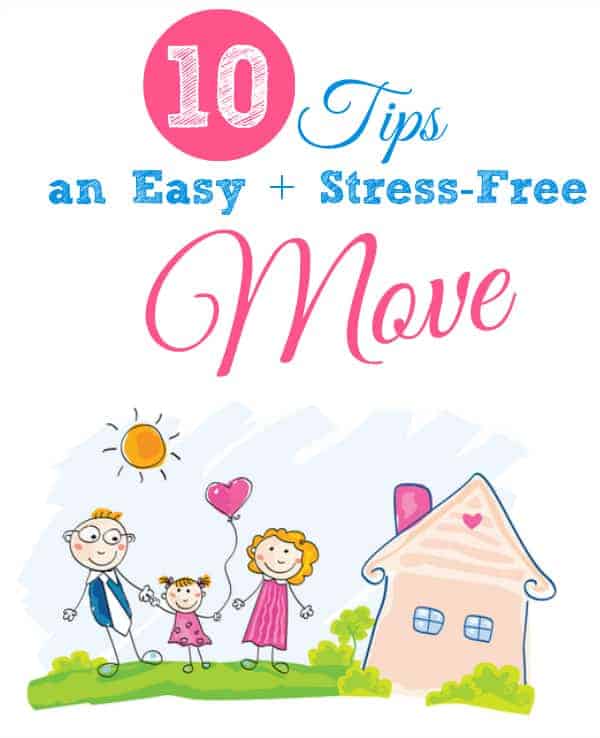 © Jana Guothova | Dreamstime.com
1. Declutter first so you aren't moving things you don't need or want. The first thing I did when I knew we were moving was get rid of the junk. I didn't want to bring anything that was broken or that we didn't need with us. It just doesn't make a lot of sense to move junk. We brought items that were not broken beyond repair to the dump and donated quite a bit to charitable organizations in our area.
2. Make an inventory list by writing down in a notebook the main contents of each room. Alternatively, you could also take a photo of each room to save some time. By keeping track of what you own, you'll know if anything goes missing or is lost. It's also good to have for insurance purposes in case anything happens to your belongings en route to the new place. I also like to make a note of the make, model and serial number of any of my expensive electronics (computers, laptops, cameras, etc.).
3. Determine the moving supplies you'll need. Use The Home Depot's moving calculator to help figure out how many boxes/supplies you'll need to have to pack your belongings.  Then print off the list and take it to The Home Depot nearest you and pick up everything you need. You don't want to run out of supplies in the midst of packing and then have to stop halfway through. With moving there's usually a time crunch involved so it's best to be prepared and have everything you need at your home. There's also this One-Trip Moving Checklist from The Home Depot that lists everything you need to buy for a smooth move from packing, cleaning and even prepping your new home.
4. Plan how you will be moving your furniture and effects to your new home. Hiring a moving company isn't cheap. A DIY move might be a better option if your employer isn't covering the costs of the move. With a DIY move, you can ask friends or family members to pitch in with their vehicles. An even simpler option is to rent a truck and move everything yourself. A number of The Home Depot locations offer truck, van or trailer rentals for your DIY move. Take a peek at this chart to figure out what size of truck you'll need depending how much stuff you have to move. Quick tip: choose a mid-week move date to save money on rental fees. Fees are typically higher in the summer months and on weekends. If you can swing it, try to schedule your move mid-week and not at the end or beginning of the month. 
5. Don't wait to the last minute to start packing. Create a schedule of which room will be packed and when. Try to start a few weeks ahead of your move if you can. Once you've purchased your supplies, go room by room packing all the non-essential items first. Make sure to label each box with the name of the room the items belong in and what is inside. Trust me, this will save you so much time when you get to the new place! There's nothing worse than the chaos of not knowing where anything is.
6. Make an "Open Me First" box. In this box, you'll put all your essential items that you'll need right away at your new house. For instance, I would make sure to include my home telephone, TV remotes, cleaning supplies, toilet paper, pet food/supplies, towels, shower curtain, linens, garbage bags, light bulbs etc. Also, make sure to pack a suitcase for each family member that includes a few changes of clothes and their toiletries. It's easier to dig from a suitcase then to find your clothes in a mountain of boxes.
7. Keep your valuables and important paperwork with you. If you have any expensive jewelry, collectibles or computer equipment, keep that with you. You don't want to risk it getting broken, lost, or stolen. Put your important paperwork in a large envelope to take with you in your suitcase. I include items like passports, immunization certificates, birth certificates, etc. Basically keep anything that you don't want to fall into the wrong hands and would be a huge pain to have to replace.
8. Clean your new house BEFORE your furniture arrives. It's so much nicer to move into a clean, fresh smelling house and it's a lot harder to clean once your stuff is all inside! I've moved into dirty homes and it's not a great experience.  You could also get any repairs and upgrades that need to be completed out of the way at this time too. The Home Depot Design Centre is full of ideas on how to make your new house a home. If there's a project you want to hire out and aren't sure how to do yourself, try The Home Depot's Installation Service and let their professionals take care of it.
9. Change your address. You'll need to notify any business you deal with that you have moved. I made a list of everyone I need to call or email to give my new address and phone number. I normally start by looking to see what cards are in my wallet and listing out my banks, credit card, Driver's license, insurance, etc. Don't forget to redirect your mail to your new address with Canada Post! That will help buy you some time to notify everyone.
10. Don't be afraid to ask for help. If you are moving locally, ask your friends and family to help you for a few hours with the packing/unpacking or to watch the kids so you can get stuff done. Moving is a huge job and you can lessen the stress on yourself with a few extra hands.
I encourage you to check out The Home Depot's Moving Guide. It features checklists, tips on budgeting, packing, mapping your rooms in your new home and more.
Our move is coming up soon so I'm living in the thick of moving madness right now. I'll be glad when it's over, but the process is also exciting. It's a fresh start with a new home and neighbourhood and many adventures waiting for us. I can't help but look forward to the future and despite the stress of moving, I may even be enjoying the process just a little bit.
Do you have any moving tips to share? I'd love to hear about your experiences.
Connect with The Home Depot on Facebook, Twitter, Pinterest and YouTube.