Book Review | The Sparkle Egg
Disclosure: I was not financially compensated for this post. I received a sample of the product for review purposes. The opinions are my own, based on my personal experience with the product.
Easter is my favorite holiday and I especially enjoy celebrating it with my three children. Therefore, we were very excited to read the newly released title, The Sparkle Egg by author, Jill Hardie.
This heartwarming story features a young boy named Sam who loves Easter as much as I do. However, he has been struggling with guilt about a lie that he told his parents and even though he confessed and they forgave him he still feels like he is a "bad kid" because of what he had done. His loving mother then suggests that Sam write down his feelings about why he is sorry and ashamed on a piece of paper and place it inside of the beautiful Sparkle Egg that he has made for Easter.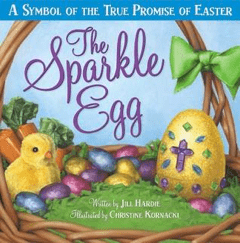 My children said that this book was exceptional. They loved the message and asked me to talk to them more about the biblical story of Easter. I love that it inspired them to want to learn more about the meaning of Easter instead of just focusing on those cute bunnies and baskets filled with treats (though that is fun for them too). The story kept them thoroughly interested and they absolutely loved the bright, vivid illustrations by Christine Kornacki which make this book extra special.
It also has a section at the end that shows children how they can make their very own Sparkle Egg and my children have all begged me to be able to make one themselves.
The Sparkle Egg is available for purchase as a hardcover book with a beautiful jeweled jacket and this title would be a wonderful gift idea for Easter. It has a SRP of $16.99 but it currently on sale at Ideals Books for only $13.59 which is an excellent price for this story that is sure to become an Easter tradition.
You are invited to visit Ideals Books to learn more about this title and browse the entire selection including one of my personal favorites, Ideals magazine, the Mother's Day edition!