Monopoly Junior Review
Disclosure: I was not financially compensated for this post. I received a sample of the product for review purposes. The opinions are my own, based on my personal experience with the product.
My older sister and I used to play board games together all the time when I was a child and I cherish those fun memories spent together in friendly competition. Therefore, it is such a great experience for me to introduce my three young children ages 6, 7 and 8 to some of my own favorite childhood games such as Monopoly. I love that Hasbro Games has put a modern spin on a classic board game with Monopoly Junior so that even my youngest children can play this timeless game with confidence.
Monopoly Junior was created for children ages 5 and up and features a colorful board along with newly sculpted "Jr. sized" tokens of the Scottie Dog, Cat, Battleship and Racecar. When I was a kid I always wanted to play with the dog token so it is fun watching my children gravitate towards their favorite characters too. While the game play has been simplified for young players it is still challenging enough to make it interesting and tons of fun. My kids love that they could "buy" appealing real estate such as a Pet Store, Candy Store and of course, Boardwalk and Park Place too.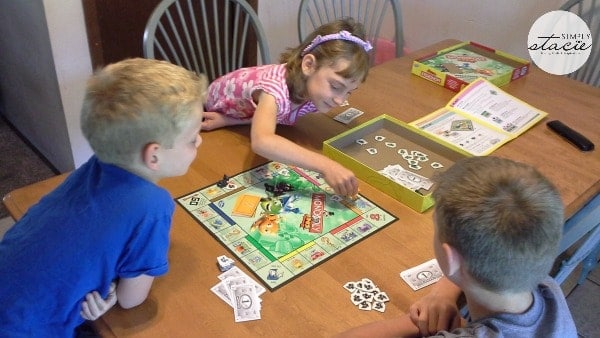 As a home educating mom, I am always looking for creative ways to make games both fun and educational. Monopoly Junior is the perfect example as they are learning valuable math, reading and social skills while playing this game together. In this game, the money comes in $1 bill denominations so it is a wonderful way to teach them how to count money including doubling the "rent" payment if the player owns both properties. My kindergartner and 1st grader enjoy practicing their reading skills whenever they land on a "Chance" card and they must also be able to concentrate, follow directions and learn how to be a good sport when they are not the winner. I like that the game instructions brilliantly makes this a much shorter game than classic Monopoly so it holds my children's attention from start to finish.
Monopoly Junior is a very fun board game for young children and a great way to motivate kids to disconnect from electronics and start making lasting memories together. My own children have requested to play this game at least twice a day (sometimes more) since receiving it. They have declared this their "favorite game ever"….a good choice in my opinion. Monopoly Junior is attractively priced with a SRP of only $14.99 and is available for purchase online and at major retailers.
You are invited to visit Hasbro Games to learn more about where to purchase Monopoly Junior and browse the entire selection of family games!
Connect with Hasbro Game Night on Facebook and Twitter.