Discover Educational Apps for Your Children on EduLulu
Disclosure: I was compensated for this post. All opinions expressed are my own.
Did you know that 86% of Canadian households with children have at least one mobile device? In our home, we have several including an iPad and Google Nexus 7 Tablet. My nine-year-old daughter, Bridget, has pretty much claimed the iPad as her own and can spend hours on it playing games. I have spent countless hours looking for games and educational apps that I think she'll enjoy and let me tell you it's not an easy task! For starters, most of the sites I found on Google about educational apps are American. It's not as easy to find Canadian educational apps as you would think. Well that was the case until earlier this month. Now Canadian parents have a new resource to find the best education apps for their children with EduLulu!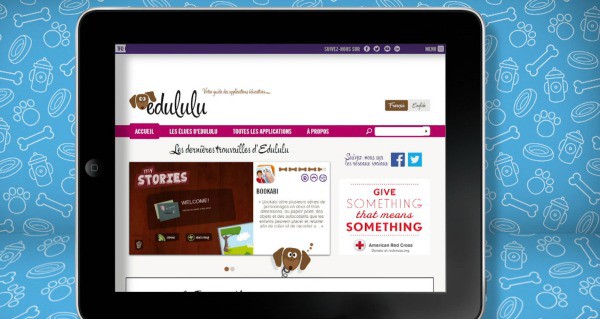 What is EduLulu?
EduLulu is the first of its kind in Canada. Launched by Groupe Media TFO, it's an independent website that rates and ranks English and French educational apps in both Google Play and Apple's App store. Parents (and teachers too!) can easily search and find age-appropriate apps on EduLulu and make an informed decision on whether or not the app is a good fit for their child. Parents only need to visit one site to find all the information they need about educational apps in Canada. No more googling for hours and trying to dig through pages and pages of results!
Educational apps aren't just for little kids. In fact, the educational apps featured on EduLulu are for the age range 2 to 17 years old.  I love that I can use it for both my girls (age 9 and 15).
EduLulu Rating System
EduLulu uses a rating system criteria developed by TFO Education with help from Thierry Karsenti, the Canadian Research Chair on Information and Communication Technologies at the Université de Montréal. It ranks the apps on a five 'bone' rating system where the more bones the app has, the higher rank it is. They decided to use 'bones' as the measurement since Lulu is a dog and we all know how dogs love their bones. 
The following criteria are used to evaluate each app listed on EduLulu:
Educational Content 
Teaching Approach
Security and Privacy
Technology
Design and Ergonomics
Language Quality
Educational Content and Teaching Approach are weighted the highest at 25% each while the other criteria are weighted at 12.5% each.
As you can see, there are a lot of factors going into the rating system. EduLulu has evaluation teams of indepenedent experts in a variety of fields including teachers, designers, ergonomissts, web developers and even parents. They work together to evaluate, grade and provide valuable insight on each educational app.
Apps on EduLulu
Currently, you can find 300 rated educational apps on EduLulu in both English and French and you can expect that number to grow with time. Each month, they'll be adding more than 100 new apps to the site. By the end of this year, the site will have grown to over 1,100 rated apps! You'll want to bookmark this site because I'm betting you'll be using it quite a bit!
Finding apps on EduLulu is easy. You can refine your search by in a variety of ways including:
Category: Arts, Language Skills, Personal and Social Development, Specialized Education, Math, Health & Physical Education, Science and Technolgy
Subject: The  Must-haves, All Aboard, All About Languages, Discovering Animals
Language: English, French
Age: 0 to 5, 6 to 8,  9 to 11, 12+
Levels: Pre-school, Elementary School, Middle School, High School
Value: Free, Paid
Platform: iOS, Android
Rating: 5 bones = Excellent, 4 bones = Very Good, 3 bones = Okay, 2 bones = Not Very Good, 1 bone = Avoid
I wanted to see what apps were available for Bridget so I searched in all categories for free English iOS Must-have apps geared for ages 9 to 11 in Elementary School. My search came up with 116 apps! I decided to refine my search a little to show only apps that had been given 5 bones, the highest rating. My search came up with six apps with 5 bones. Then I could click on each app to learn more and decide if I thought Bridget would like it or not. I found quite a few apps that I'd never heard of before and that I think she will really enjoy. 
For instance, one of the search results was Epic!- Books for Kids, a free iOS app that features thousands of children's books. Bridget loves to read and now can pick books she wants to read right from her iPad. 
I also appreciate that the apps I find on EduLulu will be available to us in Canada. It's very annoying to find a cool new app online only to discover that it's not in the Canadian Apple app store. 
Try EduLulu
EduLulu is 100% free to use. You don't have to register for an account or sign up for anything to use the site. Just access the site from your computer or mobile device and search away. It's user-friendly to navigate, provides quality advice that you can trust and offers a great selection of educational apps to choose from. With EduLulu, parents need only to visit one site to find educational apps which will save them time and headaches. That to me is priceless!
I know with summer holidays coming up, I'll be looking for more apps to keep my daughter busy with educational fun. We have a couple road trips coming up and apps are the perfect way to keep her busy in the car and avoid the "Are we there yet?" questions. 
I encourage you to check out EduLulu and use this awesome resource to find quality educational apps to suit your children.