Don't throw away those coffee grounds after your morning pot of coffee! Instead, save them and make this DIY Coffee Body Scrub either for yourself to use, give as a gift or both.
From what I've read online, caffeine can help to reduce the appearance of cellulite. Coconut oil moisturizes the skin and keeps it soft and hydrated. This scrub is so easy to make and I bet you may even have most (if not all) of the ingredients in your house right now. You can use the jelly jars to store the scrub and it makes for a thoughtful and inexpensive gift.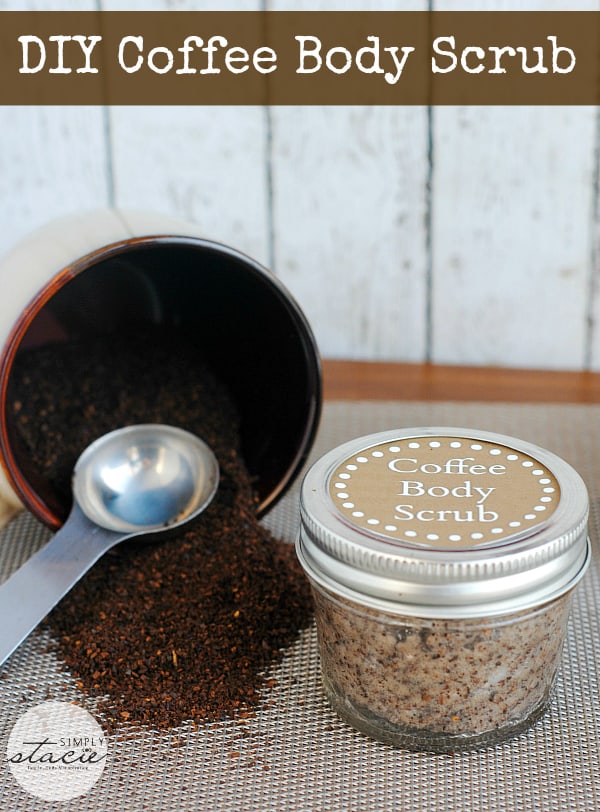 DIY Coffee Body Scrub
In a medium size bowl, combine the coconut oil, sugar, coffee grounds, olive oil and mix well. Add the scrub to your 4 oz. jelly jars.
Print and cut out the labels and place on the lid; the metal ring will hold the label in place.For a more rustic look, you could also use a hole puncher to punch a hole in the top of the label and then look through with twine and tie around the lid.
Makes 4­ to 5 4 oz. Jelly jars. The recipe can also be made smaller or larger depending on how much you would like to make.
You Will Also Love
If you liked this post, you will also love these ones!