Disclosure: I was not financially compensated for this post. I received a sample of the product for review purposes. The opinions are my own, based on my personal experience with the product.
As a busy wife and mother, I rarely get to visit the spa these days so it is always a treat to enjoy a home spa bath experience with the Vitabath Fragrance Collection. Vitabath has a wonderful selection of body wash, hydrating lotion and fragrance mist, bar soap, sugar scrubs and Shea butter hand creams that will be perfect for the spring season!
I love smelling the buds opening up on our fruit trees and in the flower and vegetable garden every spring so I was excited to see what scents Vitabath would include in the 2014 Spring Collection. I was pleasantly surprised to see that there is a wide selection to choose with such offerings as Cupcake Couture Luscious Lemon Crème™, Grapefruit Vanilla, Fruit Fanatic™ Pomegranate and Blood Orange, In Bloom™ Beach Blossom with Passion Flower Extract and Lime Citron Basil. With so many choices there is sure to be something special for everyone and the only problem that I could imagine would be to narrow it down to just a few product selections when shopping this line.
I am really enjoying the Cupcake Couture Heavenly Coconut Crème™ Body Wash (SRP $7.95) and complimentary Hydrating Lotion. I can imagine myself lounging on our Florida beaches as I am surrounded by the sweet scent of rich coconut cream. The body wash is luxurious and has the most amazing lather to clean skin while moisturizing it with vitamins and antioxidants such as Acai, Goji, Coffee, Noni, Pomegranate, Green Tea and Mangosteen. I appreciate that it is safe for my entire family because it has no petro-chemicals or Tricolosan and is free of DEA, TEA, mineral oils, parabens, silicone and propylene glycol. In fact, my children love to use this body wash as bubble bath and it makes a ton of suds with just a small amount of product. The Cupcake Couture Heavenly Coconut Crème™ Hydrating Lotion is amazing as it leaves my entire body feeling soft and supple with none of the dryness that I normally experience. It is non-greasy and absorbs effortlessly into my skin….I love this product!
One of my favorite scents is the In Bloom™ Asian Orchid & Coconut Body Wash, Hydrating Lotion and Fragrance Mist collection. It has a delightful, non-overpowering scent of fresh orchids and with a delicate hint of coconut. I really like it because it is such a refreshing fragrance and is not overly flowery. The In Bloom™ Asian Orchid & Coconut Fragrance Mist (SRP $9.95) is very nice and the perfect way to use a light fragrance that doesn't overpower on a hot spring or summer day.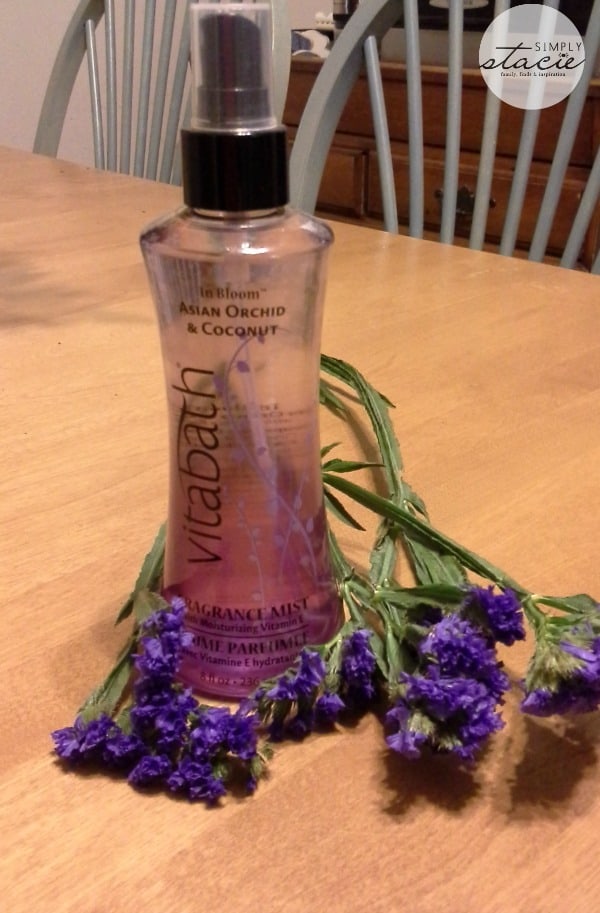 You are invited to visit the Vitabath online store to browse and shop the entire collection of luxurious bath and body products that are safe for the entire family and attractively priced…it doesn't get much better than that!