Treehouse Kids Supplements Review
Disclosure: I was not financially compensated for this post. I received a sample of the product for review purposes. The opinions are my own, based on my personal experience with the product.
When my children were younger and I was making a choice between children's vitamins and supplements brands, I was very shocked to discover that most brands included artificial colors, flavors and additives. Since my daughter has severe asthma it was very important to me to find a brand that I could trust and it was equally important to me to exclude all of those ingredients that were not naturally derived from our daily routine. Therefore, I was very excited to discover Treehouse™ Kids Supplements which do not ever contain artificial colors, flavors, wheat, preservatives or aspartame (xylitol is used as a natural sweetener) so I have peace of mind and do not need to worry when I am giving these products to my children.
My kids were thrilled to find two of their favorite characters featured in Treehouse Kids Supplements including Max & Ruby and Franklin and Friends! This full line of children's supplements includes a chewable multi-vitamin, liquid Omega 3, Liquid Vitamin D, a probiotic powder, a chewable Vitamin C and a chewable Vitamin D3. By combining high quality ingredients with two popular children's characters, kids are sure to want to take their vitamins daily. In fact, my own kids are quick to remind me if I have forgotten!
A good multi-vitamin is an essential supplement for my family in my opinion and my children and I really like the Treehouse™ Chewable Multivitamins that are shaped like Franklin the Turtle and Friends or Max & Ruby. The vitamins do not have that medicinal taste of other brands and my children commented that these vitamins "taste great" and they love the fun shapes. I appreciate that each serving of these multi-vitamins offers balanced vitamins and minerals specifically formulated for children's growing needs. My children's favorite is the Treehouse™ Chewable Multi-Vitamin Franklin and Friends Mixed Fruit & Wildberry which comes in a 60 count bottle.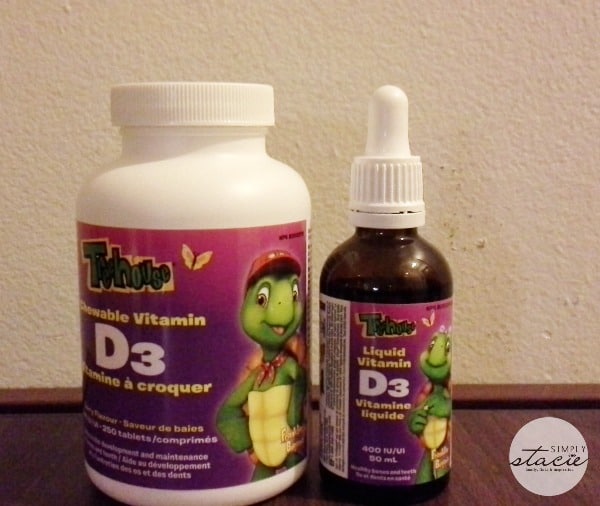 Due to my daughter's respiratory issues, her specialist recommended a high quality Vitamin D supplement. Treehouse™ Kids Supplements has two options that we like including the Treehouse™ Kids Liquid Vitamin D3 400 iu and the Vitamin D3 Chewable 400 iu. While our body naturally produces vitamin D from the sunlight, it is surprisingly easy to become deficient especially for some people. In fact, we live in Florida and my daughter, Hannah spends several hours a day outside but when the pulmonologist tested her Vitamin D levels it was very low (apparently this is common for some people who have immune issues). My children like either form i.e. liquid or chewable and it is nice to have the option. The liquid would be a good choice for kids too young for a chewable or those who don't like a chewable and it also has a baby-safe measured dropper to make getting the correct dosage easy. The chewable Vitamin D3 is a very tiny tablet and it tastes great too!
Another essential supplement in our home is vitamin C especially during the cold and flu season and to protect my daughter's fragile immune system year round. There are so many reasons that vitamin C is important for the proper functioning of the body so I really like that Treehouse™ Kids Vitamin C Chewable tablets contains 250 mg of vitamin C and 15 mg of calcium. I appreciate that it is a non-acidic formula so it is not harsh on growing teeth and enamel and doesn't make them feel nauseous after taking it. My kids love the citrus fruit flavor and all three of my children take this supplement daily after breakfast as it is recommended for ages 3 and up.
I am so impressed with the quality and ingredients in the Treehouse™ Kids Supplements that we have tried that I can't wait to purchase the additional supplements in the product line too, especially the probiotics.
You are invited to visit Treehouse™ Kids Supplements online to learn more about this children's vitamin and supplement line. Widely available in pharmacies across Canada this is a high quality line that I can trust with my children!