Peeps for Easter #Peepsonality
Disclosure: I was not financially compensated for this post. I received a sample of the product for review purposes. The opinions are my own, based on my personal experience with the product.
Easter is around the corner and I can't wait! I love putting together little baskets for my boys, I love the decorations, the spring feel to the holiday, and of course, the yummy treats that come with it! When I think of spring and Easter, I think Peeps – a long time favorite of mine, and an Easter basket staple in my house. I was very happy to get a chance to try out some new offerings from the Peeps brand this year, as well as introduce my kids to the classics!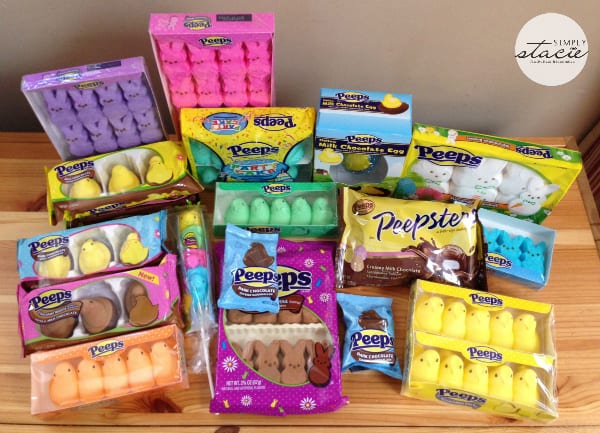 Peeps sent me a variety of their 2014 Easter offerings, which included:
* Party Cake Flavored Marshmallow Chicks
* Marshmallow Chicks (a classic and my favorite!)
* Marshmallow Bunnies
* Chocolate Dipped Marshmallow Chicks
* Chocolate Dipped Mousse Flavored Marshmallow Chicks
* Chocolate Mousse Flavored Marshmallow Bunnies
* Large Marshmallow Bunnies
* Chick in a Hollow Milk Chocolate Egg
* Chocolate Covered Marshmallow Chicks
* Peepsters
* Rainbow Pop
* Sugar-free Marshmallow Chicks
When this goodie box arrived, I went straight for the Chocolate Dipped Marshmallow Chicks. I am a big chocolate fan and I think the combination of the rich taste of chocolate with the sweetness of the sugar covered marshmallow is absolutely divine. I loved the milk chocolate chicks, while my husband went for the dark chocolate flavor. My boys (who inherited their love of chocolate from both my husband and I) particularly loved the Chocolate Covered Marshmallow Chicks. They were also both intrigued by the Rainbow Pop – as was I, it's such a fun presentation. The Peepsters product is a great way to get a quick Peeps fix – one bite-size chocolate covered Peepster is packed with the classic Peeps flavors. They are great for filling a candy dish during the spring Easter season.
In addition to being great Easter basket fillers, Peeps are also a great way to get creative in the kitchen. There are a lot of really neat ideas on the Cookin With Peeps section of the Peeps website, including using Peeps products on cakes, cupcakes, pretzels, and even fruit cup parfaits. The possibilities are truly endless! And with prices starting as low as 79 cents, you can load up on all your favorite flavors without breaking the bank.
To see all that Peeps has to offer (including Peeps gear!), check out their website. They're currently running an Express Your Peepsonality! sweepstakes that runs through April 30, 2014 with the grand prize of a trip to the Swan and Dolphin Resort at Walt Disney World! You can find Peeps products nationwide at food, mass, and candy retailers. You can also find them on Facebook, Twitter, Pinterest, and YouTube.