HearBuilder Educational Software Collection Review
Disclosure: I was not financially compensated for this post. I received a sample of the product for review purposes. The opinions are my own, based on my personal experience with the product.
Super Duper Publications® is my #1 resource for educational materials for our homeschool because it is exceptional in terms of learning content and value. Therefore, I was very excited to incorporate the HearBuilder® Educational Software Collection-Home Edition program into our curriculum.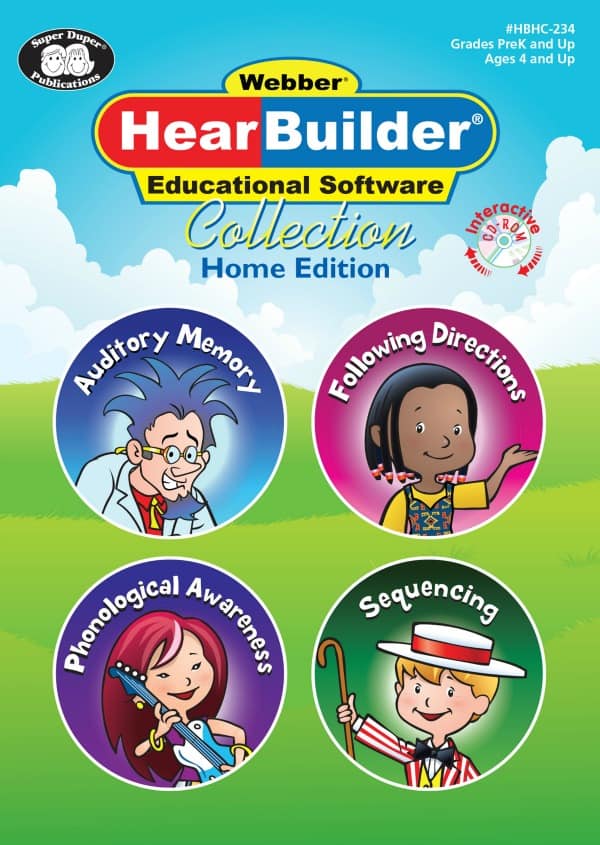 This award-winning computer program includes all four titles on one CD-ROM i.e. Auditory Memory, Following Directions, Phonological Awareness and Sequencing. One of the things I quickly learned when teaching my children is that they each learn differently. This is generally true of all students but particularly for those children who may have special educational needs. That is why I find the HearBuilder program to be so extraordinary. It is a comprehensive program that all children can utilize in order to excel at basic and even more advanced concepts.
HearBuilder provides step-by-step instructional learning for students in PreK though the eighth grade in the areas of auditory memory, following directions, phonological awareness and sequencing. There are engaging multi-level activities presented in a way that my children find both educational and entertaining. All of the software programs are backed by the latest in educational research technology and I am definitely seeing improvements in many of these key areas with my own children.
In Auditory Memory: Strategic Memory Training for Listening, my children are practicing at their individual levels and they are learning strategies to recall numbers, words, specific details and multiple sentences while heading out on special "mission adventures" with the characters, Recall Agents Kim and Joey. My kids feel empowered as they move through the levels to "save" Memory Town from the villain, Dr. Forgetsit. This mission format and adventure feature has been the key to engaging my children who actually request to "play" their daily lessons. We are able to practice this skill additionally every day when narrating our lessons and recalling portions of books that we are reading. There is a significant improvement particularly in my eldest son, Adam's ability to recall specific details and content as well as expressing it to me in his own words. I attribute this primarily to the several months he has used this specific Auditory Memory program.
Following Directions with Basic Concepts covers 40 listening concepts including following basic, sequential, quantitative/spatial, temporal and conditional directions. My daughter, Hannah and son, Jacob really enjoys this particular program as they follow the directions to become "Master Toy Makers" while building toys in the Toy Central factory. The program's use of colorful graphics and the concept of building toys by following directions is described by my kids as "a very fun game to play".
Phonological Awareness: Speech Sound Awareness for Reading is an excellent program for early readers or struggling readers. This program has a series of nine activities to help children hear the sounds made in words, syllables and sentences and I find it particularly helpful for kids who learn best by listening. As my children progress through the program they will move from basic activities to more challenging skills i.e. sentence segmentation, syllable blending, rhyming, phoneme blending and more. It even includes advanced tasks such as phoneme deletion, phoneme addition and phoneme manipulation. I was beaming with pride recently when my daughter completed a skill that had previously caused her much frustration and she shouted with joy, "I did it!" This is an excellent program in my opinion to promote confidence for new and especially struggling readers.
A favorite with my youngest son is the Sequencing: 2 to 6 Step Sentences. Jacob sees this program as a puzzle while he practices sequencing, predicting, comprehending details and identifying the most important parts of a story while "playing" in the Sequencing Fun House. He thinks it is "awesome" to earn tokens to use for play in the Arcade while becoming a "Sequencing Super Star". I like that it progresses from a basic 2 step sequence to more challenging 6 step sequencing so this is a comprehensive program that can be used by my kindergartner, 1st grader and 3rd grader.
I am very impressed with the overall learning value and content of the HearBuilder Educational Software Collection-Home Edition from Super Duper Publications. You are able to try FREE HearBuilder demos of all of the program and games on the website so I highly recommend checking it out yourself and with your child. I appreciate that you can access this wonderful program in a variety of different ways to fit your budgetary needs too. You can purchase the entire HearBuilder Educational Software Collection (all four programs on one CD-Rom) for $199. You can also purchase each of these programs individually for $69.95 if you want to target a specific area or need instead. Finally, there is a very affordably priced online subscription option of only $59 a year if you do not require a physical CD!
To save even more money, Super Duper Publications offers free shipping on all orders over $75. You are invited to visit the website now to browse all of the educational resources, try the demo programs or purchase the HearBuilder program that best suits the needs of your family.
Connect with Super Duper® Publications on Facebook, Twitter, YouTube and Pinterest.